BECKY BULLER
My name is Becky Buller and my business is primarily agricultural. We own a farm in the Old Salem Community of Bowie County called 8 Oaks Farm. We grow and produce a variety of products that include cattle, hydroponic and in-ground vegetables, canned and baked goods. We have recently helped to start the New Boston Farmers/Artisan Market that meets on Tuesdays from 3:30-6:30 at Trailhead Park Pavilion. Our first year has been encouraging in this endeavor and we hope to continue to be able to draw more farmers and artisans from our immediate area in the coming years. I am looking forward to helping New Boston reach its potential by encouraging new businesses to locate here and better help existing businesses thrive.
BERNIE MARTIN
My wife and I moved here in 2019 after travelling the country full-time as RV'ers for 11 years. I've owned and operated my own Internet Marketing Agency since 2008 (Merchant Bottom Line). As soon as we moved here, I joined the Chamber and have attended almost all monthly meetings as a member. I encouraged the Board to allow me to update their website in early 2022. With my Marketing and Business background, I feel I would be an asset to our Chamber by helping them promote, acknowledge and encourage business growth within our community. I believe that our Chamber needs to focus more on our business members and help them grow and achieve success. I believe this positive business attitude will be an asset to the Board and our community.
CASEY WALKER
My name is Casey Walker. I was born and raised in Texarkana. I have 1 daughter and 1 amazing grandson. When I'm not spending time with them, I am the Office Coordinator at SupraCare Family Health. In the 3 years that I have been here, I have realized what Family in our name means. Not only do we take care of your family, we are family. We love our patients just like they are our own family. In my 3 years here I have been involved in the community outreach part of clinic. I would make a good chamber director because I feel like community awareness and involvement is very important. And being a chamber director, I would be able to help with that. I have no problem talking to people and I do enjoy meeting new people. Being involved in chamber events over the last few years, I have met many new people in the community and hope to continue to do so.
KEN COX
Ken moved with his family in November 1991 to serve as pastor of First Baptist Church. Moving with Ken were his wife, Lynne and children Amanda, Brooks, Rachel, and Clara. Casey was born in 1992 completing the family of seven. Ken was born in 1951 and enjoys excellent health at age 71. Prior to moving to New Boston, Ken graduated from Texas A&M University with a major in Accounting in 1973. He worked as a CPA for an accounting firm and a building contractor before sensing a call to Christian ministry and moving to Fort Worth to attend Seminary in 1978. Ken completed Master of Divinity and Doctor of Ministry degrees at Southwestern Baptist Theological Seminary, Fort Worth in 1982 and 1988. He served other Baptist churches as pastor before coming to New Boston. He has served as pastor for over 40 years.
Ken was widowed in 2007 and stepped down from the pastorate of First Baptist Church in 2012 after 20 years of service. Ken remarried in 2012 and began a part-time position as Executive Director of the Texarkana Area Community Foundation. In 2015 he began serving Mount Moriah Baptist Church in Omaha as interim pastor. Ken is president and founder of Telford Prison Ministries, Inc. and serves as a volunteer in TPMI and as a chaplain assistant at the Telford Unit. Ken has made New Boston home and enjoys community involvement with wife Welda, a retired school teacher from New Boston Independent School District who serves on the school board. Ken and Welda have six children and nine grand-children, all living in Texas.
KRISTI BLACK
Kristi Black
Resident of New Boston since 2008. Owner/Photographer, Kristi Black Photography. One prior term as a director.
Served on various committees and worked as many events as I could during my time on the board. I headed up the Spring festival pre-pandemic. Would love to see this event back -carnival rides & all !I'd love the opportunity to serve again!
It was a pleasure serving in the past and I appreciate the consideration for future service !
LORI SPRINGER
MIKE FULLER
2023 Pioneer Days Sponsors - Please Thank & Support them!!
Titanium Level Sponsorship
---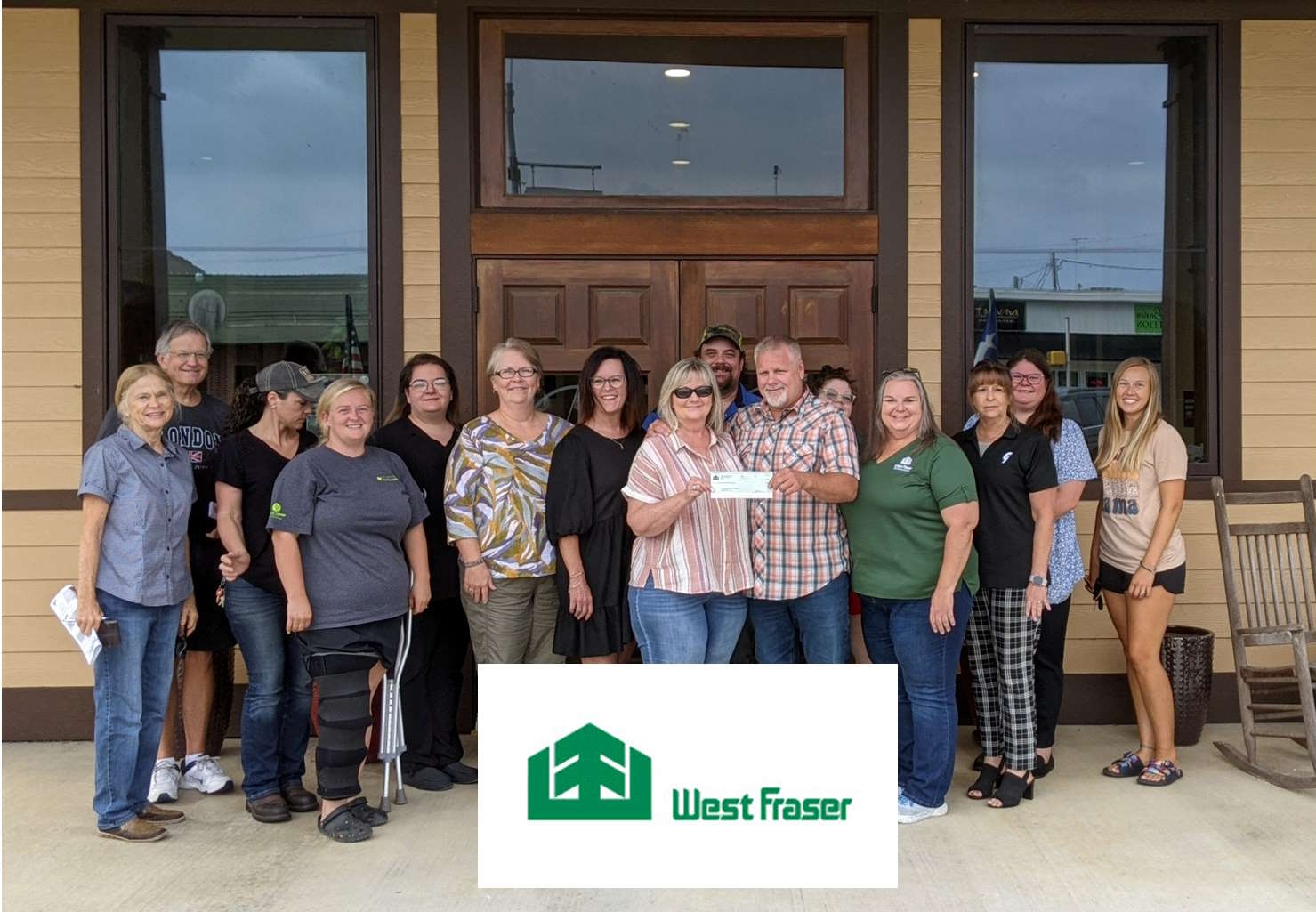 LR: Jane, Ken, Jennifer, Amber, Casey, Becky, Lori, Scarlett, Noel, Clay (West Fraser), Amy, Kathy (West Fraser), Kelle, Kayla & Kristi
West Fraser, Hwy 82 E, New Boston, TX 75570. West Fraser was founded in 1955 when three brothers – Sam, Bill and Pete Ketcham – pooled their resources to buy a small planing mill in Quesnel, B.C.
The sweat and hard work of three young men, along with a founding group of pioneering employees, have laid the foundation for the Company, West Fraser, that thrives to this day. More than six decades later, the Company has grown from the original 12-person crew at Two Mile Flat to be the largest lumber producer in North America.
Over the years, this local West Fraser lumber mill has been a fantastic supporter of New Boston area through employment opportunities and community involvement!
West Fraser's heritage is a story about people who came together to build so much more than those three young men imagined was possible. 
"More than anything, I want to give all sorts of opportunities to the next generation. I want them to be proud of the success we've had."
Hank Ketcham, Chair
---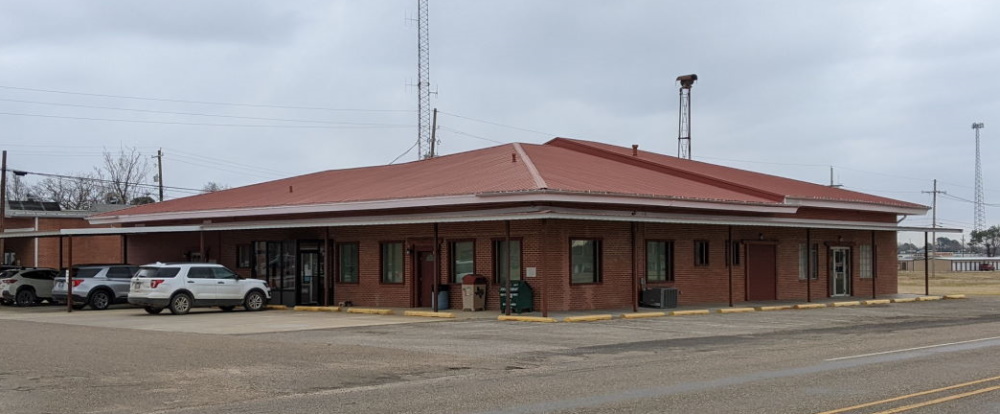 City of New Boston Texas has been our featured Sponsor for many, many years. They understand how important it is to have events for a community that brings people together for family fun and entertainment. They provide the Pavilion, Midway, parking, electricity, water and the Music Venues for this great city wide event. Thanks to the generosity of the City of New Boston, we are able to have our "Pioneer Days" each year!
---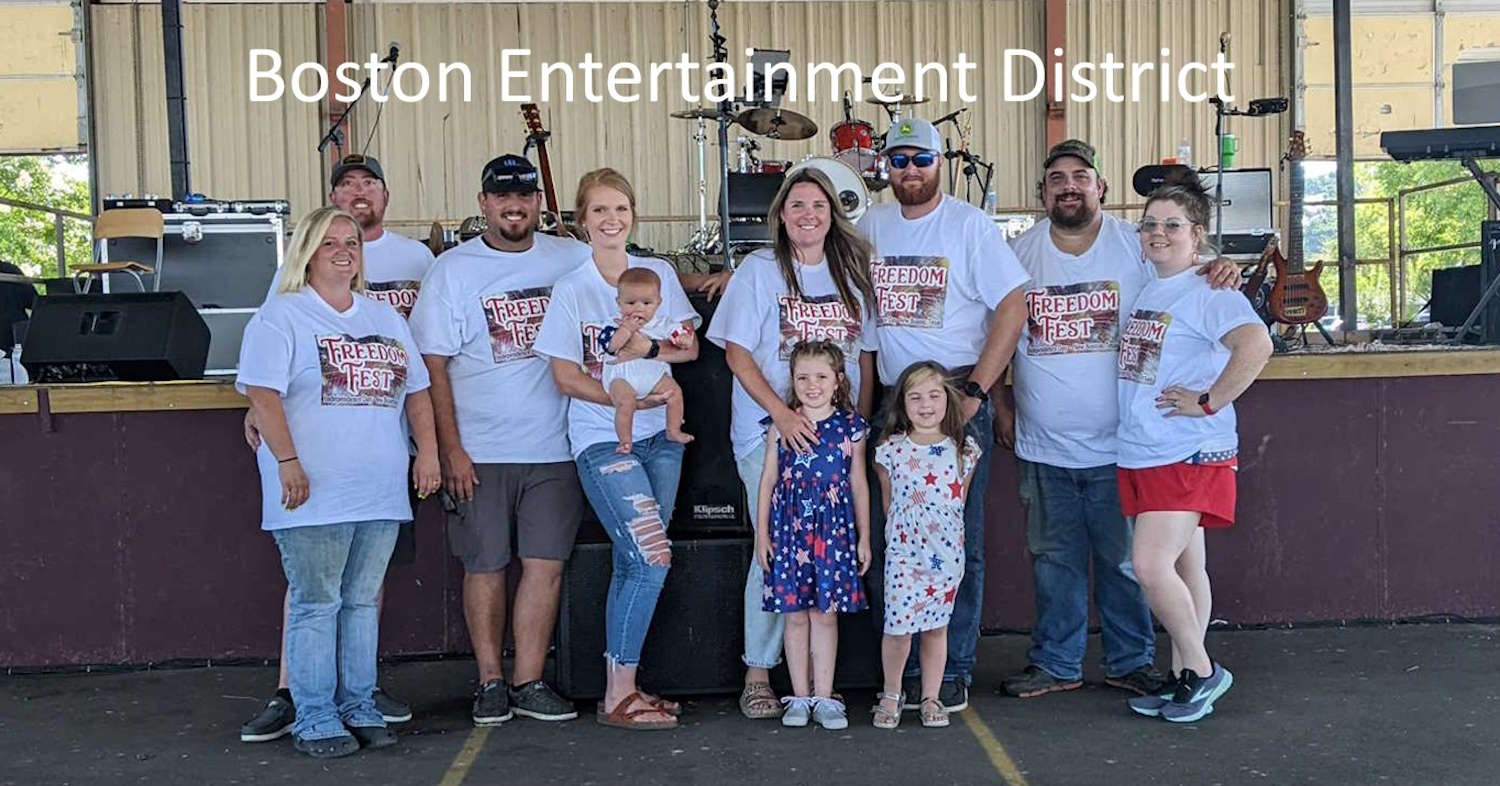 Boston Entertainment District, here in New Boston, Texas, has as their mission to promote and bring a wide variety of arts, entertainment and activities to the town of New Boston, Texas. These 4 couples love New Boston and want to help keep young people staying here and having families grow up here. Realizing how important that is, their journey is to help the City and Chamber of Commerce have great events for families all year round. They can be reached at: 903-556-9476
---
Diamond Level Sponsorship

State Bank, has two branches within our immediate area - 319 E Hoskins St., New Boston, TX  and 102 SW Runnels St, DeKalb, TX.  State Bank is one of our oldest New Boston Chamber of Commerce members.

They are committed to helping you personally and/or your business grow. Get flexible financing, especially designed for your business, to handle any business expense. Contact your personal banker today to get started on growing your future. They also have branches in Clarksville, Atlanta, Nash and Texarkana. Their main number is: New Boston Branch is: 903-314-5407 and DeKalb Branch is: 903-667-2553
---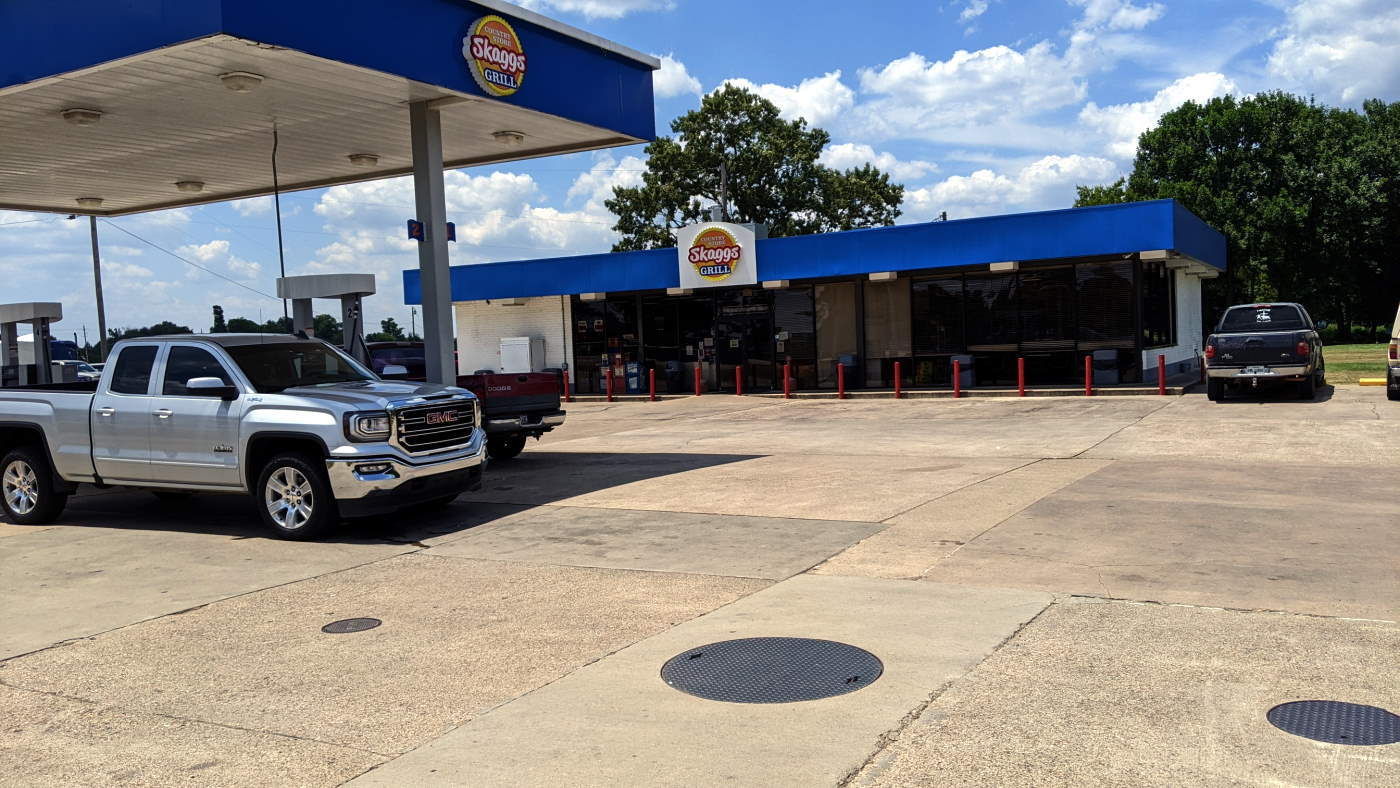 Skaggs Country Store & Grill, 3070 W Hwy 82, New Boston, Tx 75570 has been here for 27+ years serving our area. Jane Skaggs and her son Sean Banks keep everything flowing just right! They've been voted Best Burgers, Breakfast and Fish in town for 5 years running!! That kinda says it all. Plus, they offer straight non-ethanol gasoline too.
Skaggs hours are: Mon-Thus = 4:30 am till 8:30 PM; Fri = 4:30 am till 9:30 pm; Sat = 5am till 9:30 pm & Sunday 6am till 8:30.They can be reached at: 903-628-7351
---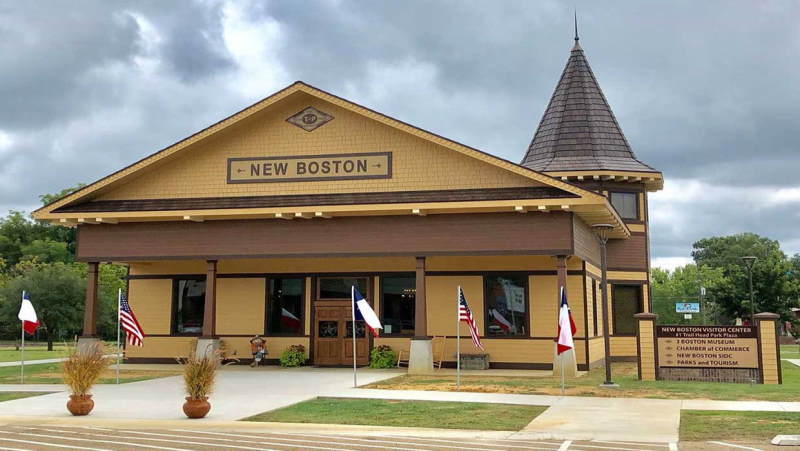 New Boston TX SIDC, 1 Trailhead Park Plaza, New Boston, TX 75570 is a Special Industrial Development Corp to support the development, expansion and relocation of new and existing companies to our New Boston TX area. The CDC is the Community Development Board that is also involved within the SIDC and the City of New Boston. The SIDC is an organization with a mission to work to create an environment in which community-oriented businesses can thrive. The phone number is: 903-628-6340
---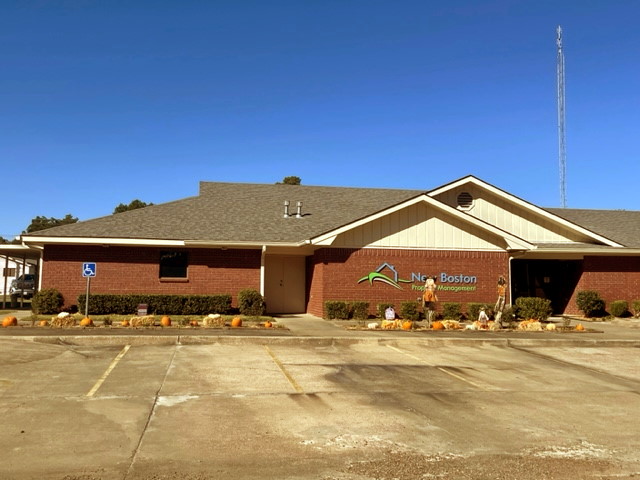 New Boston Property Management, 303 Rice St., New Boston, TX 75570, is a part of NETX Properties. Their Mission is to provide decent, safe, sanitary and affordable housing for eligible elderly and families and promote self-sufficiency and economic independence for residents. The officers and employees of the NETX Properties strive to provide an exceptional living environment for all residents with the assistance of law enforcement and residents through our Neighborhood Watch Programs. 
As one of the largest property management agencies in northeast Texas, NETX Properties prides itself with professional staff that comprises a winning team wherever they are working. Being involved in so many activities around the region is a key element in making NETX Properties such a big part of the local communities. Giving back to the community is our heart.
They can be reached at: 903-628-2951
---

Mike's Repair Service is located in New Boston, TX. I'm a professional that has 30 years of experience working in the industry. From one-time services to recurring maintenance, I'm available for the job. Mike's Repair Services is a licensed and insured HVAC service provider that you can depend on for excellence.
If you need my professional AC or heating service, give me a call today at 903-701-7229 to schedule your appointment!
---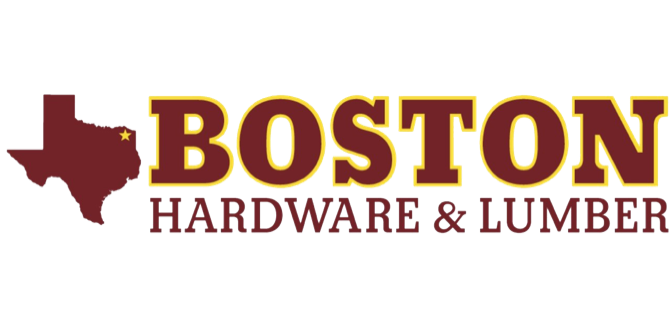 Boston Hardware, 1107 S Merrill St, New Boston TX 75570 is a locally owned and operated store that is here to help you with all your projects. We have been in New Boston as a staple in our community to give you all your hardware and lumber needs. We help the Old Boston, Texas community, New Boston, Texas community, and the Boston, Texas community with all their home improvement needs. We also have equipment Rentals from small tools to trailers and excavators.
Hours are: Monday thru Saturday 8 am till 6 pm. They can be reached at: 903-314-5004
---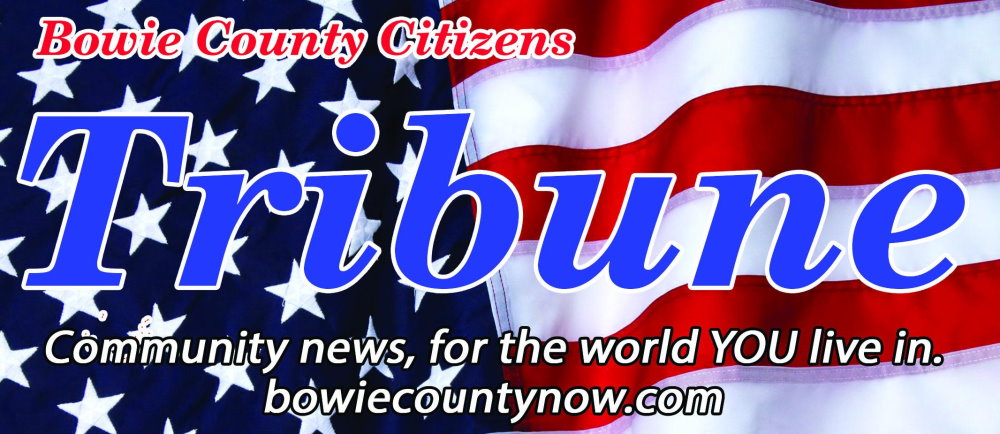 Bowie County Citizens Tribune, 139 NE Front St, New Boston, TX 75570 is the best way to get all your local information. They offer a weekly hardcopy Newspaper and and E-edition for their readers.
---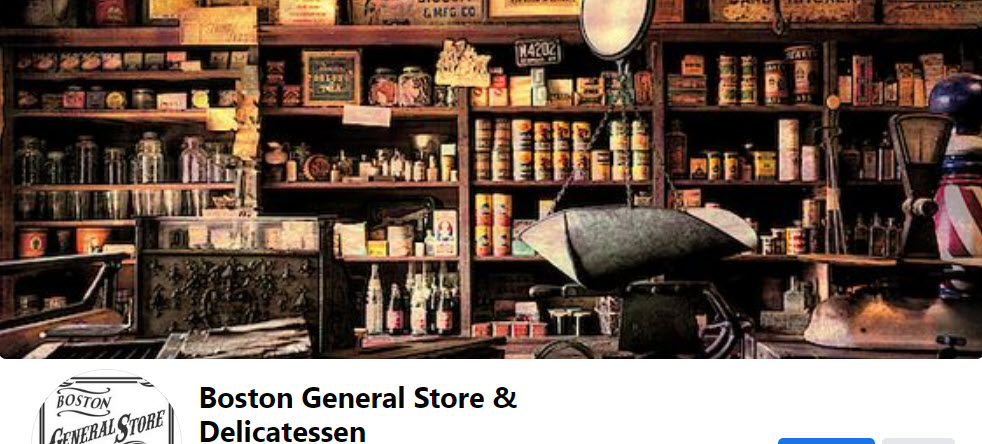 Boston General Store, 125 N West St., New Boston, TX 75570 has an awesome selection of lunch specials every weekday for either dine-in or Takeout. They also have pies and all kinds of unique gifts. Open every weekday till 3 pm.
They can be reached at: 903-628-0129
---
Platinum Level Sponsorship

State Farm, Brandon Lloyd, 318 First Dr., New Boston, TX 75570 serves the entire states of Texas, Arkansas, & now Oklahoma. Locally, we pride ourselves in being able to serve our local community here in New Boston, TX. In addition to New Boston, we also serve the surrounding communities of Bowie County such as De Kalb, Hooks, Simms, Maud, Texarkana, and others. We offer auto, home, life, health insurance products, and more.
We have a completely licensed team always ready to assist in anything that is needed and we're happy to provide you and your family with refreshments upon a visit to our agency.
We are Open 9 am till 5 pm - Monday thru Friday. We can be reached at: 903-628-3411
---

TEXAR Federal Credit Union, 507 James Bowie Drive, New Boston TX is a community first credit union which has served members in and around the Texarkana area since 1951. Having three offices and employing almost 100 people, today TEXAR serves citizens of Cass, Bowie, Little River, Miller, Red River, and Lamar counties. They can be reached at: 903-223-0000

---
Rip England Premier Realty, 102 E Main St., New Boston, TX 75550. With unparalleled industry knowledge, experience, and local expertise, we're the New Boston Real Estate experts you've been looking for. Whether you're buying or selling, we can help you get the sbest deal. Just looking? That's OK. Good luck on your house hunt! We hope to hear from you soon. Phone Number: 903-628-1234
---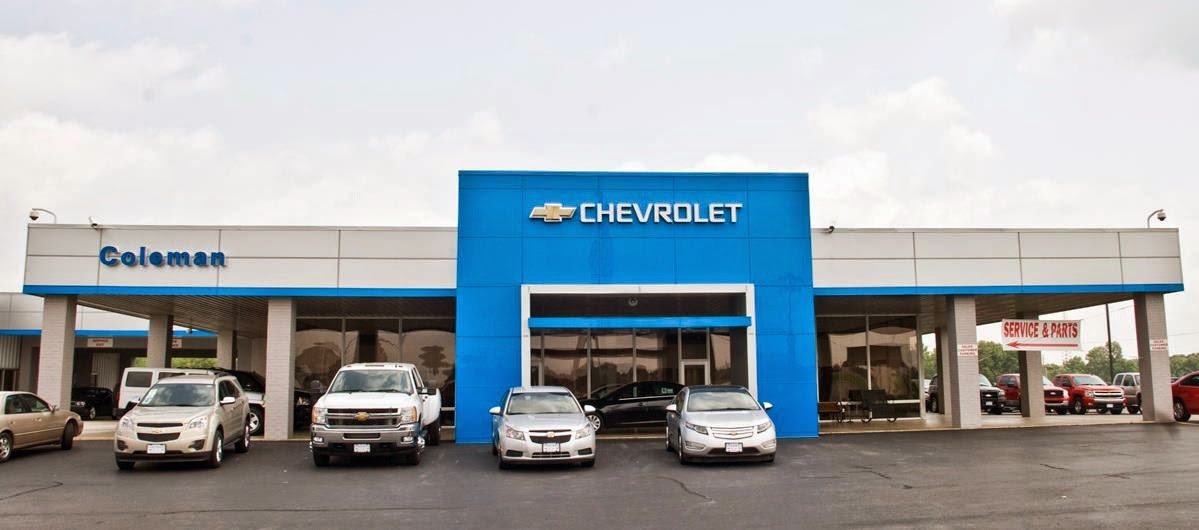 Coleman Motors, 510 Addison St., New Boston, TX 75570 is proud to be your trusted Chevrolet, Chrysler, Jeep, Dodge and RAM dealers serving New Boston and the greater Texarkana area, the best place to find new, used, and certified pre-owned Dodge and Chevrolet vehicles. At Coleman Motors, we'll treat you like family, helping you have the best experience buying a vehicle you've ever had. Whether you're brand new to our New Boston dealership or a loyal returning friend from New Boston, and surrounding Texarkana market, we're thrilled to help you find the new Chevrolet truck, Chrysler, Jeep, RAM or Dodge SUV you want.
Coleman Motors has been serving the New Boston and Texarkana area for more than 20 years. Thank you for the opportunity to help you find the Dodge, Chrysler, Jeep, RAM or Chevrolet vehicle that fits your needs. We're proud to have you as a part of the Coleman Motors family!
They can be reached at: 903-501-2116
---
Gold Level Sponsorship
---
Silver Level Sponsorship

Cadence Bank, 320 N McCoy Blvd, New Boston, TX 75570 has a Vision of helping people, companies and communities prosper. Our mission is to meet customers where they are in their financial journey, providing expert advice and a broad array of products and services to help them reach their goals. While delivering value to our shareholders, we foster a workplace where teammates thrive and communities prosper.
Their values: Value relationships; Put customers at the center of our business; Do right by others; Embrace inclusivity and create a great place to work.
Lobby Hours: 9 am till 5 pm; Drive Thru: 8:30 am till 6 pm ~ Monday thru Friday. Drive thru Open Saturday 9 am till Noon.
They can be reached at: 903-628-6565
---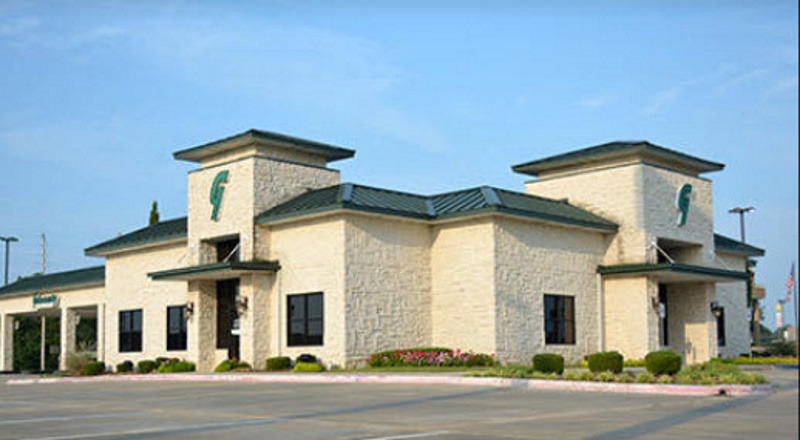 Guaranty Bank & Trust, 750 James Bowie Dr., New Boston, TX 75570. Guaranty Bank & Trust is one of the oldest community banks in Texas. We provide our customers with a full array of relationship-driven commercial and consumer banking products and services, as well as mortgage, trust, and wealth management services. Guaranty Bank & Trust has over 30 banking locations across 26 Texas communities located within the East Texas, Dallas/Fort Worth, greater Houston and Central Texas regions of the state. Phone Number: 903-628-6270
---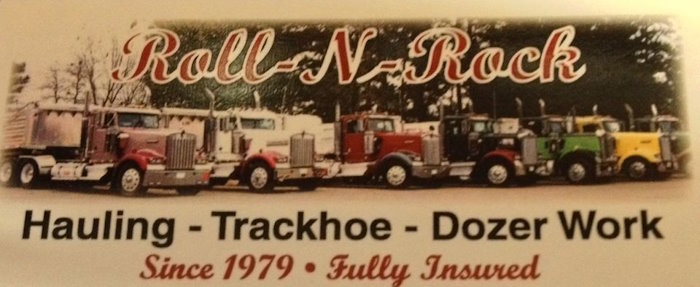 Roll-N-Rock, 700 West US Highway 82, New Boston, TX 75570 is a long time supporter of our Chamber of Commerce. Richard and his wife have over 7 drivers that deliver and handling all types of earth, top soil, stone, sand, gravel, etc. These drivers go all the way to Oklahoma, Arkansas, Louisiana, and of course, all over Texas, in a fleet of beautiful Kenworth W900L trucks.
They've been in business over 40+ years and at their same location since 1979!!
Open Monday thru Friday 8am till 5 pm They can be reached at: 903-293-3206
---
Red River Credit Union, 308 E Hoskins, New Boston, TX 75570 is located right off I-30 and just west of Texarkana. You can always expect a smiling face and great customer service whether you're choosing to make a quick banking transaction with one of our tellers or something a bit more such as an auto loan or applying for a credit card. Take a look below to learn more about the services we offer at our branches and for details on the hours and location of our New Boston branch. Their number is: 903-735-3000
---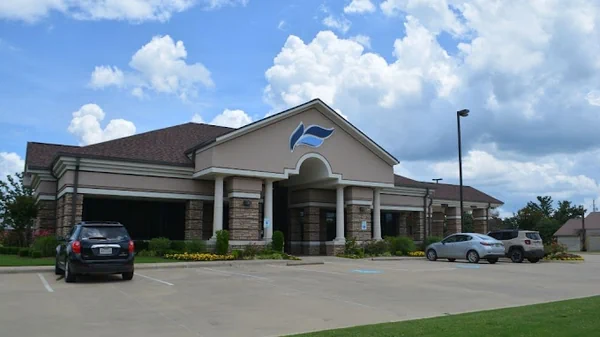 Farmers Bank & Trust, 416 N McCoy Blvd, New Boston has always been a great supporter of our Chamber. They have stepped up numerous times financially to help us by Sponsoring different events for us throughout the year.
Their Branch building is Open Monday thru Friday from 9 am till 5 pm. Their Drive Thru is Open Monday thru Thursday 8:30 till 5:30. Friday till 6 pm and Saturday 9 am till 12:30 pm.
They can be reached at: 903-628-0720
---

West Bowie County Rotary Club. We are located in Bowie County, Texas and we meet weekly in the city of New Boston every Wednesday at noon at the New Boston Church of Christ's building located at 610 N. McCoy Blvd., New Boston, Texas, 75570. We would love to have you stop by and have lunch with us. Come get to know us better!
---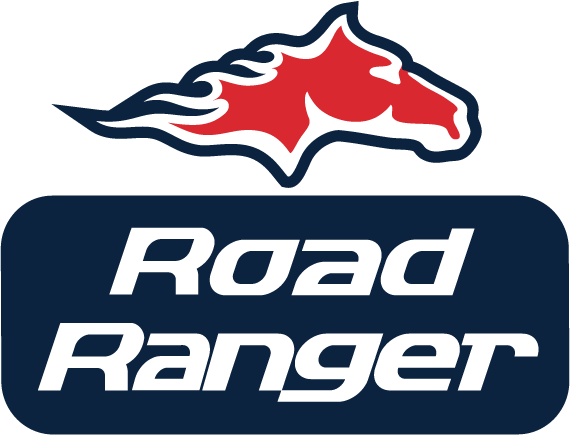 Road Ranger, 907 N McCoy Blvd, New Boston, TX 75570 joins us as a Sponsor for our Pioneer Days. This location opened here in late 2019 and has been a great asset to New Boston and a great employer.
They are Located on I-30 at Exit 201 (US Hwy 8), Road Ranger is committed to providing an over-the-top experience that keeps you coming back time and again. If you're looking for some R&R, a snack for the kids, or clean restrooms for the entire family, you'll find it all at Road Ranger." 
They are Open 24 hours and also have a Wendy's inside their building, and can be reached at: (815) 860-0925
---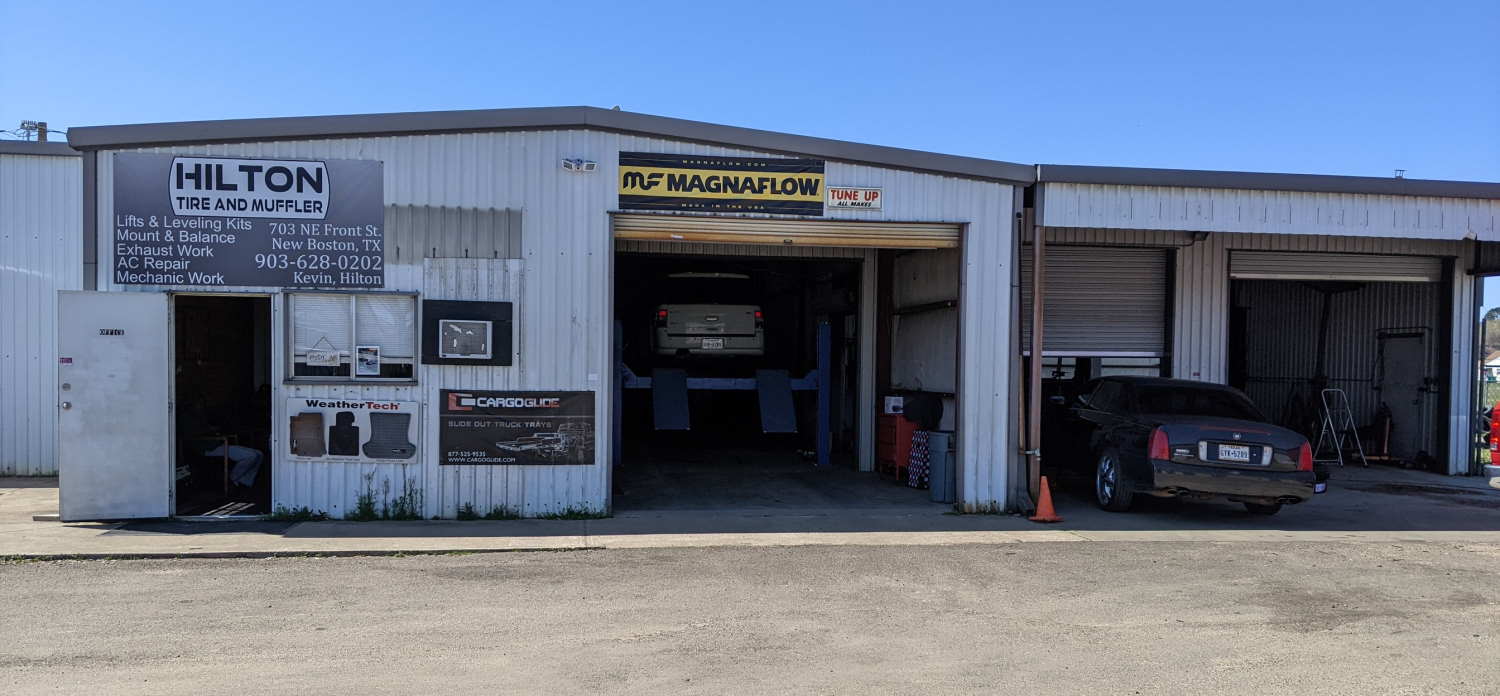 Hilton Tire & Muffler, 703 NE Front St, New Boston (behind Bumper to Bumper). They do all types of conventional automotive repair, including Lifts & Leveling Kits, Mount & Balance Tires, Exhaust Work, AC Repair and general Mechanic Work.

Owner Kevin Hilton says they can be reached at 903-628-0202
---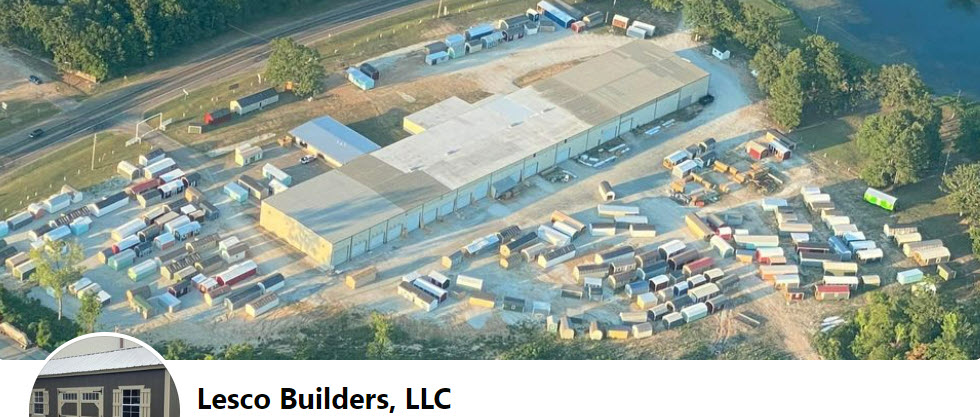 Lesco Builders, 1935 W Hwy 82, New Boston, TX 75570 is a premier portable building company specializing in high-quality and customizable storage, office, and living solutions. With over 25+ Combined years of industry experience, we have earned a reputation for excellence in craftsmanship, attention to detail, and customer satisfaction.
We offer a wide range of building sizes, styles, and features to meet your specific needs and budget. Whether you need a simple storage shed, a fully-equipped office, or a comfortable living space, we can help you design and build a portable building that meets your unique requirements.
They can be reached at: 903-628-5488
---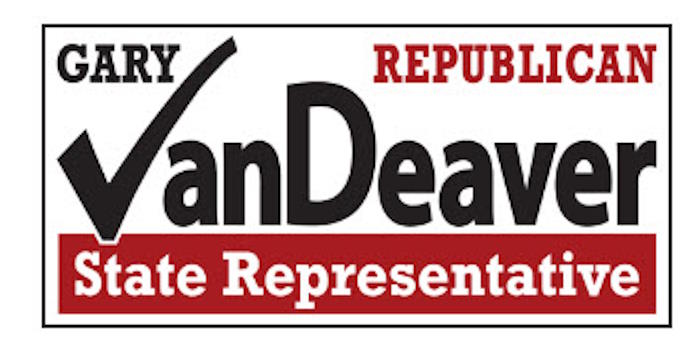 Gary VanDeaver. Rural Texas values continue to drive Gary in his daily service to our families and communities today as State Representative. He is dedicated to protecting our traditional values, job growth and economic prosperity, and improving our schools to give every Texas son and daughter the opportunity to succeed. 
A fiscal conservative, Gary knows how to do more with less and stretch a dollar to get a job done more efficiently. As a superintendent, he balanced and oversaw a multimillion-dollar budget and daily operations for his school district. As a member of the Appropriations Committee, Gary relies on this same conservative approach to fight for a balanced budget and low taxes for Texans. Gary further believes in the sanctity of life, promoting small businesses, bolstering rural economies, aligning education pathways with workforce needs, lowering taxes, securing our borders, and protecting the most vulnerable of our state.
Gary is a member of the NRA and a strong proponent of gun rights. He currently serves on the Texas FFA Foundation Board, and has served on the Board of Directors of the Texas FFA and the Red River County Farm Bureau. He is also a former board member of the Bogata Rodeo Association and Red River County Fair Association. Gary was also president of the New Boston Lions Club and director and past president of the New Boston Chamber of Commerce.
---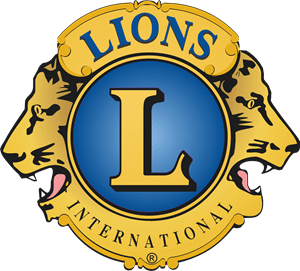 New Boston Lions Club - 1073, District 2 X2, New Boston, TX.  
Meets Every 2nd, 4th Tuesday at 12:00 - Maria's Tex Mex Restaurant, 115 NE Front St., New Boston, TX 75570
---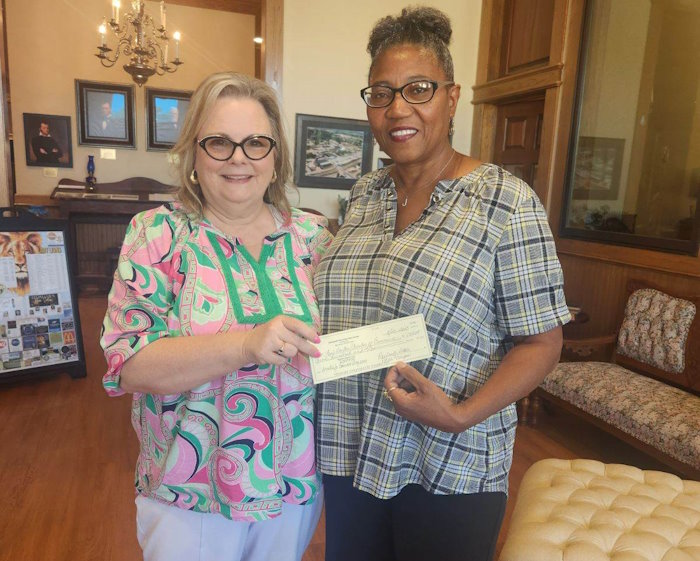 The New Boston Juneteenth Committee, represented by Patricia Thompson, presented a Silver Sponsorship check to Chamber Board Member Janet Willis for our 2023 Pioneer Days. The Juneteenth Committee has been a great supporter of the Chamber and just recently hosted an amazing Art Show at the 3 Bostons Museum, during the Juneteenth Celebration Week. They also hosted a Pageant, Vendors and a Parade.
---
Bronze Level Sponsorship

Bates-Rolf New Boston, 502 S McCoy Blvd., New Boston, TX 75570 When you have experienced the loss of a loved one, you can trust Bates-Rolf New Boston to guide you through the process of honoring their life. At Bates-Rolf New Boston, we pride ourselves on serving families in New Boston and the surrounding areas with dignity, respect, and compassion. Our staff is experienced in a variety of funeral services and can help you celebrate your loved one no matter your religion, culture, or budget. Phone Number: 903-628-2511
---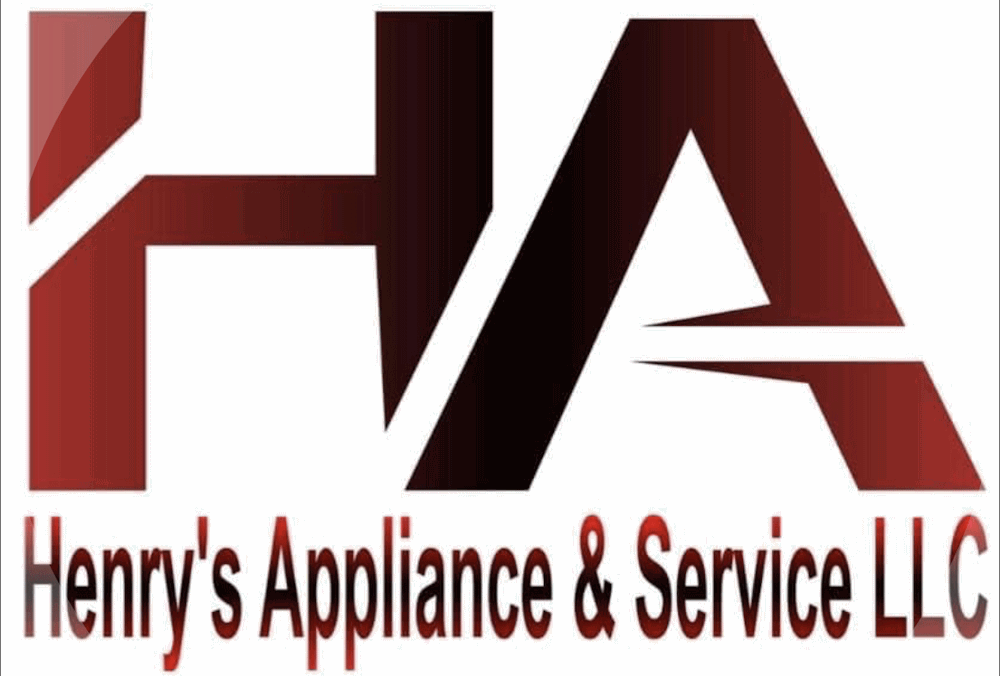 Henry's Appliance & Service LLC, 415 N McCoy Blvd, New Boston, TX 75570 provides new and used appliances and residential repair of appliances. They are in their new location in the shopping center at McCoy Blvd and Hoskins. They are Open: Monday thru Friday from 8 am till 5 pm.
They can be reached at 903-628-7179
---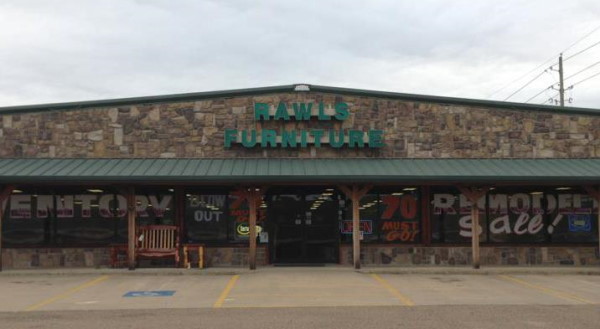 Rawls Furniture, 103 N McCoy Blvd, New Boston, TX is owned and managed by Robert Rawls since 1996.
The store offers a range of furniture and appliances for our area residents.
They can be reached at: 903-682-2908
---
Emerald Level Sponsorship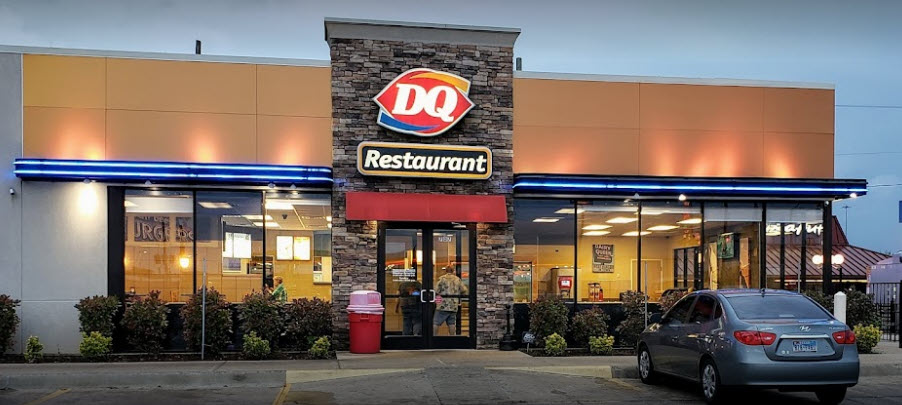 Dairy Queen, 707 N McCoy Blvd., New Boston, TX 75570