BancorpSouth Bank is located at 320 N McCoy Blvd, New Boston, TX 75570, as a full service bank.
Lobby Hours:
Monday - Friday 9:00am - 4:00pm

Drive-Thru Hours:
Monday - Friday 8:00am - 6:00pm
Saturday 8:00am - 12:00pm

903-628-6565
---
Tenille Co, located at 405 N. McCoy Blvd, New Boston, TX, is a new women's clothing boutique. We opened October 9th, with no idea of what to expect.
I am very happy to be serving my hometown and forever grateful for all the support from our community. We offer a nice selection of adult clothing for all shapes and sizes and a variety of unique accessories.
In addition to clothing, we also sell Tyler Candle Company, products. We will have a website coming soon. For now you can find us on Facebook and Instagram.
Hours are Mon-Fri 10-6 and Sat 10-2 Phone # 903-278-0726

Once again I am so appreciative and so excited to be here!
---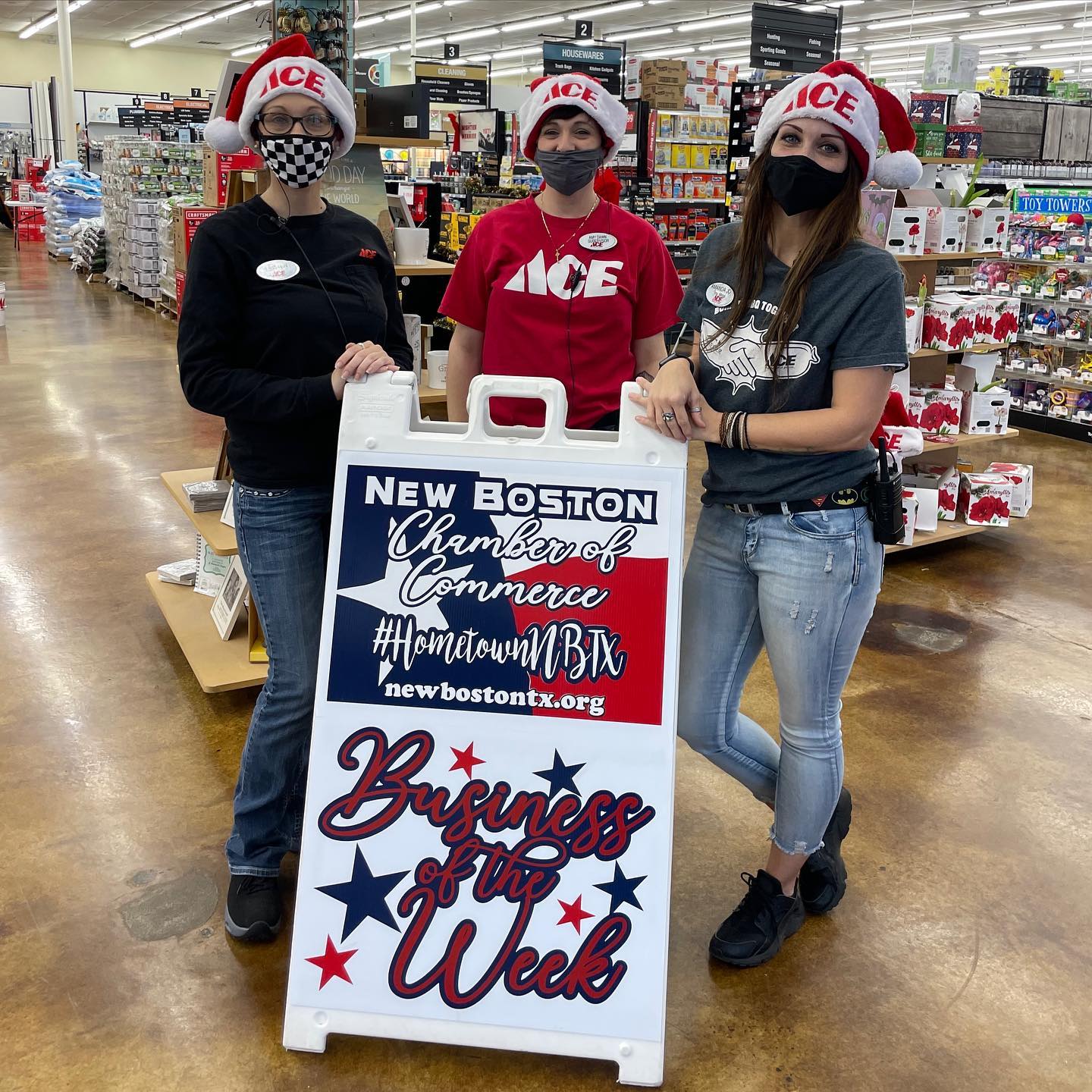 Ace Hardware, 405 N McCoy Blvd, New Boston, TX opened in 2019 with the sole goal of serving this community as best we can!
Thank you to every single one of our clients that already shop with us, and if you haven't visited yet…. We can't wait to meet you! In addition to all of your typical hardware needs, we provide: paint-mixing, key-cutting, small engine repair, re-screening, car key programming, glass-cutting and more! We carry specialty brands such as Stihl, Big Green Egg, Traeger, Yeti, and Rowe Casa (just to name a few).
Visit us Monday through Saturday from 8AM to 8PM and Sunday from 10AM to 6PM.
We also offer shop online, pick up in store and shop online, home delivery from store!We love this community and are so thrilled to be a part of it! Thank you for shopping at your local, family-owned Ace Hardware! From our family to yours, Merry Christmas!
Phone # 903-314-5959

---
Family owned and operated Maria's Tex-Mex Restaurant, 15 NE Front Street, New Boston, TX has been here for almost 8 years!!
We have to thank all of our customers and the City of New Boston for all the support you have given us!
Anytime you need a quick lunch or dinner come by and see us. We have anything from Street Tacos to Cheeseburgers we can meet anyone's needs.
Hours Monday to Saturday 11 to 9 and Sundays 11 to 3.
You can even call your orders in (903) 628-5084.
Thanks you all again for the amazing support y'all have giving us over the years looking forward to many more to come!
---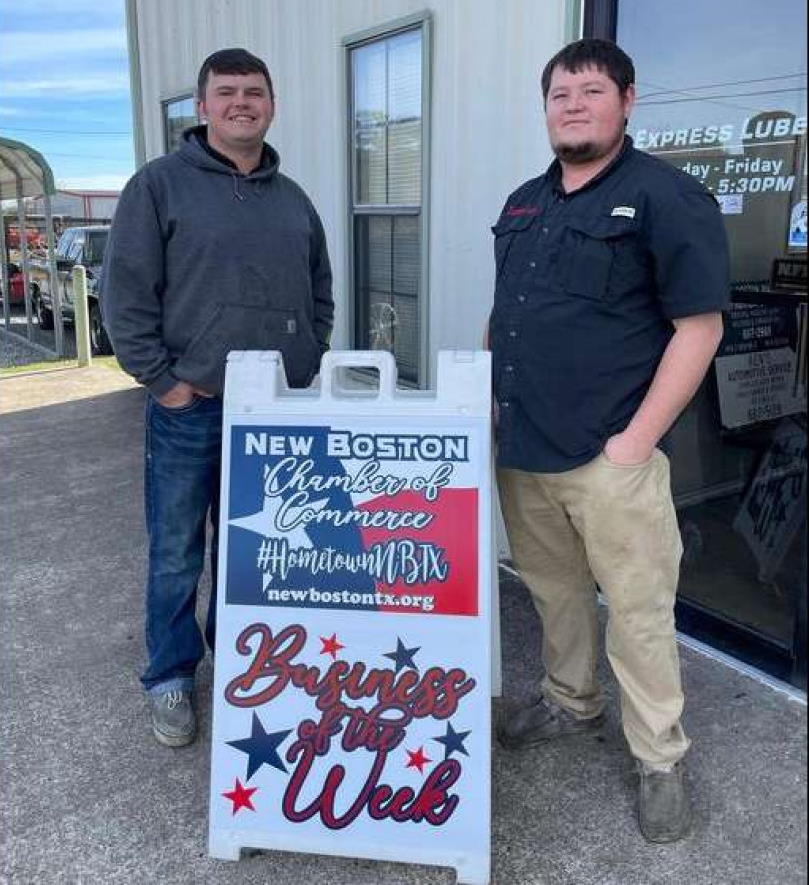 Express Lube is a family owned business located at 630 East Hoskins Street, here in New Boston. Phone ~ 903-628-7495

We offer full service oil changes and state inspections along with a variety of other automotive routine maintenance needs. When you visit, you will find a large selection of full synthetic and synthetic blend oil choices.
Military discounts are given to veterans and active service members with each oil change. We are open Monday through Friday from 8:30 am to 5:30 pm.
We strive to provide you with competent and quick service to get you back on the road as soon as possible.
Thank you to all our customers for your continued trust in us.
---
Congratulations to ArkLaTex Eyes for being the Business of the Week!
Serving the Ark-La-Tex since 1986, ArkLaTex Eyes is your trusted eye care provider when it comes to comprehensive eye exams and medical eye exams.
Two locations to choose from, 4401 Galleria Oaks Drive Texarkana and New Boston 101 Tyson Street
903-628-5555.
---
Tip Top Nutrition is the only locally owned and operated Herbalife Nutrition club in New Boston, TX.
We offer a wide variety of healthy loaded energy teas and complete meal replacement shakes with several options to choose from, our friendly team guarantees to find something that you will love.
Small town atmosphere makes you feel like family while fulfilling your healthy nutritional needs.
Located at 903 North McCoy Blvd Suite 3 , New Boston, TX between D&D Guns and Cobra Shipping. We are open Monday thru Friday 6am till 2pm and Saturday 8am till 12 pm. Also we deliver!!
903-556-6311
---
Fellers Paint and Body, at 400 N Center Street in New Boston, TX, is a family owned and operated auto body shop that has been serving the New Boston area for two years.
They specialize in vehicle collision repairs and custom motorcycles.
Jacob Fellers grew up in this shop learning the trade from his father and has over 12 years of hands-on experience. When the opportunity arose to restart his family's business in its original location, he couldn't pass it up. Jacob and Breanna Fellers, owners of Fellers Paint and Body, are committed to making the repair process as simple as possible for their customers.
Phone # 903-628-2914

---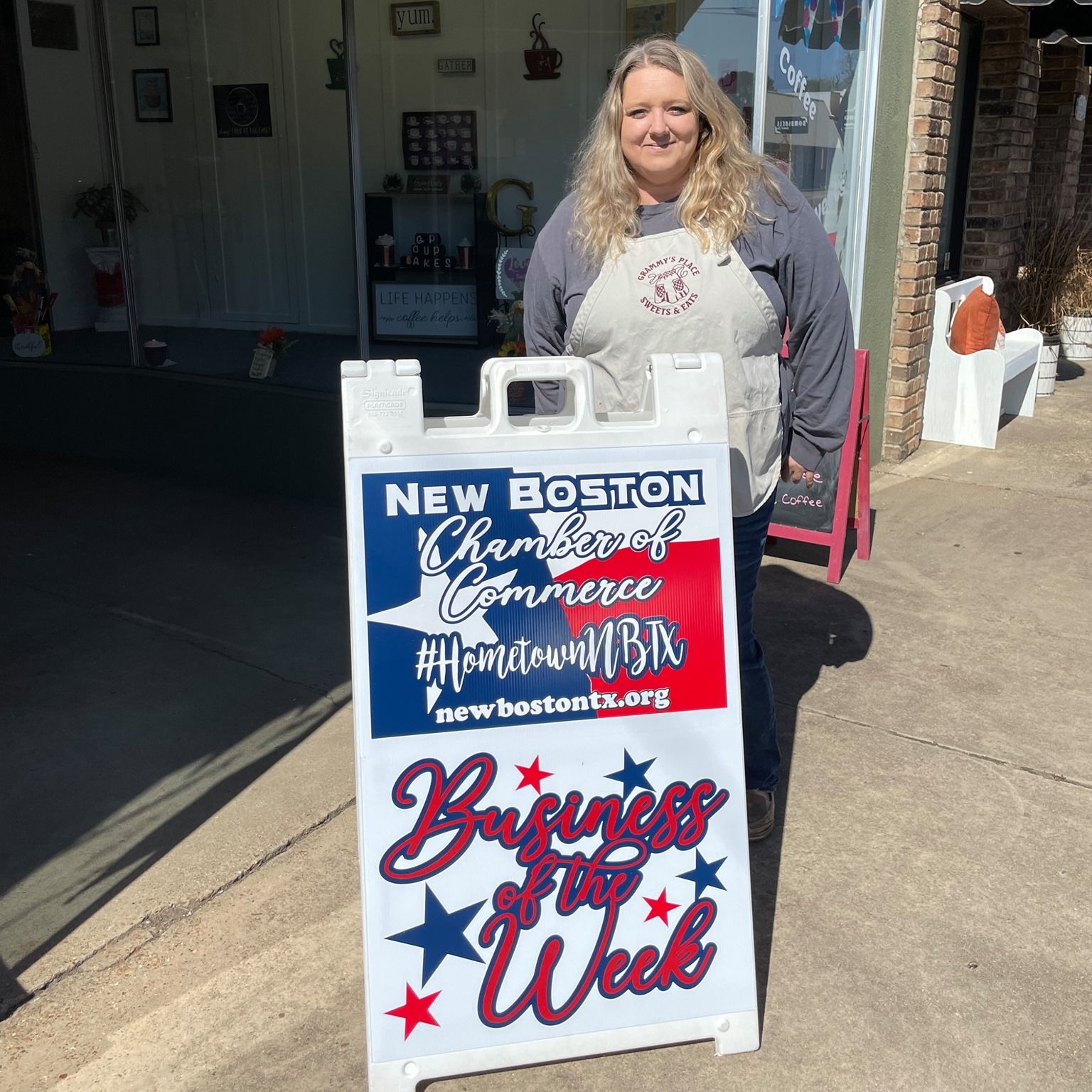 Grammy's Place, 111 N West St, New Boston, TX., is a new family owned and operated establishment.
Featuring unique homemade cupcakes, cookies and treats made with love , sandwiches, cold coffee, & hot coffee available. Grammy's serves true cold brewed coffee. Cold brew is a smooth taste without the bitterness of hot brewed coffee.
Grammy's has very family friendly inside dinning. We accommodate special orders and deliveries. Visit our Facebook for upcoming lunch specials.
Hours of operation - Tuesday 11:00 am - 2:00 pm; Wed- Friday 11:00 am-4:00 pm; Closed Saturday -Monday
Phone # 903-417-4384

---
Please Thank and Support our Pioneer Day Sponsors
Titanium Level Sponsorship
City of New Boston, 301 E North Front St., New Boston, TX has always helped our Chamber celebrate Pioneer Days. Mayor Ron Humphrey along with City Council Members: Rob Carr, Don Evans, Steve Williams, Jacki Laney and Sue Anderson; City Administrator Elizabeth Lea and City Secretary Pollyanna Moore welcome everyone to the Pioneer Days Festival in New Boston, TX
---
Diamond Level Sponsorship
Skaggs Country Store & Grill, 3070 W Hwy 82, New Boston, Tx 75570 has been here for 26+ years serving our area. Jane Skaggs and her son Sean Banks keep everything flowing just right! They've been voted Best Burgers, Breakfast and Fish in town for 4 years running!! That kinda says it all. Plus, they offer straight non-ethanol gasoline too. Skaggs hours are: Mon-Thus = 4:30 am till 8:30 PM; Fri = 4:30 am till 9:30 pm; Sat = 5am till 9:30 pm & Sunday 6am till 8:30.They can be reached at: 903-628-7351
---
West Fraser, Hwy 82 E, New Boston, TX 75570. West Fraser was founded in 1955 when three brothers – Sam, Bill and Pete Ketcham – pooled their resources to buy a small planing mill in Quesnel, B.C.
The sweat and hard work of three young men, along with a founding group of pioneering employees, have laid the foundation for the Company, West Fraser, that thrives to this day. More than six decades later, the Company has grown from the original 12-person crew at Two Mile Flat to be the largest lumber producer in North America.
West Fraser's heritage is a story about people who came together to build so much more than those three young men imagined was possible. 
"More than anything, I want to give all sorts of opportunities to the next generation. I want them to be proud of the success we've had."
Hank Ketcham, Chair
---
New Boston TX SIDC, 1 Trailhead Park Plaza, New Boston, TX 75570 is a Special Industrial Development Corp to support the development, expansion and relocation of new and existing companies to our New Boston TX area. The CDC is the Community Development Board that is also involved within the SIDC and the City of New Boston. The SIDC is an organization with a mission to work to create an environment in which community-oriented businesses can thrive. The phone number is: 903-628-6340
---
New Boston Property Management, 303 Rice St., New Boston, TX 75570, is a part of NETX Properties. Their Mission is to provide decent, safe, sanitary and affordable housing for eligible elderly and families and promote self-sufficiency and economic independence for residents. The officers and employees of the NETX Properties strive to provide an exceptional living environment for all residents with the assistance of law enforcement and residents through our Neighborhood Watch Programs. 
As one of the largest property management agencies in northeast Texas, NETX Properties prides itself with professional staff that comprises a winning team wherever they are working. Being involved in so many activities around the region is a key element in making NETX Properties such a big part of the local communities. Giving back to the community is our heart. They can be reached at: 903-628-2951
---
Platinum Level Sponsorship
Rip England Premier Realty, 102 E Main St., New Boston, TX 75550. With unparalleled industry knowledge, experience, and local expertise, we're the New Boston Real Estate experts you've been looking for. Whether you're buying or selling, we can help you get the sbest deal. Just looking? That's OK. Good luck on your house hunt! We hope to hear from you soon. Phone Number: 903-628-1234
---
State Bank, 102 SW Runnels St, DeKalb, TX 75559 is one of our oldest New Boston Chamber of Commerce members.

They are committed to helping you and your business grow. Get flexible financing, especially designed for your business, to handle any business expense. Contact your personal banker today to get started on growing your future. They also have branches in Clarksville, Atlanta, Nash, Texarkana and soon New Boston. Their main number is: 903-667-2553
---
Texarkana College, 2500 North Robinson Rd., Texarkana, Texas 75599, has the highest 3-Year Completion Rate among Texas Community Colleges. Texarkana College offer Certifications or degree programs in many fields - such as: Nursing, Welding, Cosmetology, General Studies and Fine & Studio Arts Programs. They have a 97.5% Certification and Licensure Pass Rate. They have over 300+ Scholarships available with over $500,000 awarded in Scholarships each year.. They can be reached at: 903-823-3456
---
Gold Level Sponsorship
Waste Management, locally at 1030 Hwy 82 W, New Boston TX 75550. Waste Management, Inc., doing business as WM, is a waste management, comprehensive waste, and environmental services company operating in North America. Founded in 1968, the company is headquartered in the Bank of America Tower in Houston, Texas. Phone Number: 903-628-6595
---
Silver Level Sponsorship
Twin City Title, 300 E Hoskins, New Boston, TX 75570. Twin City Title is locally owned and operated. The combination of innovative technology employed by skilled professionals makes us unique, as we provide precision and exceptional service through every aspect of the closing process. Twin City Title has been serving the Texarkana area since 1981. Phone number: 903-628-4141
---
Bowie-Cass Electric Cooperative, 117 North St., Douglasville, TX 75560. Bowie-Cass Electric Cooperative, Inc. is a rural utility cooperative headquartered in Douglassville, Texas that was formed in 1937. The cooperative currently serves 35,152 meters with 6,073 miles of line. They can be reached at: 903-846-2311
---
At Vyve, we are driven to deliver the most stellar products and services you could ask for. We're freeing up—and speeding up—the way you live it up. Get the most out of your new Smart Assistant, stream your favorite shows with Roku, and protect your home and office with a connected Nest Camera. With Vyve Broadband, the speed you'll need in the future is already here. They can be reached at: 1-855-367-8983
---
Guaranty Bank & Trust, 750 James Bowie Dr., New Boston, TX 75570. Guaranty Bank & Trust is one of the oldest community banks in Texas. We provide our customers with a full array of relationship-driven commercial and consumer banking products and services, as well as mortgage, trust, and wealth management services. Guaranty Bank & Trust has over 30 banking locations across 26 Texas communities located within the East Texas, Dallas/Fort Worth, greater Houston and Central Texas regions of the state. Phone Number: 903-628-6270
---
Bronze Level Sponsorship
Bowie County Citizens Tribune, 139 NE Front St, New Boston, TX 75570 was established in 1895!! They have been serving the news to our New Boston area for many generations. The Publisher is Heather Russell. They can be reached at: 903-628-5801
---
Red River Credit Union, 308 E Hoskins, New Boston, TX 75570 is located right off I-30 and just west of Texarkana. You can always expect a smiling face and great customer service whether you're choosing to make a quick banking transaction with one of our tellers or something a bit more such as an auto loan or applying for a credit card. Take a look below to learn more about the services we offer at our branches and for details on the hours and location of our New Boston branch. Their number is: 903-735-3000
---
Judge & Mrs. James Carlow
---
S & P Discount, 129 E North Front St., New Boston, TX 75570 is owned by Scarlett & Patrick Bray. They specialize in New, Overstocked and Discontinued items with discounts sometimes up to 75% off. They can be reached at: 903-314-5577
---
Bates-Rolf New Boston, 502 S McCoy Blvd., New Boston, TX 75570 When you have experienced the loss of a loved one, you can trust Bates-Rolf New Boston to guide you through the process of honoring their life. At Bates-Rolf New Boston, we pride ourselves on serving families in New Boston and the surrounding areas with dignity, respect, and compassion. Our staff is experienced in a variety of funeral services and can help you celebrate your loved one no matter your religion, culture, or budget. Phone Number: 903-628-2511
---
Rawls Furniture, 103 N McCoy Blvd., New Boston, TX 75570 had its grand opening in New Boston, Texas in 1996 to simply provide the absolute best furnishings, deliver extraordinary customer service and provide our customers with finer design resources. Years later and the business keeps getting better and better. Whether it is your bedroom, living room or kitchen, we are able to make your home characteristically yours. They can be reached at: 903-628-2908
---
Emerald Level Sponsorship