---
Exit 208 Trophies & Awards, 205 Mockingbird Drive, Hooks, TX. 

David and Jessica Briggs are the owners and operators of Exit 208 Trophies & Awards. David has been a member of the Hooks community since he was born and Jessica moved to Bowie County in 1993. They have been married since 2001, together since 1997, and have enjoyed pouring back into the surrounding area for the past 25 years. Although they have had the opportunity to serve many communities throughout their life together, the Four States Area has always been and will always be home. David and Jessica say, "We are so proud to be a part of this community that reaches all across the Four States Area. We look forward to investing in your lives and being a small part of celebrating the accomplishments of those around you."

They can be reached at: 903-547-1110
---
Childers Tree Service, 1466 County Road 3110, DeKalb, TX 75559 is a locally owned and operated tree and mulching service. Childers Tree Service is here for ANY and ALL of your or land maintenance needs! We are insured for your safety and ours. With over 15 years of experience we take pride in doing any job big or small!! They can be reached at: 903-417-2322
---
Divine Layers, New Boston, TX is a contracting company based in New Boston, Texas. We specialize in top-notch remodel & new construction services, offering our clients the best possible service with quality workmanship and timely delivery.
Our team of experienced professionals works hard to ensure our clients are always satisfied with the results. They can be reached at: 903-575-7160
---
Peachtree Recovery Ranch, a Ministry of Runners Refuge, 194 Private Road 41161, New Boston, TX, has joined our Chamber. They are a faith based residential recovery program that helps with life controlling issues, such as addictions, compulsions, and dual diagnosis issues. They are a no barrier facility and charge no one for their services. They offer vocational training through our work experience program, counseling, and group classes. They also introduce all students to entrepreneurship and teach financial literacy.

Their Ribbon Cutting Ceremony will be October 25th at their location. They can be reached at: 469-383-3164
---
First Choice Metals,  1935 US Hwy 82 West, New Boston, TX 75570, has joined the Chamber of Commerce. They are a new metal supplier in New Boston producing metal roofing, siding, and trim to local contractors, DIYers, and manufacturers. They sell building kits too! They are Open Monday thru Friday 8 am until 5 pm. They are open to the public! They can be reached at 903-314-5515.

---
Twig & Thistle Floral Studios, 204 Collum Street, New Boston, TX 75570 has moved into their new location across from the New Boston Police Department. They can be seen from Rt 82 on the north side. They offer a lovely variety of fresh flowers and creative gift ideas to suit any style or budget. It is our pleasure to assist you with any local, as well as worldwide deliveries. We welcome all corporate accounts.
For your convenience, they also offer daily floral delivery to local funeral homes and hospitals. They are Open Monday thru Friday from 9 am till 5 pm, Saturday from 9 am till Noon. Orders can be completed 24/7 via their eCommerce site. They can be reached at: 903-628-1166
---
82 Marketplace, 134 Hwy 82, New Boston, TX 75570 has joined our Chamber. They are a new Flea Market in New Boston.

They are Open Tuesday thru Saturday - 10 am till 5 pm. They can be reached at: 903-280-3279
---
Quality Car Care, 705 NE Front Street, New Boston, TX 75570 offers quality car care and 24 hour road service.
They can be reached at 903-628-0001. For after hours call 430-280-4123
---
Advanced Spine, Sports & Rehab, 402 N McCoy Blvd, New Boston, TX. Have you fallen victim to the myth that pain is a part of the normal aging process? Do you suffer from headaches or migraines? Here at Advanced Spine Sports & Rehab, we provide quality healthcare to Texarkana and surrounding areas. We specialize in spinal decompression to relieve herniated disc injuries & offer treatment for back pain, neck pain, sports injuries, neuropathy- and SO much more! Voted "Best Chiropractor in Texarkana" over the years!
Open Tuesday & Thursdays, Atlanta other days. Can be reached at: 903-792-2060
---
Henry's Appliance & Service LLC, 415 N McCoy Blvd, New Boston, TX 75570 provides new and used appliances and residential repair of appliances. They are in their new location in the shopping center at McCoy Blvd and Hoskins. They are Open: Monday thru Friday from 8 am till 5 pm.
They can be reached at 903-628-7179
---
Heartstart Heroes CPR & First Aid has joined our Chamber. Owner, August Wooldridge, is AHA BLS Healthcare provider, AED, First Aid, Heartsaver.
CPR training is critical not just for professionals but for laypersons as well!! Out-of-hospital cardiac arrest claims the lives of nearly 350,000 people in the United States each year, making it a major public health problem, according to the American Heart Association (AHA). Only about 10% of those who experience these events survive.
He can be reached at: 217-416-5857
---
Bar M Steakhouse, 101 N Elm St, New Boston, TX 75570 is Open!! :) They started with lunch hours to get up to speed and have just extended their hours to include dinner - 11 am till 8 pm Monday thru Saturday. Sunday is 11 am till 3 pm. The owners have worked really hard to get all their equipment and staff organized and ready! It's been a long process for them but their reviews are awesome.
They can be reached at: 903-740-2276
---
Rock Bar Meatworks, 1258 Palmer Dr., Hooks, Texas 75561 is a locally sourced grain-finished Beef & Pork Farm. They take pride in offering various cuts of meats as well as providing all the "ingredients" for different holiday grilling's!! They have jerky, spices and the necessities to go along with grilling or stocking your freezer - Beef, Pork, Breakfast Sausage, Smoked Bacon, Mango Habanero Brats, Fajita Kits, Compound Butters - everything that is wholesome and yummy good -they have it!
They can be reached at: 903-277-7210
---
Barfield's Home and Supply, 129 NE Front St., New Boston, TX 75570 is owned by Andrea Barfield, a 7th generation business owner & Bowie County resident. Located in historical downtown New Boston, Barfield's Home & Supply specializes in everything for the home. 
We are a dealer for Ashley Furniture & several other major furniture companies.  Overstock & liquidated general merchandise from big box stores fill the shelves along with the customer favorite- RUGS! Our goal is to have unique items to either get your home set up or add the finishing touches. 
There is always something new as merchandise arrives weekly. You never know what you will find so come check us out!

We are Open: Wednesday 10:00 AM - 7:00 PM; Thursday 10:00 AM - 5:00 PM; Friday 10:00 AM - 5:00 PM; Saturday 12:00 PM - 4:00 PM
We can be reached at: 903-628-5525
---
Synergy Physical Therapy & Rehab, 411 N McCoy Blvd., New Boston, TX 75570 just expanded to our New Boston area. Their original Physical Therapy Building is in Texarkana on Summerhill Rd. Realizing New Boston is growing, they felt it was a good decision to open an additional Physical Therapy and Rehab facility here.

They accept appointments with or without physical referral. Synergy Physical Therapy & Rehab now provide services in our new physical therapy center, and in-home therapy is available for clients who qualify.

Synergy Physical Therapy & Rehab provides:

Musculoskeletal Rehabilitation
Orthopedic Rehabilitation
Neurologic Rehabilitation
Cardiac / Pulmonary Rehab
Pain Management
Fall Prevention
Geriatric Rehabilitation
Pre- and Post-Op Rehab
Their new facility is right next door to H & R Block and just a few doors down from Tenille Co and Secure Finance. Their hours are Monday, Tuesday and Thursday from 8 am till 5 pm. A great advantage is they are an Outpatient facility and even if referred to a different location, you as the consumer, have the right to chose where you want to go for your physical therapy!

They can be reached at 903-628-3260
---
---
Vape Daddy LLC, 309 W US Hwy 82, New Boston, TX 75570 is a friendly, locally owned African-American business that offers premium vape products. 
They are typically Open from 10 am till 7 pm - Monday thru Saturday. Sunday 1 pm till 5 pm
They can be reached at: 430-455-8163
---
Juneteenth is a community non-profit organization. They have joined together to embrace diversity and inclusivity; foster respect, integrity, and a willingness to contribute meaningfully and charitably to societal needs; and forge lifelong enriching relationships with people of all ethnicities and nationalities.
Our mission is to bring awareness to the citizens of New Boston, and the surrounding geographical areas concerning the contributions of minority populations groups including (African Americans, Latinos, Asians, and Pacific Islanders), in the celebration of Juneteenth. The organization shall be operated as an educational /charitable outreach providing events and training to aid the citizens of New Boston to reach levels of racial maturity and sensitivity in the melting pot we call America.
Juneteenth can be reached at: juneteenthnewboston@gmail.com
---
Security Finance, 403 N McCoy Blvd, New Boston, TX 75570 specializes in providing personal installment loans in New Boston, TX. When life throws you a curveball, we will do our best to help you get back on your feet. You don't need to have a perfect credit score to secure your loan today. To start the process, click on the "Start A Loan" button above and fill out the application. A member of our team will give you a call to finish the process.

If you have any questions or would prefer to fill out the application over the phone, give our local branch a call and our team will be happy to assist you. You're also welcome to stop by and apply for a personal loan in person for fast financial solutions when you need them most!

Jesse L. Bridges had a vision: To fulfill the financial needs of people in his community and provide superior service while doing it.A former United States Navy man, Mr. Bridges returned after his service to his grandparents' farm in rural South Carolina — a place where bartering was the only form of credit that he knew. He found a job as an assistant manager with a consumer-finance company with the goals of helping out the grandmother who raised him and saving for his own college education.
After progressing through that role and discovering how much he enjoyed working with customers, Mr. Bridges decided to put his college plans on hold. Instead, he chased his dream of starting his own company. After convincing investors and borrowing money to begin his business, he opened the doors to the first Security Finance on Church Street in Spartanburg, South Carolina, in October 1955.
Security Finance now offers traditional installment loans, which have set, whole-dollar monthly payments over a defined period of time — a type of consumer-finance product that has been around for over a century. Over the years, Security Finance has expanded significantly, and many helpful products have been added to the lineup, but Mr. Bridges' original mission remains steady: Offer superior customer service from well-trained and compassionate people and be a good steward in our communities.

Their hours are: 8:30 till 5:30 Monday thru Friday. They can be reached at: 903-628-6548
---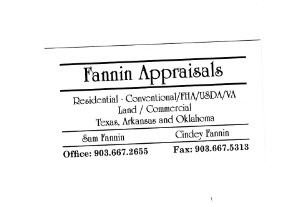 Fannin Appraisals, DeKalb Texas 75559 has joined our Chamber.
They provide residential and commercial appraisals for the lending real estate institutions.
They can be reached at: 903-667-2655
---
Bills' Trophies & Signs, 115 N Elm St, New Boston, TX 75570 has been helping businesses with signage, shirts, logos, etc. for years in the New Boston area.
They are open Tuesday thru Friday from 9 am till 4 pm.
They can be reached at: 903-628-3116
---
New Boston Service Co, 220 W US Highway 82, New Boston, TX 75570 is a Full Service Plumbing, Electrical and HVAC Contractor. They do repairs, installations, maintenance for Residential and Commercial Properties. They also do New Construction and Remodel Projects.
Formerly Jimmy Parker Service Company, New Boston Service Co. has been locally owned, licensed, and operating in New Boston and the surrounding area for 30+ years.
They have moved to their current location on Rt 82 to allow for better service flow with technicians and supplies. We offer licensed technicians for heating, cooling, plumbing, and electrical services
They can be reached at: 903-628-5079