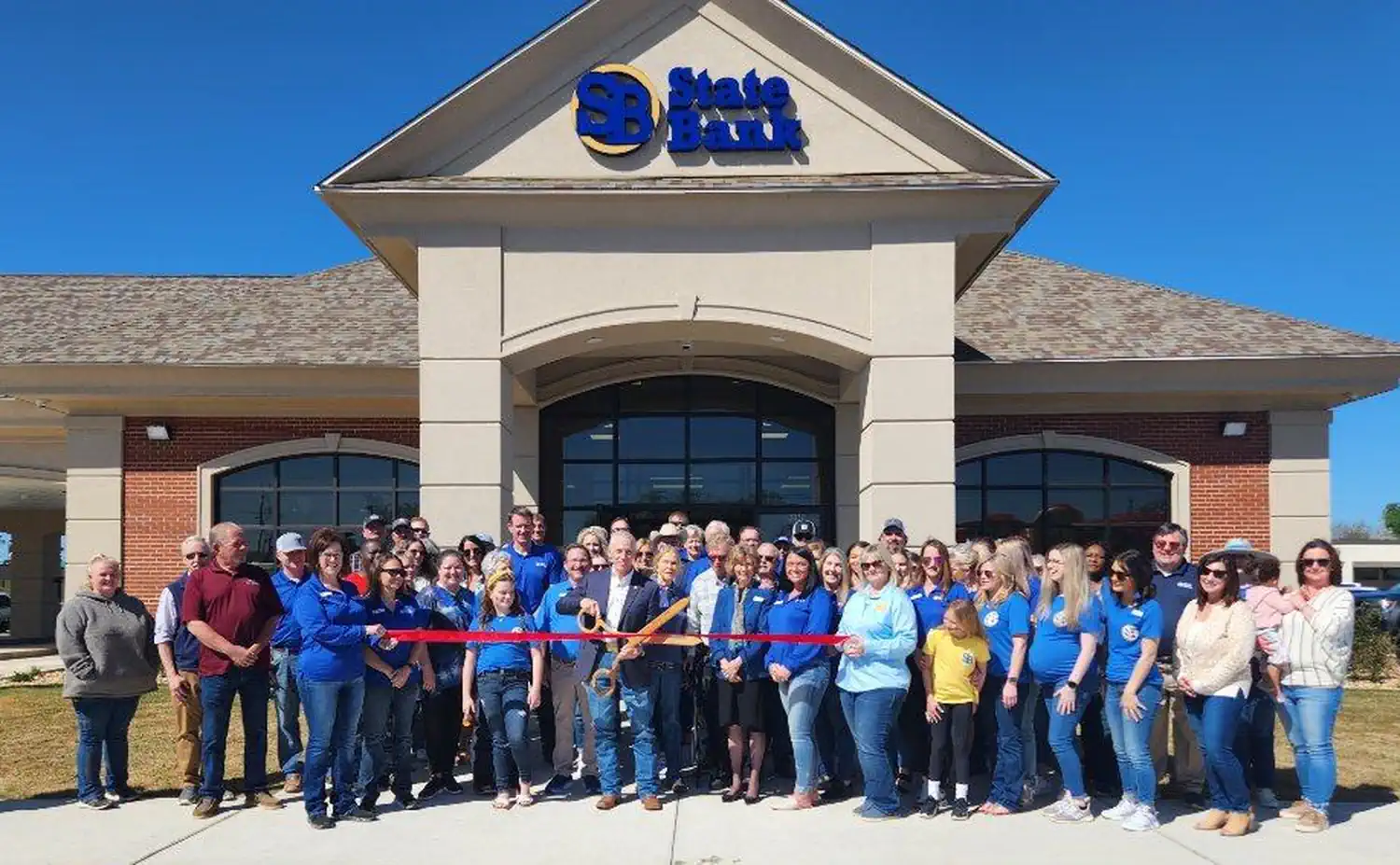 State Bank, 319 E Hoskins St., New Boston, TX 75570 had their Grand Opening and Ribbon Cutting on March 25 with lots of dignitaries, officials, members of their bank, Chamber members, food, festivities, bounce house and slides and even face painting and a magician to charm the kids!!
---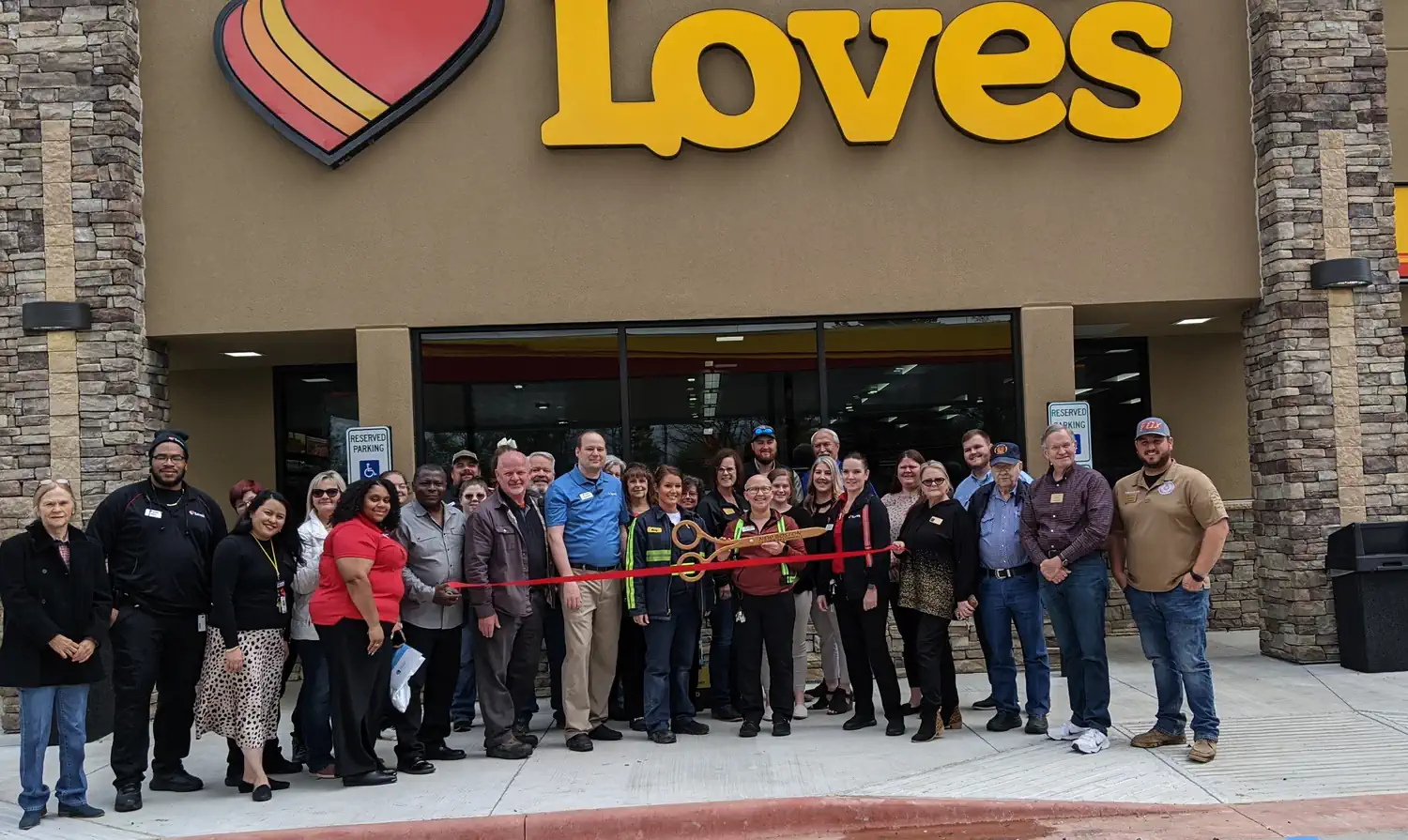 Great Day at Loves Ribbon Cutting. Pictures HERE
---
Extreme Bounce House Ribbon Cutting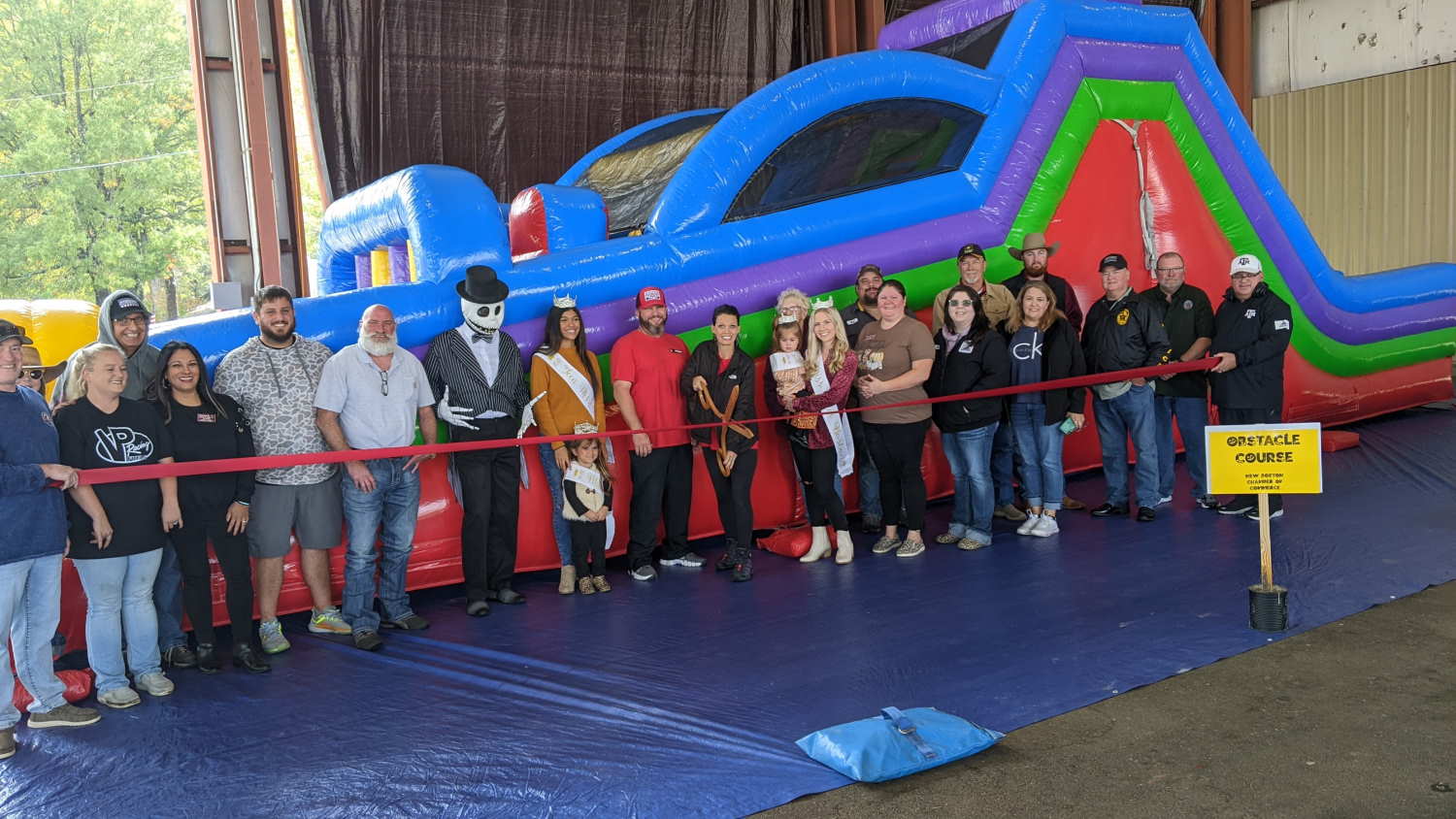 Extreme Bounce House Rentals, New Boston, TX 75570 had a Ribbon Cutting Ceremony Saturday October 29 at 3 PM. They are bringing their 40 Foot Obstacle Course (Sponsored by the Chamber) to our Fall Family Festival and will be set up by 3:00 for our Ribbon Cutting Ceremony. Our Fall Family Festival is going to be a unique day with all the games, prizes and events planned - be sure to come. See all the details HERE.

---
Southern Shears, 312 North Center St, Suite 3, New Boston, TX had a Ribbon Cutting Ceremony on October 14, 2022 at 11:30 am. Southern Shears is owned by Keisha Allen. Their phone number is: 903-718-9803
---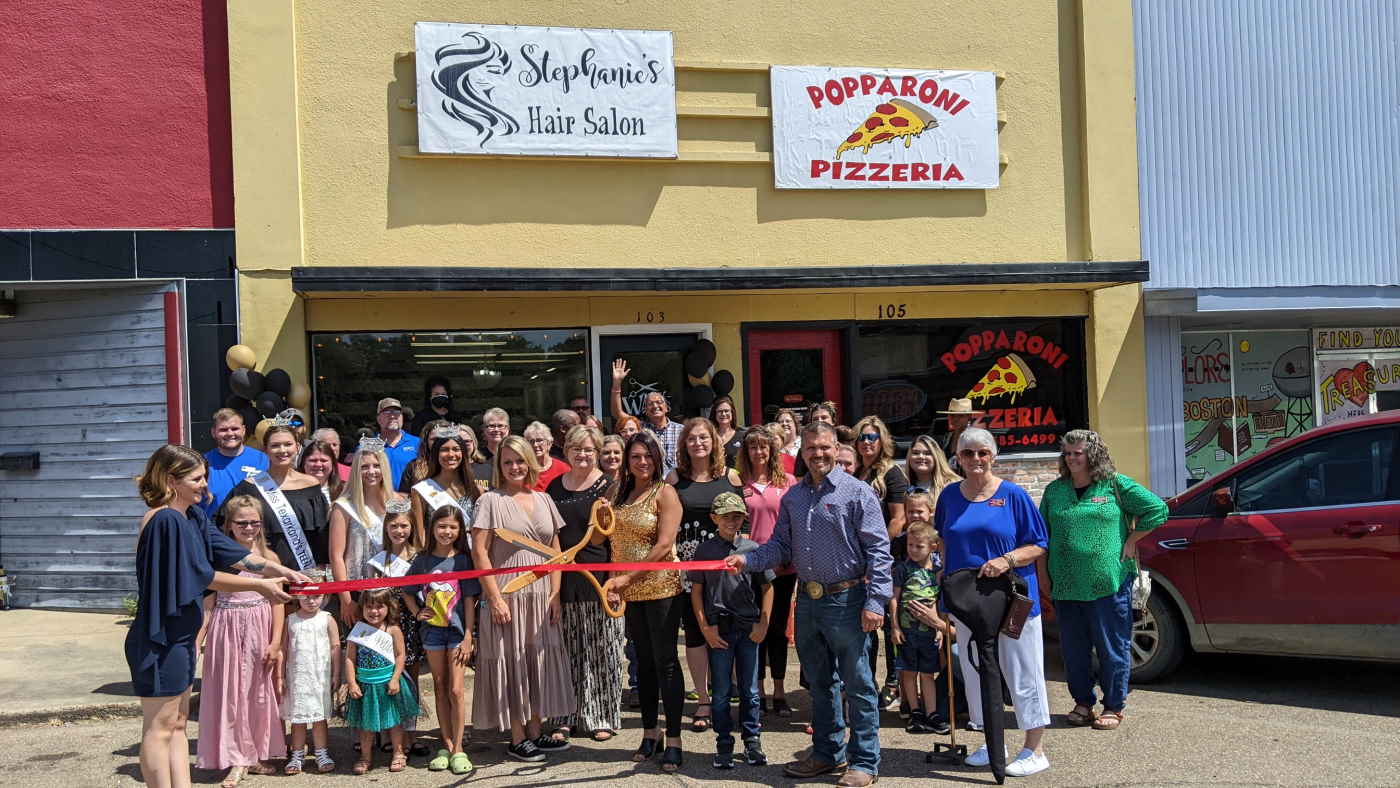 Stephanie's Hair Salon, 103 NE Front St., New Boston, TX 75570 had an awesome Anniversary/Ribbon Cutting. Great crowd of people showed up, all the Queens, Board Members, general public and, of course, the ladies that work there with Stephanie: Sami F, Jessie H and JoAnn G. Delicious cupcakes were provided by Cait's Cakes. They are open Tuesday thru Friday's - 9 am till 5 pm and Saturday from 9 am till noon.  Stephanie's Phone Number is: 903-933-9793
---
New Boston Family Clinic, 114 Hwy 82 W., New Boston, TX 75570 has re-opened! NBFC offers a variety of medical services to meet your healthcare needs including Primary Care (ages 15 and up), Acute Care (ages 5 and up), Women's Health, Telehealth, Chronic Care Management, Remote Patient Monitoring, and Home Visits to the west Bowie county area. We accept most all insurance policies. Because we are an independently owned clinic, we prioritize patient care over any large corporate interests. If you have any questions, please feel free to contact our Practice Manager, Ashley Amos, at (479)530-3245.

Our Staff
Donald Douglas, MD Dr. Douglas is a Board-Certified Internal Medicine physician that specializes in both chronic and acute diseases in adults. He has been practicing medicine in Northeast Texas since 1999. He feels a kinship with the people in the area and looks forward to improving health through treatment, prevention, and education.
Sheila Corbett, FNP-BC Mrs. Corbett is a Board certified family nurse practitioner with over 26 years of nursing experience working in Women and Children's Health.
Ian Watson, APRN Mr. Watson is a Board- Certified nurse practitioner that has worked a variety of roles in the hospital setting and is trained in adult and geriatric acute care.
Grace Clinic Dr. Douglas established and operated Grace Clinic for the uninsured patients in our area for 10 years. He plans to relocate such a free clinic to the New Boston area in the near future.
---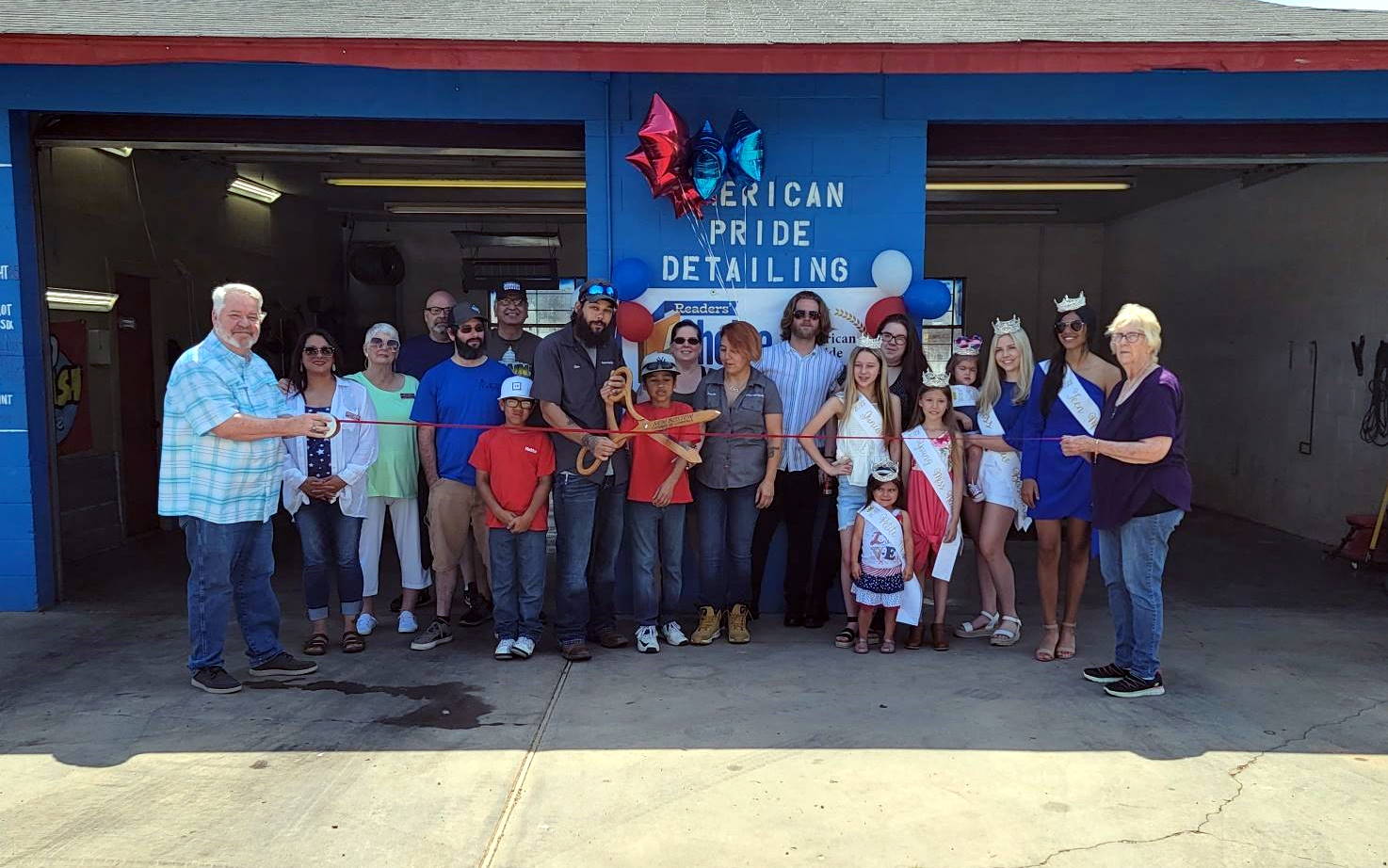 American Pride Detailing, 101 S Elm St, New Boston, TX 75570 held their Grand Opening/Ribbon Cutting on June 11, 2022 at 11 am. They can be reached at sams022013@gmail.com. They're open Monday - Friday 8 am till 5 pm.
They also won the Tribune's Readers' Choice Award for Best Auto Detail - 2021
---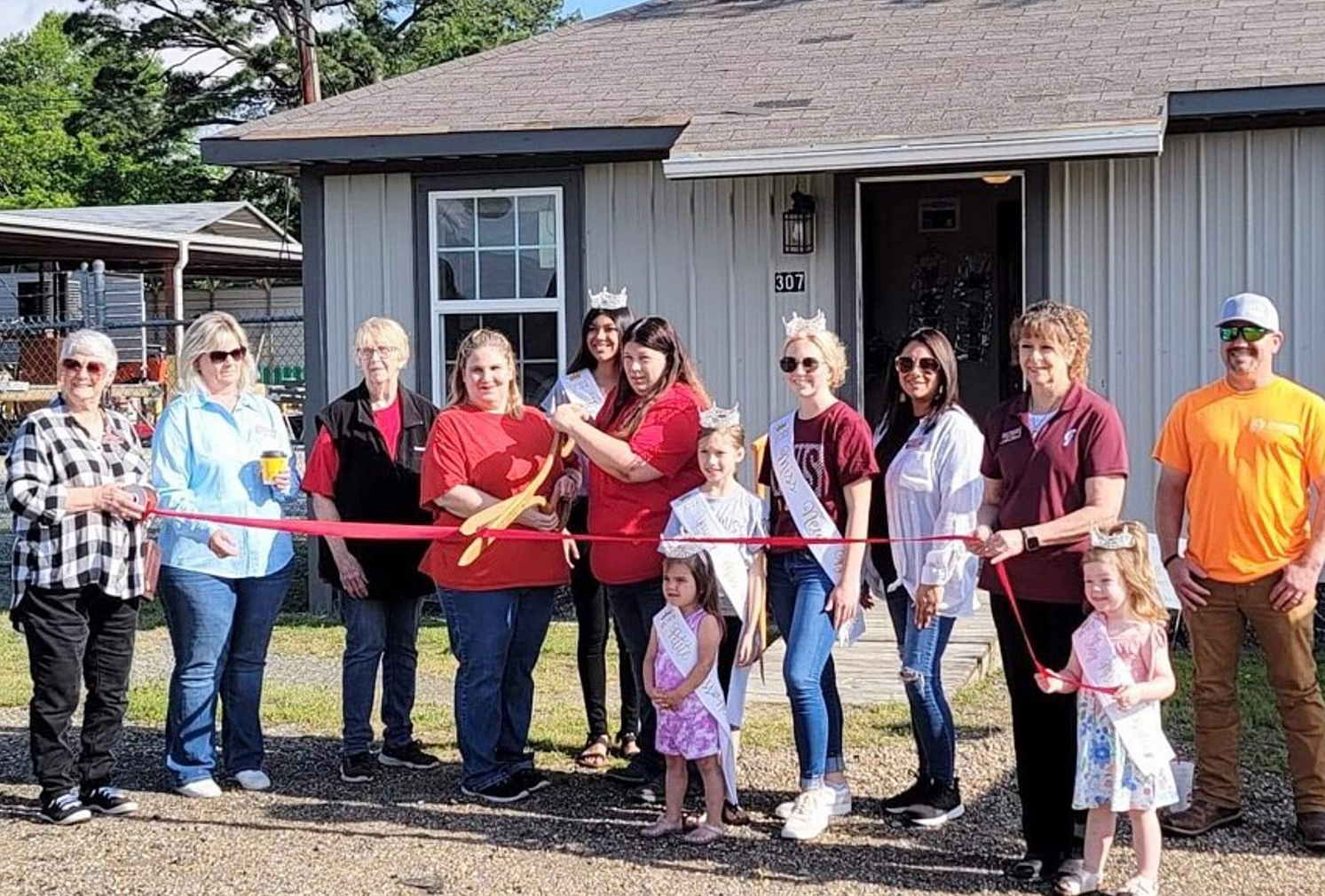 Southern Girl Customs, 307 E North St, New Boston, TX became our newest member with a Ribbon Cutting Ceremony! This new business is owned by Ashley Putnam and she can be reached at: 903-336-5193
---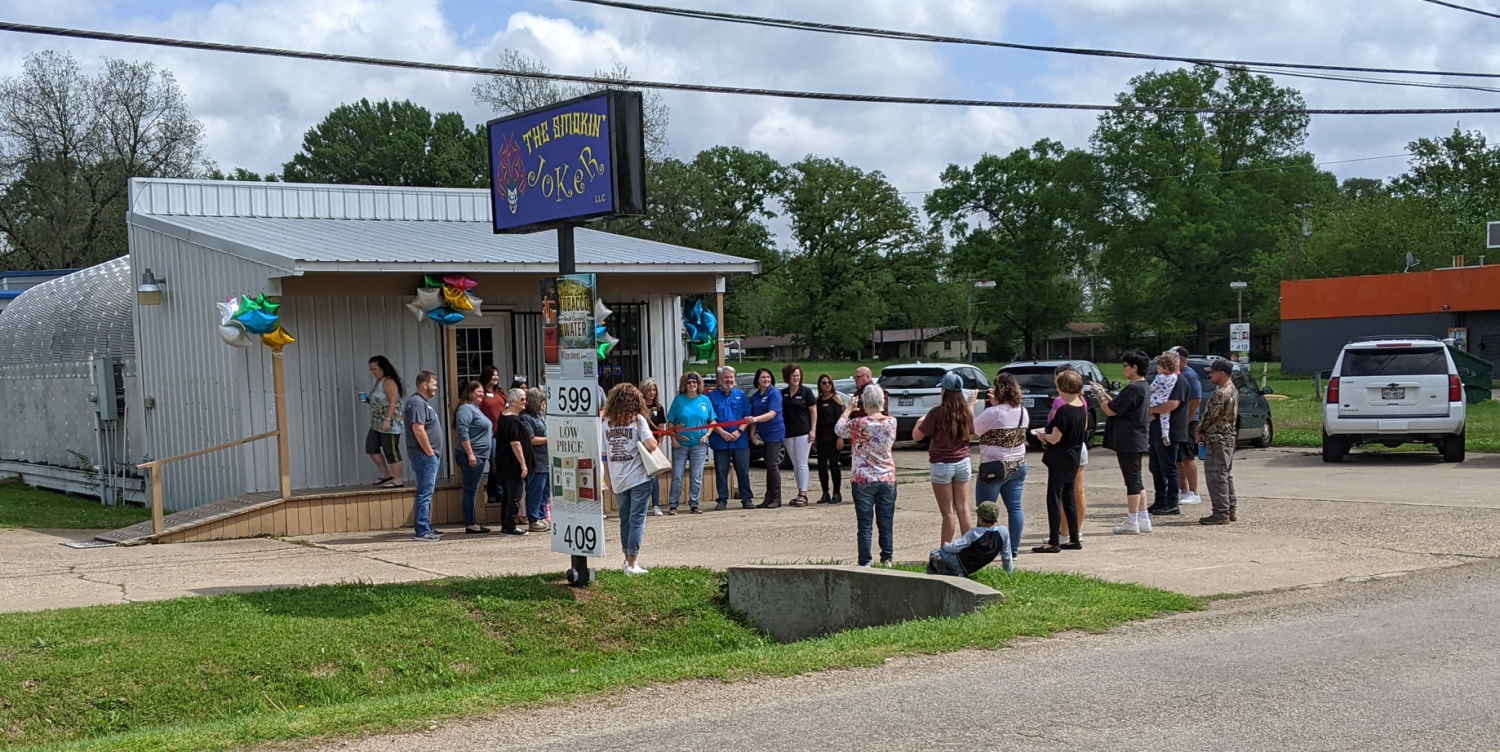 Ribbon Cutting at The Smokin Joker, 303 E Hoskins St, New Boston TX 75570 is a great place for that morning coffee, pop, snacks, cigarettes or a delicious Grammy's Sweets & Eats. Best of all, they have a Drive Thru to make it even easier for you!! Their hours are Monday thru Saturday 6 am to 7:30 pm and Sunday is 10 am to 6 pm. Original owners - Janet and Charles Patton kept it in the family with Deann and Johnna taking over. They also brought in Katrina from Grammy's Place, formerly downtown for those incredibly yummy treats - walk-ins or drive-ins welcomed.
They can be reached at: 903-422-1826

---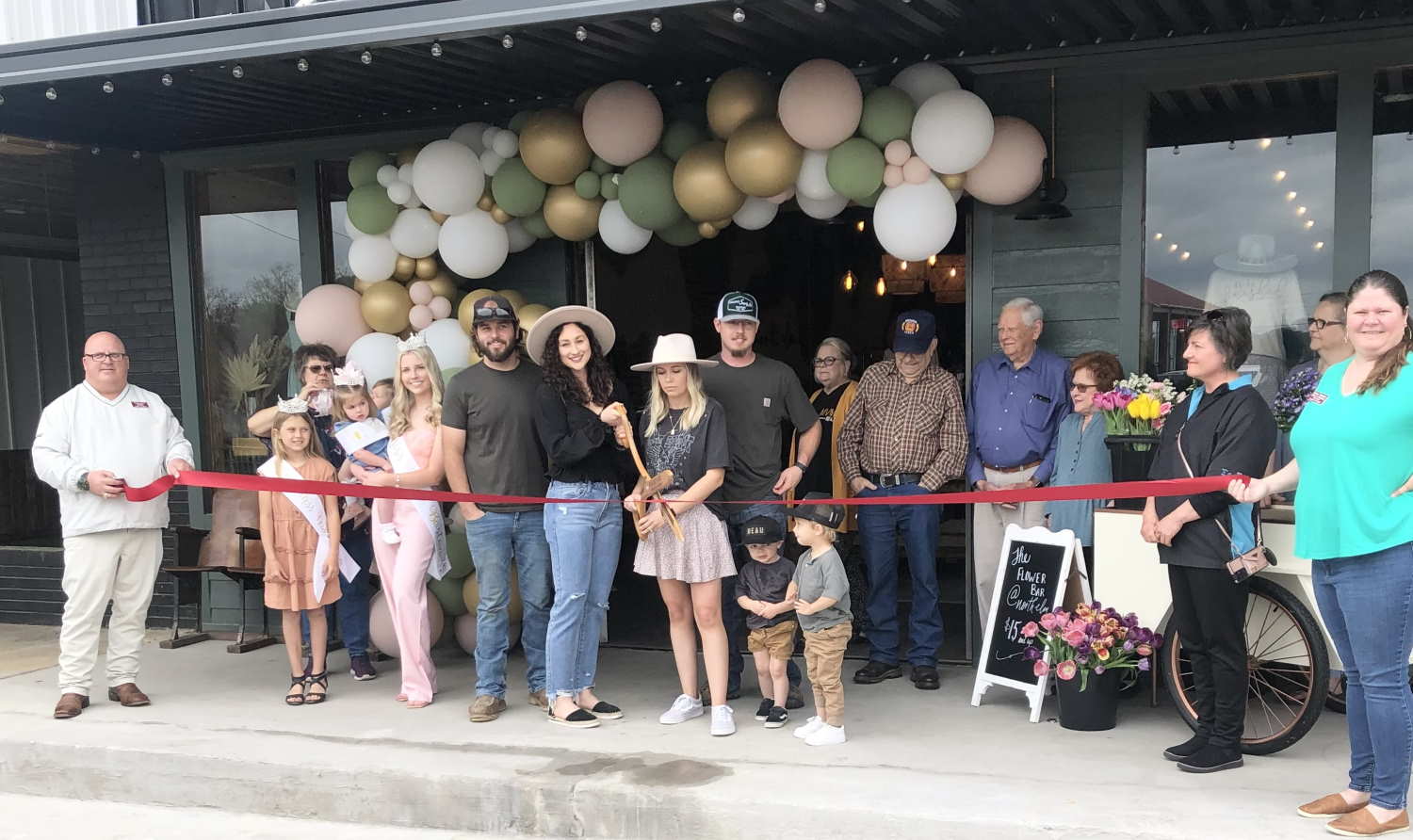 North Elm Boutique, owned by Shelby Stephens and Ashlyn Yates is right in downtown New Boston at 105 North Elm St. It is an online and storefront boutique carrying women's trendy contemporary clothing, shoes and accessories!
---
LESCO Builders LLC is here in New Boston, located at 1935 US Hwy 82 W. They are a Portable Building Service Manufacturing Company and showed off all their cool sheds and portable buildings at their Grand Opening/Open House on Friday Mar 25.
Incredible amount of sheds and building made and on full display!! They offer Free Setup and Delivery within 50 miles.

More pictures are HERE. They can be reached at: (903) 628-5488

---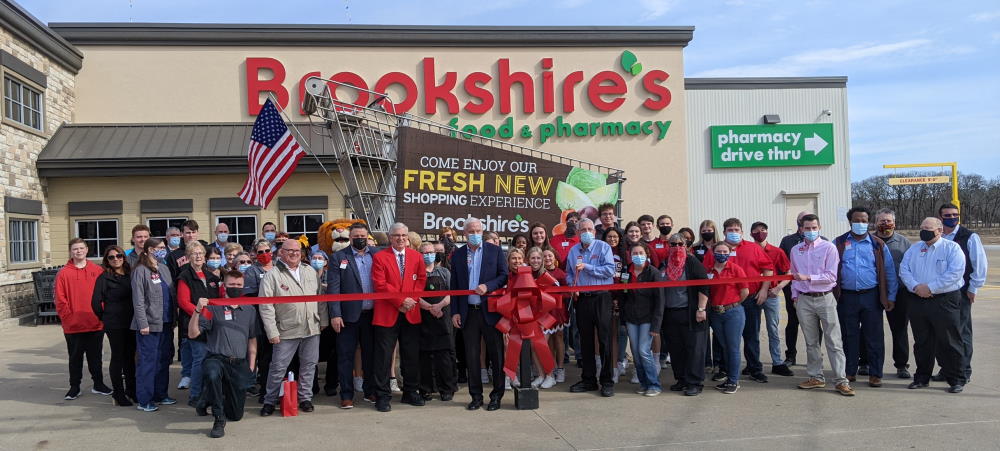 Brookshire's, 210 N McCoy Blvd, Grand-ReOpening and Ribbon Cutting - Feb 10, 2022. Great day at Brookshires here in New Boston. They even had the 14' V-8 Shopping Cart on display. Management and 3rd generation ownership of Brookshire's - Brad Brookshire- was here for a great day! See more Pictures HERE...
---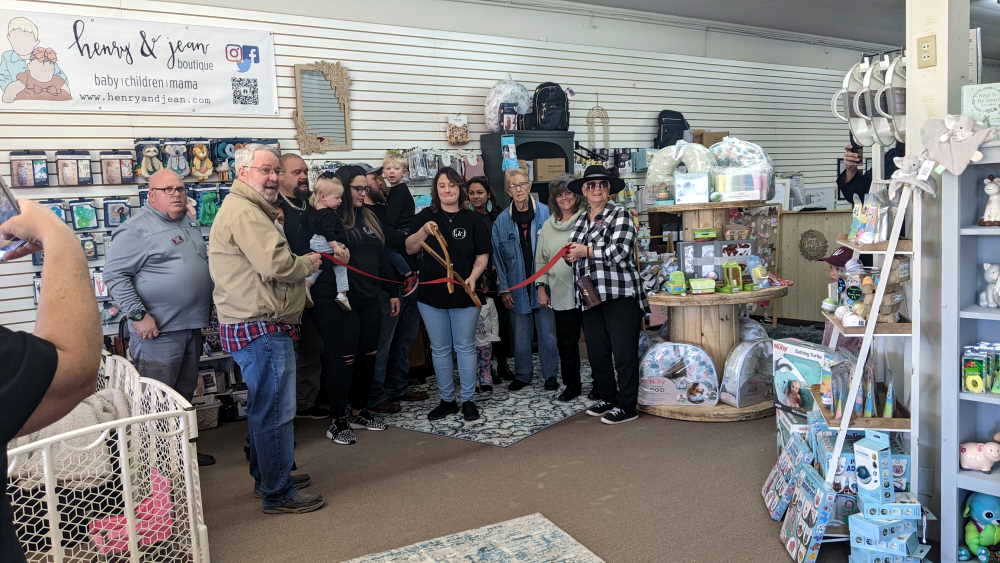 Henry & Jean Boutique, 139 NE Front St, New Boston, TX is a new local Store in downtown New Boston. Originally launched as an online children's boutique, it is now a storefront also and has opened in Northeast Texas. They offer a wide variety of specialty items for little ones, and mom's and dad's too. Allyson Pebsworth launched her site, Henry and Jean Boutique, with her family and the people in her community in mind. Originally from Avery, Allyson moved to New Boston with her husband, Derrek and children, Isaac (3) and Charlotte. Phone: 903-341-0393

---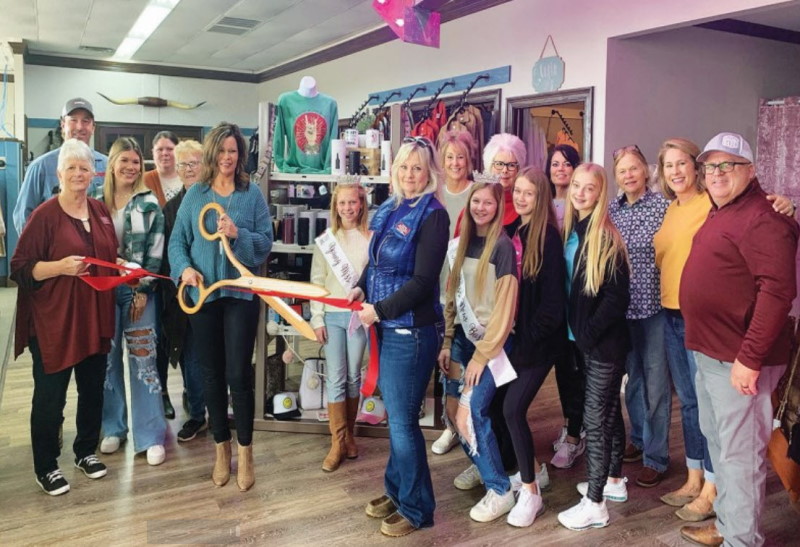 Tenille Co Ribbon Cutting - November 2021
---
Please Thank and Support our Pioneer Day Sponsors
Titanium Level Sponsorship
City of New Boston, 301 E North Front St., New Boston, TX has always helped our Chamber celebrate Pioneer Days. Mayor Ron Humphrey along with City Council Members: Rob Carr, Don Evans, Steve Williams, Jacki Laney and Sue Anderson; City Administrator Elizabeth Lea and City Secretary Pollyanna Moore welcome everyone to the Pioneer Days Festival in New Boston, TX
---
Diamond Level Sponsorship
Skaggs Country Store & Grill, 3070 W Hwy 82, New Boston, Tx 75570 has been here for 26+ years serving our area. Jane Skaggs and her son Sean Banks keep everything flowing just right! They've been voted Best Burgers, Breakfast and Fish in town for 4 years running!! That kinda says it all. Plus, they offer straight non-ethanol gasoline too. Skaggs hours are: Mon-Thus = 4:30 am till 8:30 PM; Fri = 4:30 am till 9:30 pm; Sat = 5am till 9:30 pm & Sunday 6am till 8:30.They can be reached at: 903-628-7351
---
West Fraser, Hwy 82 E, New Boston, TX 75570. West Fraser was founded in 1955 when three brothers – Sam, Bill and Pete Ketcham – pooled their resources to buy a small planing mill in Quesnel, B.C.
The sweat and hard work of three young men, along with a founding group of pioneering employees, have laid the foundation for the Company, West Fraser, that thrives to this day. More than six decades later, the Company has grown from the original 12-person crew at Two Mile Flat to be the largest lumber producer in North America.
West Fraser's heritage is a story about people who came together to build so much more than those three young men imagined was possible. 
"More than anything, I want to give all sorts of opportunities to the next generation. I want them to be proud of the success we've had."
Hank Ketcham, Chair
---
New Boston TX SIDC, 1 Trailhead Park Plaza, New Boston, TX 75570 is a Special Industrial Development Corp to support the development, expansion and relocation of new and existing companies to our New Boston TX area. The CDC is the Community Development Board that is also involved within the SIDC and the City of New Boston. The SIDC is an organization with a mission to work to create an environment in which community-oriented businesses can thrive. The phone number is: 903-628-6340
---
New Boston Property Management, 303 Rice St., New Boston, TX 75570, is a part of NETX Properties. Their Mission is to provide decent, safe, sanitary and affordable housing for eligible elderly and families and promote self-sufficiency and economic independence for residents. The officers and employees of the NETX Properties strive to provide an exceptional living environment for all residents with the assistance of law enforcement and residents through our Neighborhood Watch Programs. 
As one of the largest property management agencies in northeast Texas, NETX Properties prides itself with professional staff that comprises a winning team wherever they are working. Being involved in so many activities around the region is a key element in making NETX Properties such a big part of the local communities. Giving back to the community is our heart. They can be reached at: 903-628-2951
---
Platinum Level Sponsorship
Rip England Premier Realty, 102 E Main St., New Boston, TX 75550. With unparalleled industry knowledge, experience, and local expertise, we're the New Boston Real Estate experts you've been looking for. Whether you're buying or selling, we can help you get the sbest deal. Just looking? That's OK. Good luck on your house hunt! We hope to hear from you soon. Phone Number: 903-628-1234
---
State Bank, 102 SW Runnels St, DeKalb, TX 75559 is one of our oldest New Boston Chamber of Commerce members.

They are committed to helping you and your business grow. Get flexible financing, especially designed for your business, to handle any business expense. Contact your personal banker today to get started on growing your future. They also have branches in Clarksville, Atlanta, Nash, Texarkana and soon New Boston. Their main number is: 903-667-2553
---
Texarkana College, 2500 North Robinson Rd., Texarkana, Texas 75599, has the highest 3-Year Completion Rate among Texas Community Colleges. Texarkana College offer Certifications or degree programs in many fields - such as: Nursing, Welding, Cosmetology, General Studies and Fine & Studio Arts Programs. They have a 97.5% Certification and Licensure Pass Rate. They have over 300+ Scholarships available with over $500,000 awarded in Scholarships each year.. They can be reached at: 903-823-3456
---
Gold Level Sponsorship
Waste Management, locally at 1030 Hwy 82 W, New Boston TX 75550. Waste Management, Inc., doing business as WM, is a waste management, comprehensive waste, and environmental services company operating in North America. Founded in 1968, the company is headquartered in the Bank of America Tower in Houston, Texas. Phone Number: 903-628-6595
---
Silver Level Sponsorship
Twin City Title, 300 E Hoskins, New Boston, TX 75570. Twin City Title is locally owned and operated. The combination of innovative technology employed by skilled professionals makes us unique, as we provide precision and exceptional service through every aspect of the closing process. Twin City Title has been serving the Texarkana area since 1981. Phone number: 903-628-4141
---
Bowie-Cass Electric Cooperative, 117 North St., Douglasville, TX 75560. Bowie-Cass Electric Cooperative, Inc. is a rural utility cooperative headquartered in Douglassville, Texas that was formed in 1937. The cooperative currently serves 35,152 meters with 6,073 miles of line. They can be reached at: 903-846-2311
---
At Vyve, we are driven to deliver the most stellar products and services you could ask for. We're freeing up—and speeding up—the way you live it up. Get the most out of your new Smart Assistant, stream your favorite shows with Roku, and protect your home and office with a connected Nest Camera. With Vyve Broadband, the speed you'll need in the future is already here. They can be reached at: 1-855-367-8983
---
Guaranty Bank & Trust, 750 James Bowie Dr., New Boston, TX 75570. Guaranty Bank & Trust is one of the oldest community banks in Texas. We provide our customers with a full array of relationship-driven commercial and consumer banking products and services, as well as mortgage, trust, and wealth management services. Guaranty Bank & Trust has over 30 banking locations across 26 Texas communities located within the East Texas, Dallas/Fort Worth, greater Houston and Central Texas regions of the state. Phone Number: 903-628-6270
---
Bronze Level Sponsorship
Bowie County Citizens Tribune, 139 NE Front St, New Boston, TX 75570 was established in 1895!! They have been serving the news to our New Boston area for many generations. The Publisher is Heather Russell. They can be reached at: 903-628-5801
---
Red River Credit Union, 308 E Hoskins, New Boston, TX 75570 is located right off I-30 and just west of Texarkana. You can always expect a smiling face and great customer service whether you're choosing to make a quick banking transaction with one of our tellers or something a bit more such as an auto loan or applying for a credit card. Take a look below to learn more about the services we offer at our branches and for details on the hours and location of our New Boston branch. Their number is: 903-735-3000
---
Judge & Mrs. James Carlow
---
S & P Discount, 129 E North Front St., New Boston, TX 75570 is owned by Scarlett & Patrick Bray. They specialize in New, Overstocked and Discontinued items with discounts sometimes up to 75% off. They can be reached at: 903-314-5577
---
Bates-Rolf New Boston, 502 S McCoy Blvd., New Boston, TX 75570 When you have experienced the loss of a loved one, you can trust Bates-Rolf New Boston to guide you through the process of honoring their life. At Bates-Rolf New Boston, we pride ourselves on serving families in New Boston and the surrounding areas with dignity, respect, and compassion. Our staff is experienced in a variety of funeral services and can help you celebrate your loved one no matter your religion, culture, or budget. Phone Number: 903-628-2511
---
Rawls Furniture, 103 N McCoy Blvd., New Boston, TX 75570 had its grand opening in New Boston, Texas in 1996 to simply provide the absolute best furnishings, deliver extraordinary customer service and provide our customers with finer design resources. Years later and the business keeps getting better and better. Whether it is your bedroom, living room or kitchen, we are able to make your home characteristically yours. They can be reached at: 903-628-2908
---
Emerald Level Sponsorship