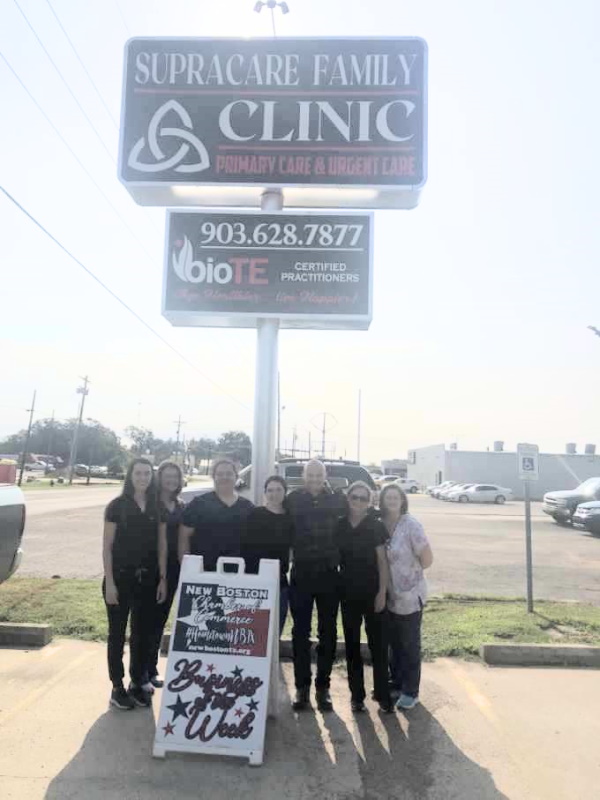 SupraCare Family Clinic, 310 E Hoskins, New Boston, TX 75570 is offering both Virtual Care or in-person Care.


All during this difficult Covid time, they have the upmost concern for your health and well being, that puts your care above the rest. They strive to make your experience here the best you can have, meeting every need they possibly can in the best interest of our patients.

They are Open Monday thru Friday 8 am till 5 pm (Closed for lunch Noon till 1 pm).

They can be reached thru supracareclinic@gmail.com or Telephone at  903-628-7877
---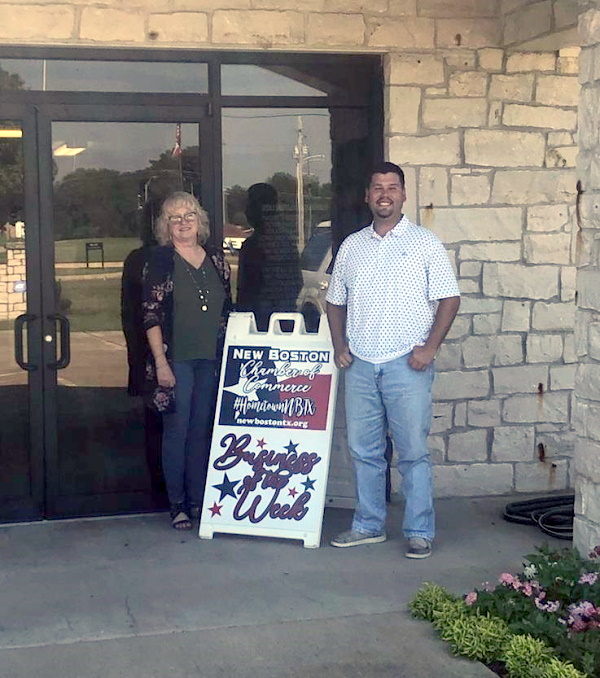 Lone Star AG Credit,  516 James Bowie Dr, New Boston, TX 75570 are lending experts serving the Mount Pleasant and New Boston communities.
Their agricultural roots give them a unique perspective to help with agricultural and recreational loans.
Read more about Barbara Golden and Todd Read and see how they can help you with the lending process.
Phone: 903-628-3031
---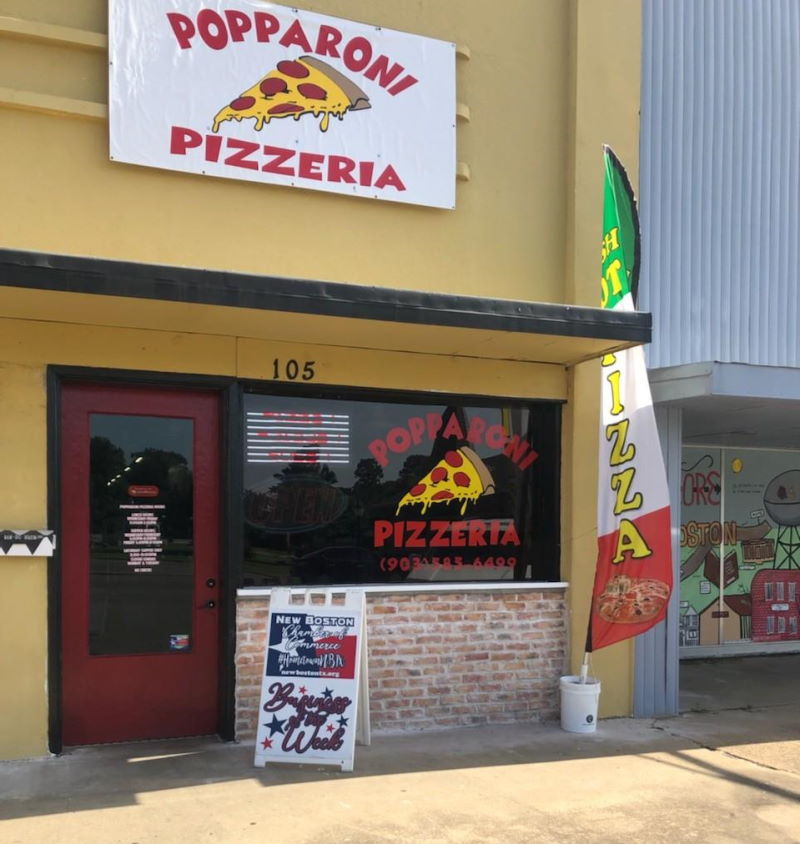 Popparoni Pizzeria, 105 NE Front St, New Boston TX joined our New Boston Chamber of Commerce in early January.
They are a locally owned family business. Jim and Sherrie, along with their 2 daughters - Emma and Lexy are so excited to finally be able to offer real Italian Pizzas to the local community.
They're open for lunch and dinner hours - Wednesday thru Saturday. They also have DoorDash for local deliveries within 5 miles of them.
Check their website for details or Call: 903-585-6499

---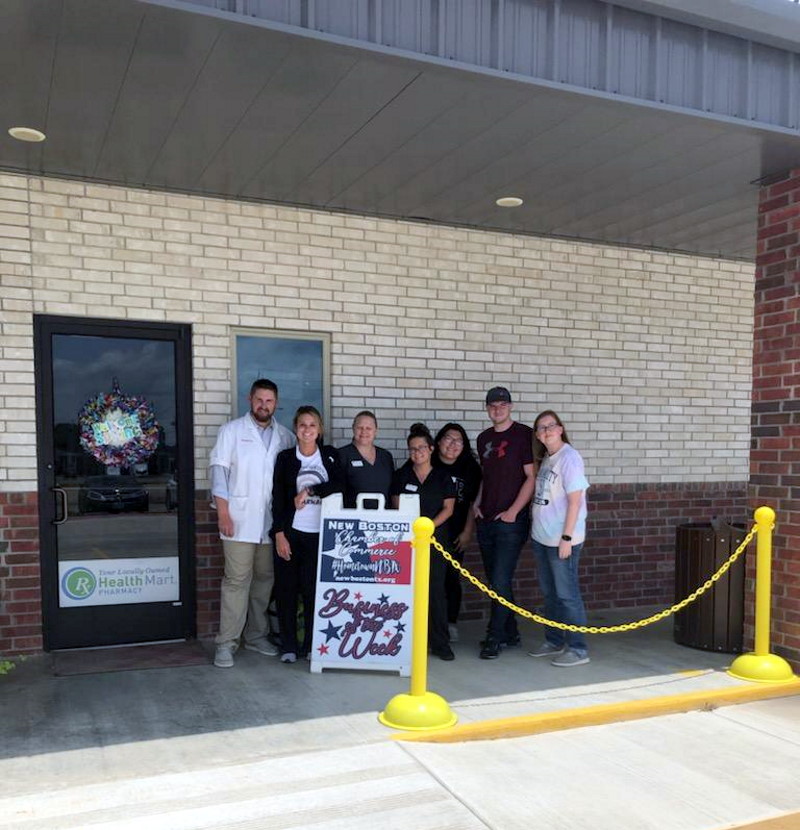 New Boston Pharmacy, 409 NE Front St, New Boston, TX 75570 is your local Pharmacy here in New Boston.
They made a serious commitment to our area when they decided to build their beautiful building right on  Rt 82 in town. Even better, it has a large drive-thru window to drop off and pickup prescriptions!!
They are open Monday thru Friday 9 am till 6 pm. Saturday's are 10 am till 2 pm.
They can be reached at: 903-314-5944
---
TEXAR Federal Credit Union, 507 James Bowie Drive, New Boston TX has Lobby Hours of: 9 am to 5 pm - Monday thru Friday. The Drive-thru is open 8 am to 6 pm. Saturday Hours are 9 am till 12 noon.
TEXAR is a community first credit union which has served members in and around the Texarkana area since 1951. Having three offices and employing almost 100 people, today TEXAR serves citizens of Cass, Bowie, Little River, Miller, Red River, and Lamar counties.
Through the years we've had many different names. Our story began as Bowie County Teachers Credit Union. Then in 1964 we became Bowie-Cass Teachers Credit Union and Teachers Federal Credit Union in 1996. Most recently, in 2001, we became TEXAR Federal Credit Union.
They can be reached at: 903-223-0000
---
S & P Discount, 129 E North Front St, New Boston 75570 is a family owned retail store that's sells new, discontinued, and overstocked merchandise at up to 75% off original price. 


They are Open Tuesday thru Friday: 10 am till 5 pm and Saturday's from 10 am till 2 pm. Closed Sunday and Monday.

They can be reached at: (903) 314-5577
---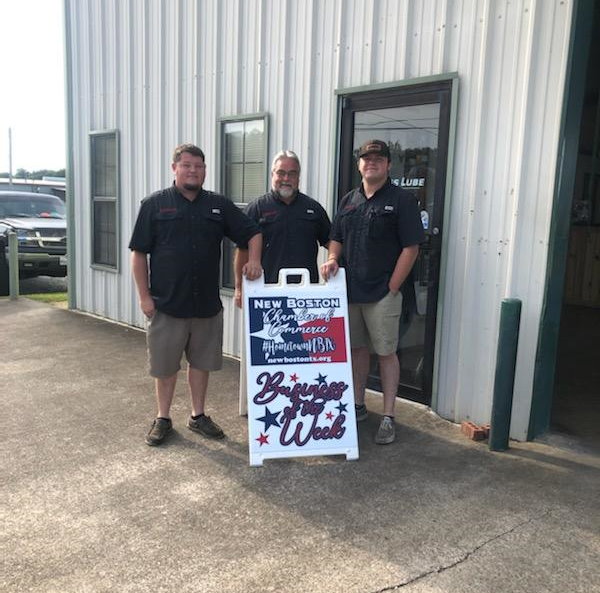 Express Lube is a family owned business located at 630 East Hoskins Street, here in New Boston.

We offer full service oil changes and state inspections along with a variety of other automotive routine maintenance needs. When you visit, you will find a large selection of full synthetic and synthetic blend oil choices.
Military discounts are given to veterans and active service members with each oil change. We are open Monday through Friday from 8:30 am to 5:30 pm.
We strive to provide you with competent and quick service to get you back on the road as soon as possible.
They can be reached at: 903-628-7495

---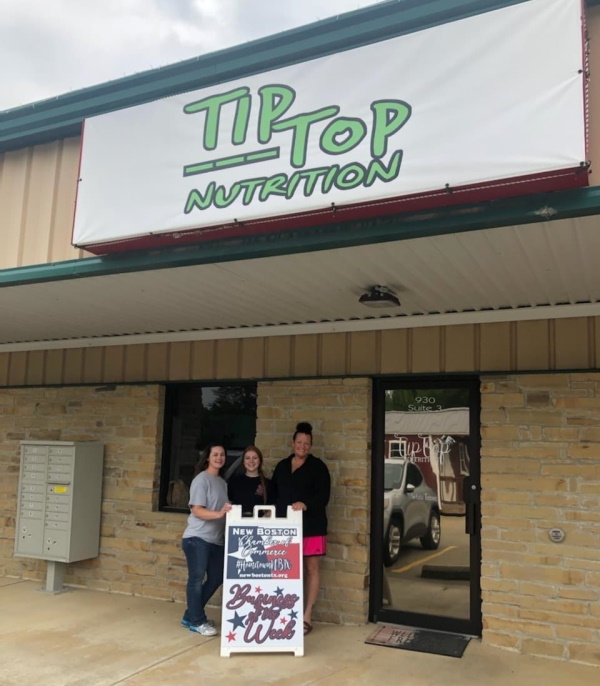 Tip Top Nutrition is a locally owned and operated Herbalife Nutrition club in New Boston, TX.
We offer a wide variety of healthy loaded energy teas and complete meal replacement shakes with several options to choose from, our friendly team guarantees to find something that you will love.
Small town atmosphere makes you feel like family while fulfilling your healthy nutritional needs.
Located at 903 North McCoy Blvd Suite 3 , New Boston, TX between D&D Guns and Cobra Shipping. We are open Monday thru Friday 6am till 2pm and Saturday 8am till 12 pm. Also we deliver!!
903-556-6311
---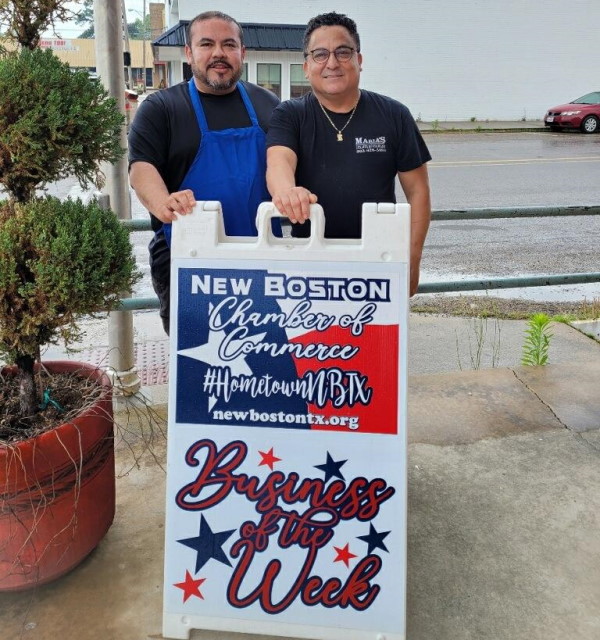 Family owned and operated Maria's Tex-Mex Restaurant, 15 NE Front Street, New Boston, TX has been here for almost 8 years!!
We have to thank all of our customers and the City of New Boston for all the support you have given us!
Anytime you need a quick lunch or dinner come by and see us. We have anything from Street Tacos to Cheeseburgers we can meet anyone's needs.
Hours Monday to Saturday 11 to 9 and Sundays 11 to 3.
You can even call your orders in (903) 628-5084.
---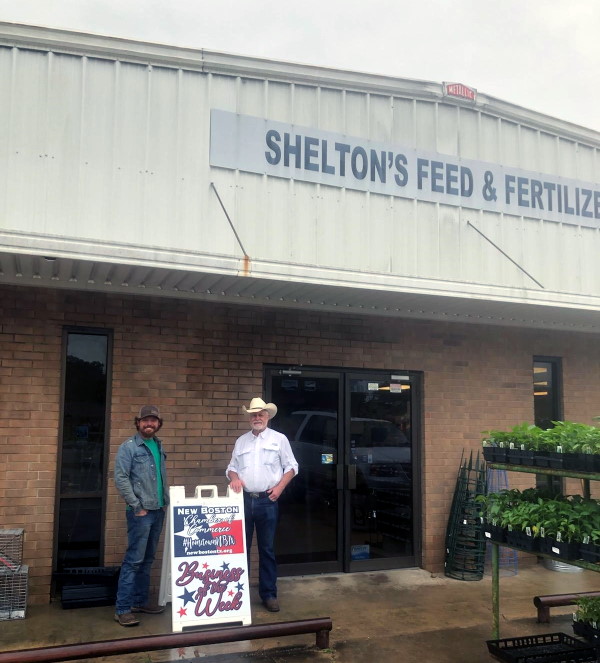 Shelton's Feed, 909 Hwy 82 W, New Boston, TX. Our year would be incomplete unless we honored our founding member from way back when!! 
Businesses like Shelton's Feed & Fertilizer have seen many economic cycles during their history in New Boston.

Their commitment to their customers and to our town has allowed them to weather the storms. If you see this decal on a business in town, we highly encourage you to patronize their business or just stop in and visit. We appreciate your faithfulness to New Boston and its success.
They can be reached at: 903-628-2178
---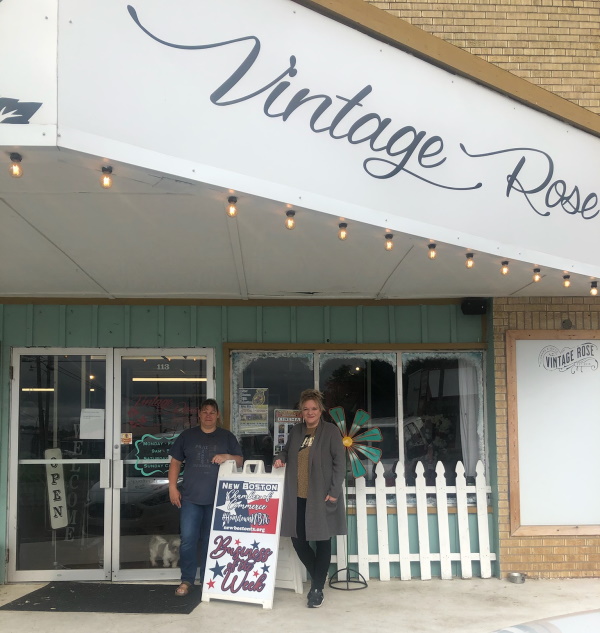 Vintage Rose, 113 N Ellis St, New Boston, TX 75570 is a local New Boston, Texas florist delivering courteous, professional service and the highest quality floral and gift items around.
Our experienced designers can create floral designs that will complement any occasion and meet your budget and style expectations as well.
We also offer daily delivery service to all local funeral homes and hospitals.
They can be reached at: 903-628-2186
---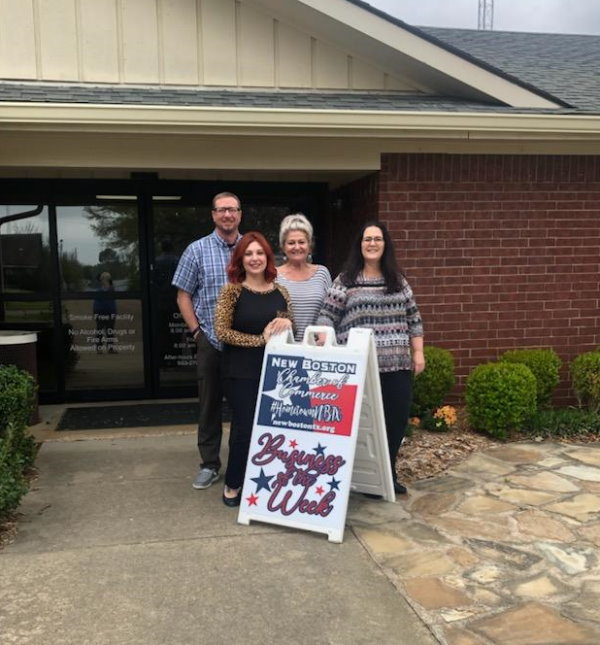 Netx Properties, 303 Rice St, New Boston, TX 75570 is our Business of the Week. The mission of NETX Properties is to provide decent, safe, sanitary and affordable housing for eligible elderly and families and promote self-sufficiency and economic independence for residents.
The officers and employees of the NETX Properties strive to provide an exceptional living environment for all residents with the assistance of law enforcement and residents through our Neighborhood Watch Programs. 

As one of the largest property management agencies in northeast Texas, NETX Properties prides itself with professional staff that comprises a winning team wherever they are working.
Being involved in so many activities around the region is a key element in making NETX Properties such a big part of the local communities. Giving back to the community is our heart. Phone: 903-628-3951

---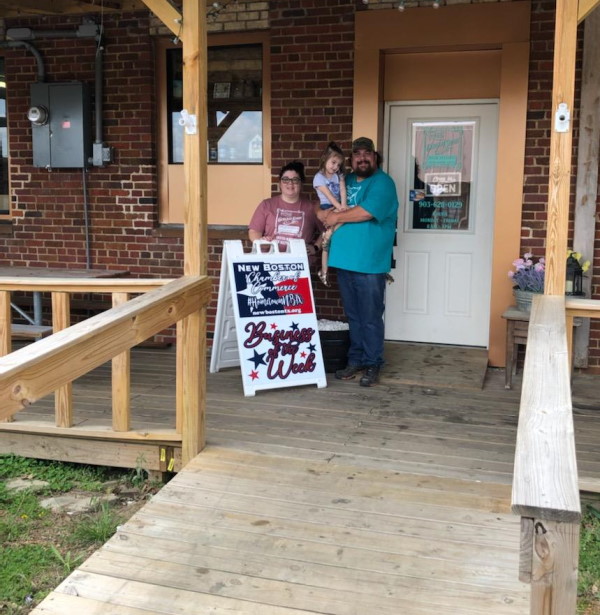 Boston General, 125 N West St (Right on the Bend of Hwy 82), New Boston, TX 75570 is your home for some awesome treats, as well as gifts, New Boston Clothing, deserts and a fabulous daily lunch menu - Monday thru Friday.
Anytime you walk in you get an honest greeting with a real smile and it just makes you feel warm - and how it should be!!! Amy and Noel McLain remolded this building and opened it up in November of 2020. It has been growing ever since!
They can be reached at 903-628-0129
---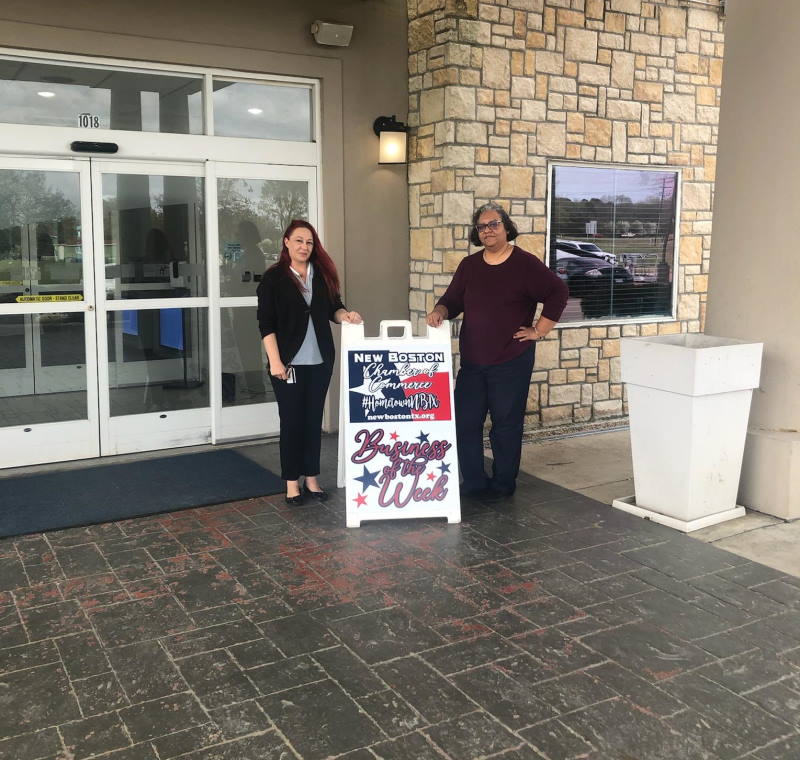 Welcome to our Completely Renovated (in 2018) Holiday Inn Express Hotel & Suites, at 1018 N Center St, New Boston, TX . Our Texas accommodations offer you easy access to area businesses and attractions as well as the Texarkana Regional Airport (TXK), just 30 minutes away.
Our smoke-free New Boston hotel offers spacious, upscale guest rooms with an efficient work desk, high-speed, wireless Internet access, a 40-inch flat panel TV with HD DirecTV programming and quartz bathroom finishes. Satisfy your sweet tooth by visiting our 24-hour convenience market in the lobby. There is an inviting outdoor pool and relaxing whirlpool for soaking a tired body after a long day. And there's a free breakfast to start your day off right.
They can be reached toll-free at 1-888-465-4329

---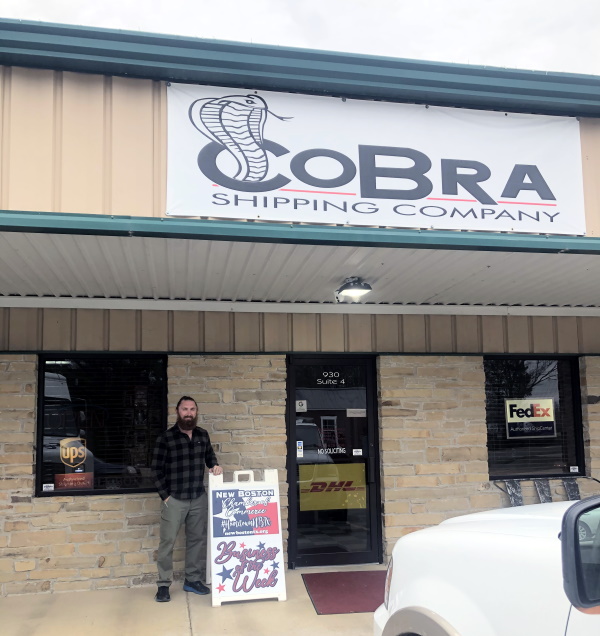 Cobra Shipping, 930 N McCoy Blvd, Suite 4, New Boston, TX 75570 is your go-to-place for all your shipping and packaging needs!

Established in 2021 by Cody Barling, Cody and his staff offer all types of shipping conveniences for all our New Boston area residents - and visitors, for that matter!

Cobra Shipping can be reached at: 903-628-0141
---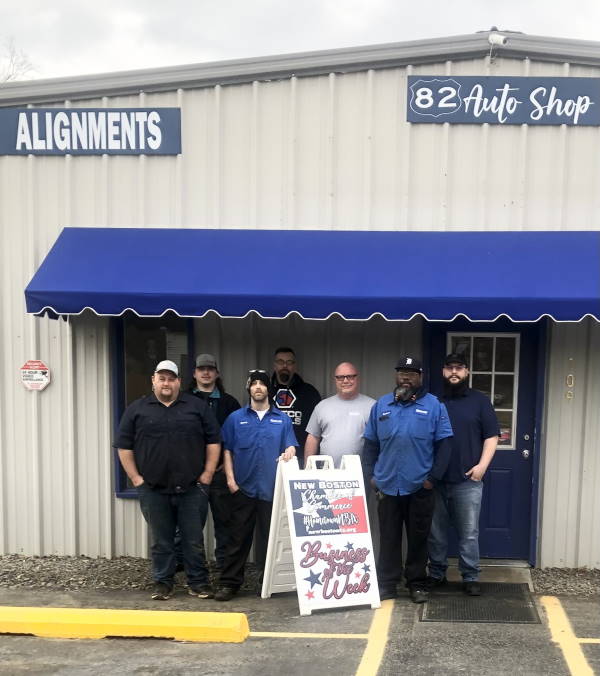 82 Auto Shop, 107 Hwy82 West, New Boston, TX 75570 was opened by Marty Hartline in 2021.
They have been helping customers with a range of auto needs - Full Service auto repairs, oil changes, Air Conditioning, Brakes, Alignments, Tune ups, etc.
They can be reached at 903-682-5382
---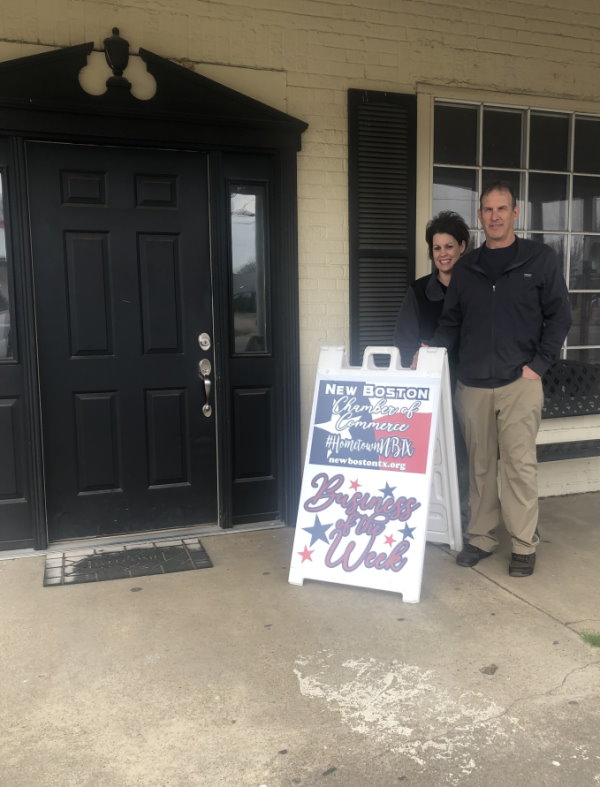 Jeff Atkinson, D.D.S., 119 N Ellis St, New Boston, TX has been helping smiles in our area since 1994!!
He can be reached at: 903-628-5436
---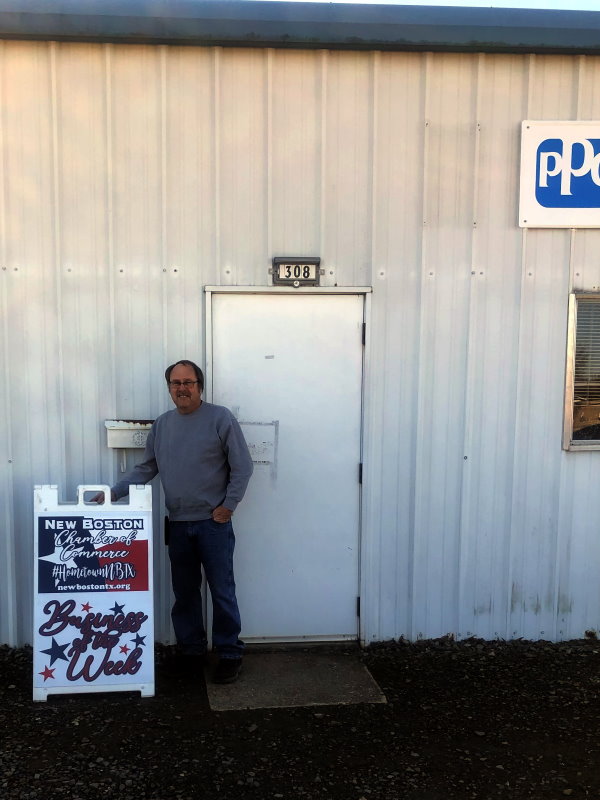 Ronnie's Paint & Body Shop, 308 SE Front Street, New Boston, TX 75570 is owned and managed by Ronnie Stroman.
Ronnie has been serving New Boston with his Full Service Auto Paint & Body Shop for the past 33 years!!
He can be reached at: 903-628-2477
---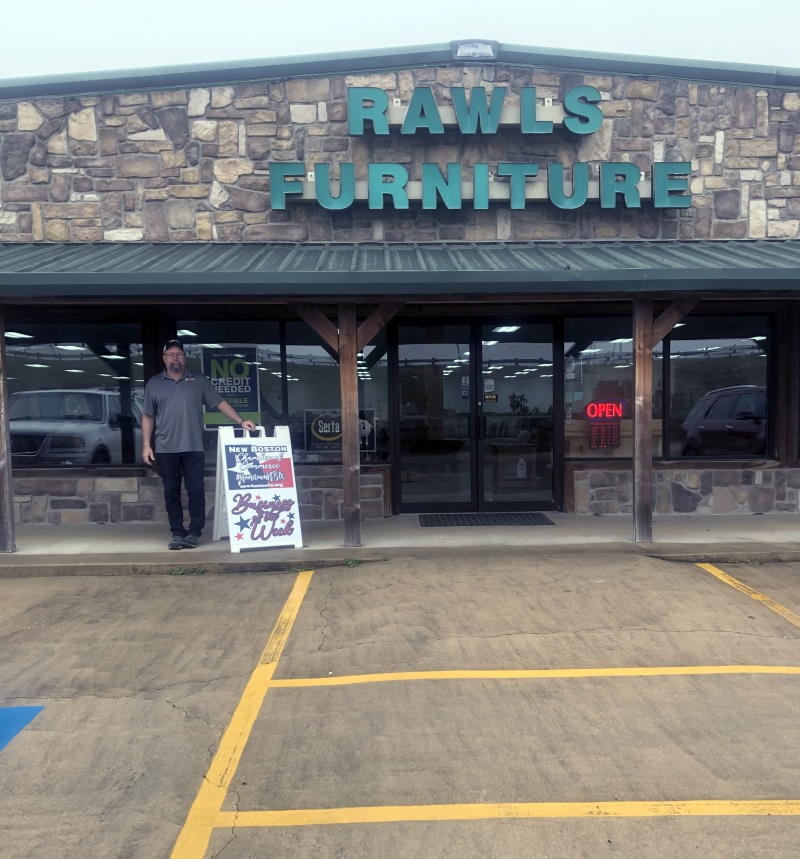 Rawls Furniture, 103 N McCoy Blvd, New Boston, TX is owned and managed by Robert Rawls since 1996.
The store offers a range of furniture and appliances for our area residents.
They can be reached at: 903-682-2908
---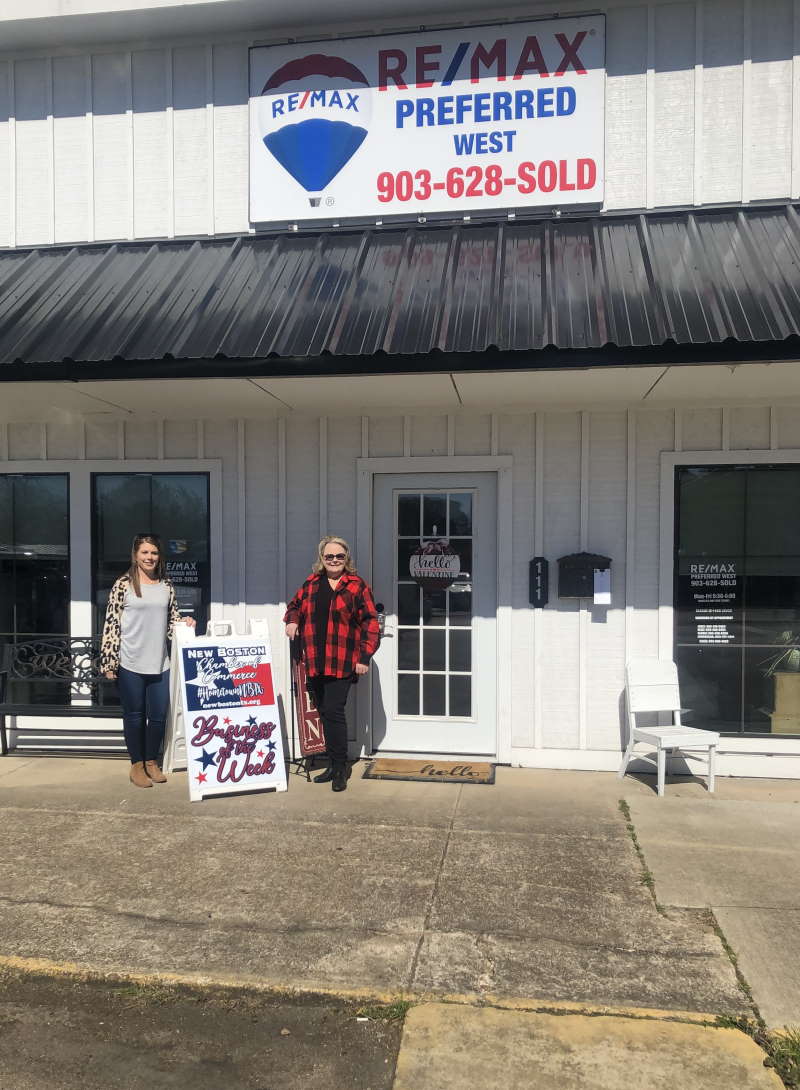 ReMax Preferred West, 111 N.E. Front St in New Boston, TX was opened by Janet Willis just a little over a year ago. Since then, they have been offering full Real Estates Services to those in the area.
Voted Best Real Estate Agency in Bowie Co, by the readers of the Bowie Co Tribune. Janet and her team - Caleb Stephens, Georgiana Laney, Kelly Eaves and Gloria Hogie look forward to taking care of all your real estate needs!
They can be reached at 903-748-5383

---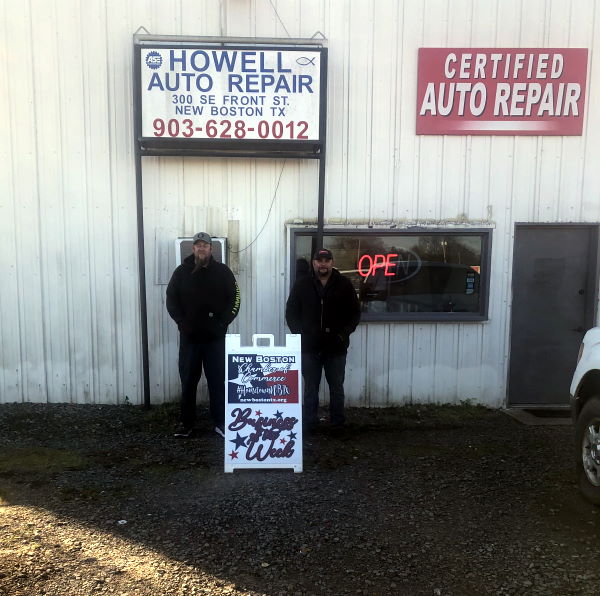 Howell Auto Repair, 300 S.E. Front St, New Boston, TX - "Where the Customer Comer First".
Dara and Bob Howell have been serving New Boston and surrounding residents with their auto mechanic repair shop since 2009.
They can be reached at: 903-628-0012
---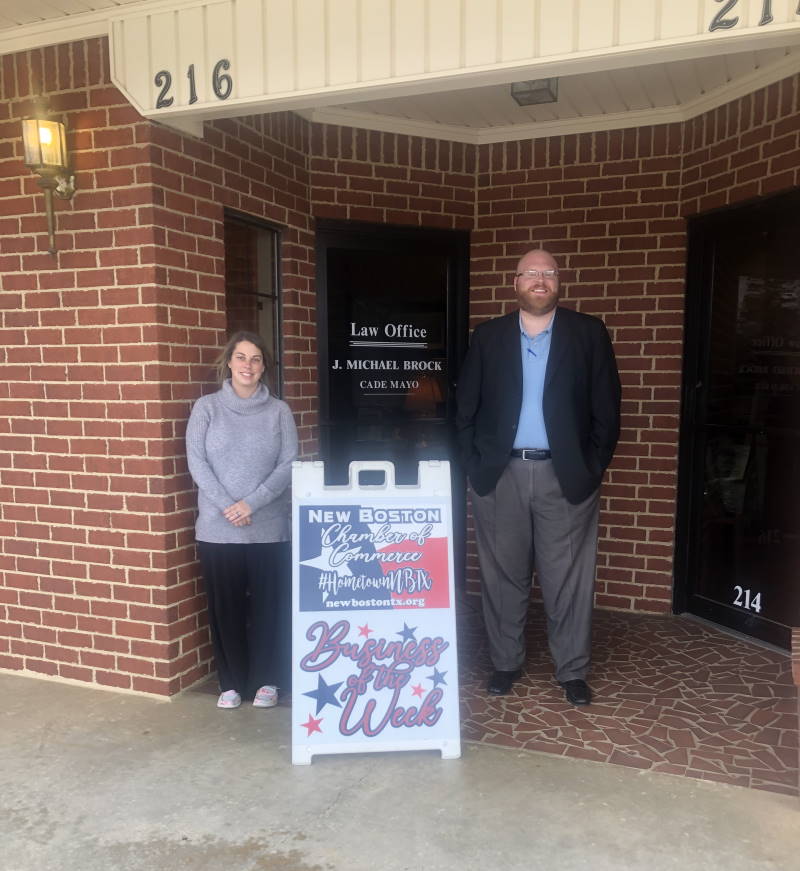 Cade Mayo, 216 N Center Street, New Boston, TX is a local long time Attorney here in New Boston.

He has been supplying his Law Services to the community for the past 6 years.

His office offers Probate, Real Estate Law, Estate Planning and Family Law.
He can be reached at 903-628-2554
---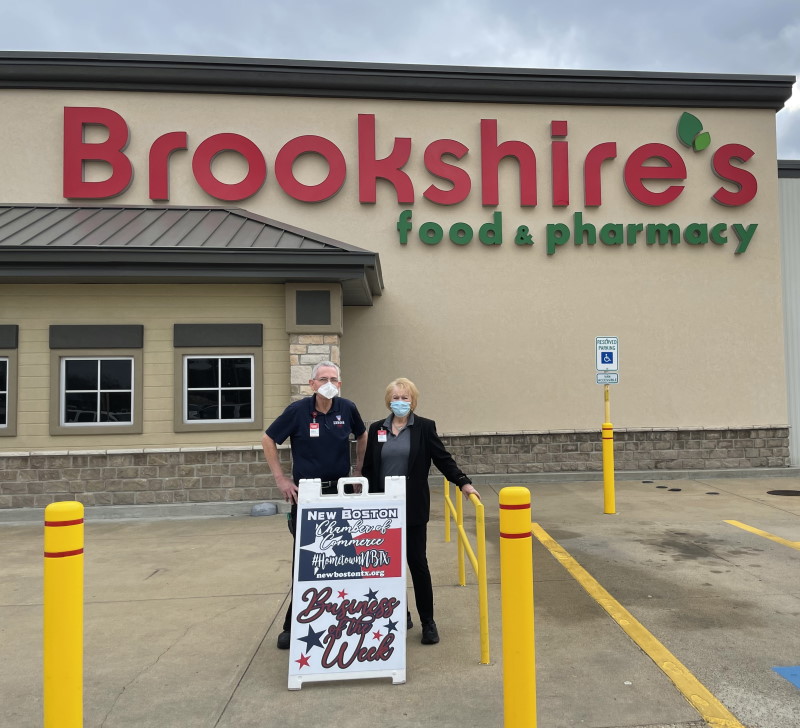 Business of the Week and a Grand Re Opening! Representatives from Brookshire Grocery Co., the City of New Boston and the New Boston Chamber of Commerce will gather for an official ribbon-cutting ceremony to celebrate the Brookshire's Food Store, 210 N McCoy Blvd, New Boston, TX at 2 p.m. Thursday, Feb. 10. The community is invited to attend the event and take photos with the company's 13-foot tall motorized "Big Grocery Cart."
Brookshire's provides a full-service supermarket focused on excellent customer service and high-quality fresh meats and produce. Offerings include market, deli, bakery and floral departments, along with fresh seafood. The store also features a fuel center and pharmacy for customers' convenience.
The updated supermarket boasts a modern look with new exterior and interior paint, décor and signage. The store design is complemented by new flooring, check stands, energy efficient LED lighting and refrigerated cases, along with new shopping carts for customers.
Brookshire's in New Boston is led by Store Director Ermon Talton. Brookshire's has served the New Boston community since 1984. The store is open daily from 7 a.m. to 9 p.m. For more information, customers can visit Brookshires.