Business of the Week 2023
Business of the Week 2023
Business of the Week 2023 is where we showcase a Chamber Business Member for all our readers to learn about them.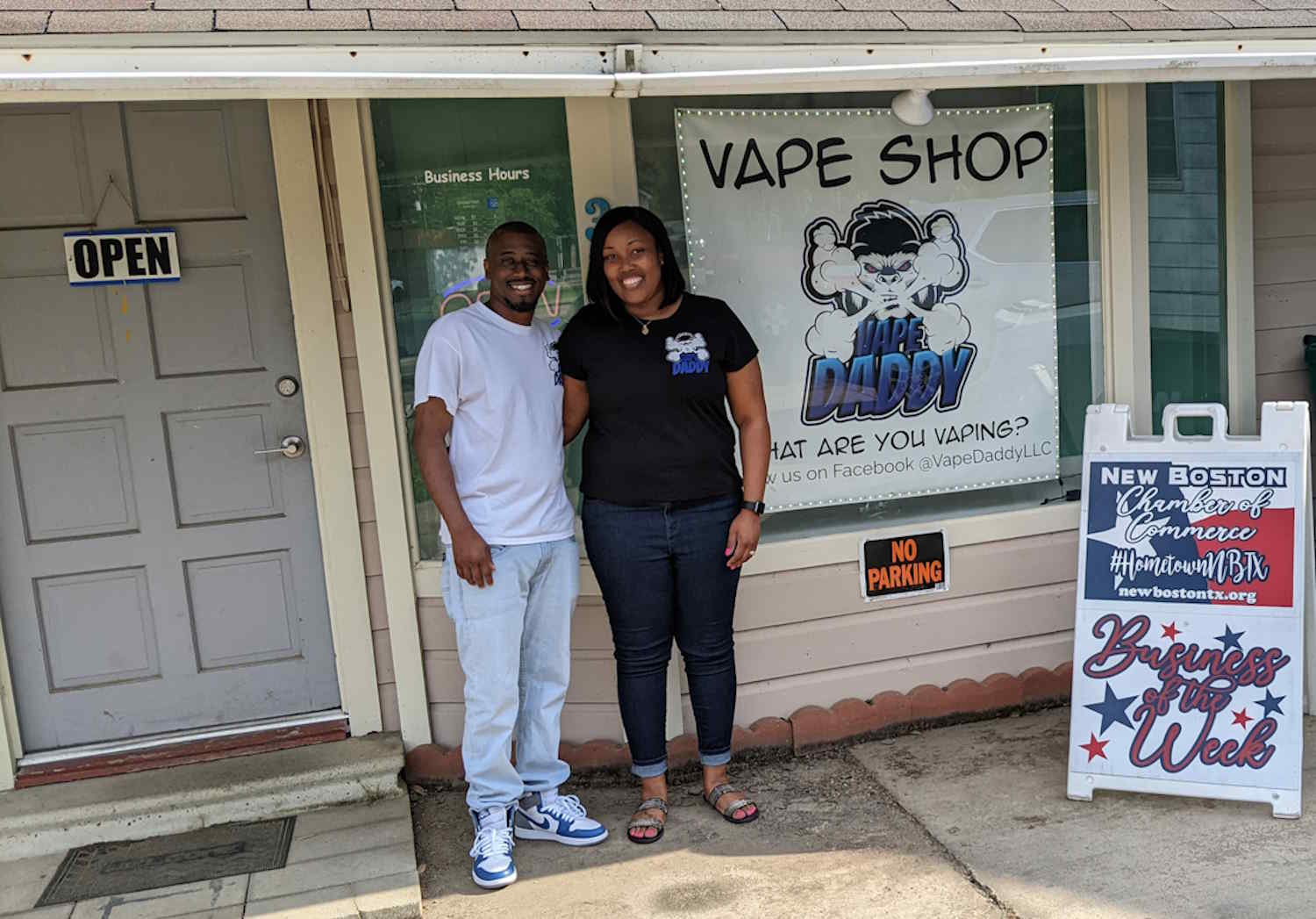 Vape Daddy, 309 W Us Hwy 82, New Boston, TX 75570 is a friendly, locally owned & operated business by Trayon and Ambra Roberts that offers permium vape products. Our business has been open since March 2022 and has received love and support from the New Boston community as well as the surrounding cities.
We take pride in creating a hometown feel within our business and creating a personal connection with each customer that walks into our establishment. Our customers can enjoy a wide variety of vape related items ranging from e-juice, disposables and various hardware items at very low prices. Stop by and give us a chance to earn your business!
Our hours are: Monday to Saturday 10am till 7 pm and Sunday 1 pm till 5 pm. We can be reached at: 903-455-8163
---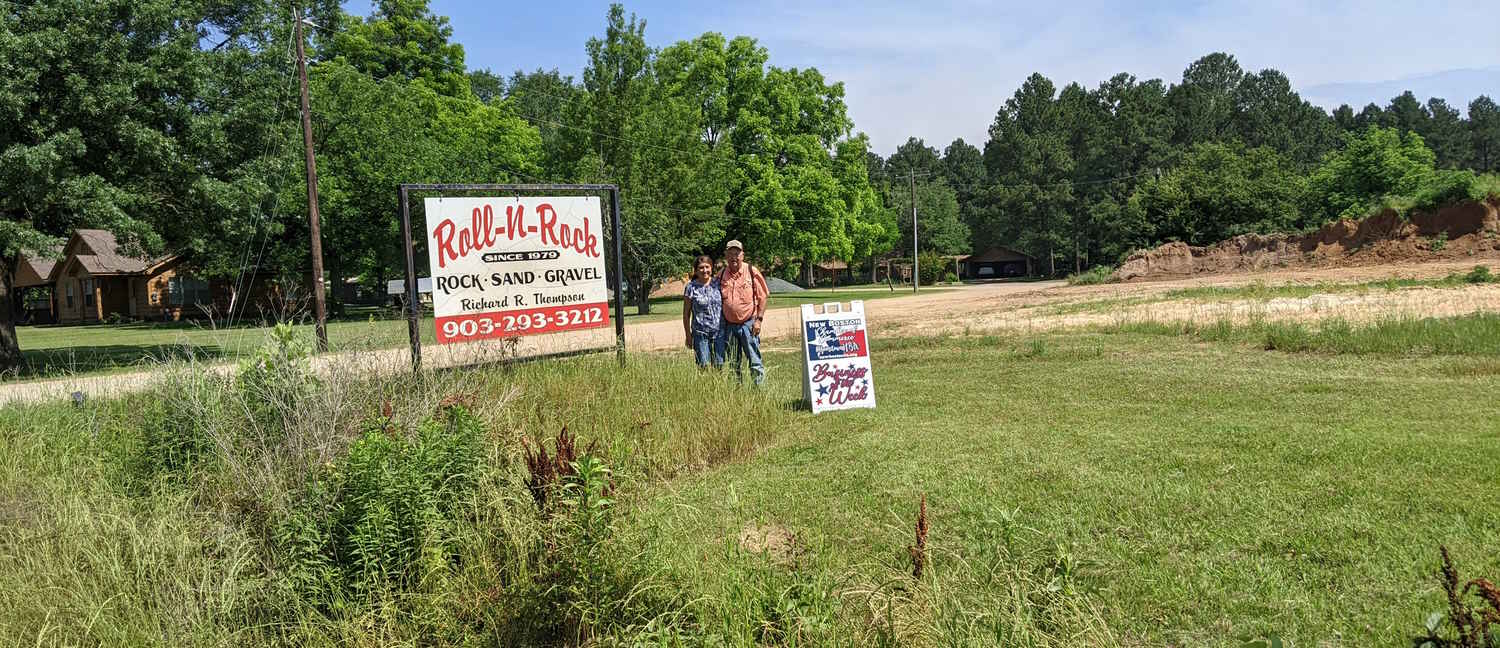 Roll-N-Rock, 700 West US Highway 82, New Boston, TX 75570 is a long time supporter of our Chamber of Commerce. Richard and his wife have over 7 drivers that deliver and handling all types of earth, top soil, stone, sand, gravel, etc. These drivers go all the way to Oklahoma, Arkansas, Louisiana, and of course, all over Texas, in a fleet of beautiful Kenworth W900L trucks.
They've been in business over 40+ years and at their same location since 1979!!
Open Monday thru Friday 8am till 5 pm They can be reached at: 903-293-3206
---
Music Country USA, 142 N Elm St., New Boston, TX 75570 was first started on December 26th, 1985 by Horace and Margaret Haddock after purchasing the 20,000 sqft building from the First Baptist Church of New Boston. The 2 of them along with their 3 children Deborah, Rebecca and Mark started an Opry style show that has featured many local music artists.
Horace and Margaret eventually sold the Theater and moved to Branson, Mo.
The family eventually returned to Bowie County where Adam and Noel McLain, Horace and Margaret's grandsons and Jim and Rebecca McLain's Sons, purchased the Theater in 2010 and still continue the Opry style shows every 4th Saturday of the month.
We pride ourselves in having a good clean family show and that's exactly what we have. We are proud to continue what has become a New Boston TX tradition and that is Music Country USA.
We also have Private Movie Shows for groups, clubs, organizations and schools in our 200+ Seating Theater. 
They can be reached at: 903-628-0129
---
Elkmeadow Game Ranch & Pavilion, 382 Private Rd 42042, DeKalb, TX 75559. Whether it is entertaining a group of colleagues or business associates, to a rustic outdoor Texas wedding, Elkmeadow Game Ranch has all the resources to make your experience memorable. We are home to hundreds of both native wildlife and exotic species ranging free on 1200 acres of land with several lakes and ponds.

We can accommodate up to 250 guests inside our climate-controlled pavilion and/or outside on a wide-open lawn overlooking a beautiful five-acre lake. We have a cozy cabin for overnight guests and provide good meals and southern hospitality.

On the hunting side, we offer all-inclusive packages that include hunting fees, meals, lodging, transport to and from the field, caping and quartering.

Hunt trophy exotic game year-round in Texas. Plus, you can also catch fish like Florida bass, crappie, channel catfish and hybrid sunfish
We host more than hunting events. Our family-owned hunting ranch is not only a great spot for your next hunting trip, but an ideal location for your next celebration. You can host your wedding, reunion or other special occasion by renting our 250-person event space or choosing a cabin.

Our staff will: Cater your event with delicious food | Keep your drinks flowing | Provide a relaxed atmosphere. You'll love using our venue for your big day.

At Elkmeadow Game Ranch & Pavilion, we're inspired by the nature around us. That's why we incorporate it in our woodwork to create custom furniture. You can hire us to create unique river tables, mantels, beds and other pieces. Our custom furniture can add a natural touch to any space in your home.

They can be reached at: 903-314-1090
---
8 Oaks Farm, 254 County Road 4129, New Boston TX 75570 is a small family owned and operated farm in northeast Texas. We, Johnny & Becky Buller along with our son, Seth Buller started this farm in 2019. Our family has been in Bowie County for over 125 years and our farm is just next to the farm my mother was raised on - so our roots go deep in the area.

We raise grass fed Beefmaster cattle. They are naturally and humanely grown on our farm and processed by local processors in inspected facilities. We operate a hydroponic greenhouse where we grow a variety of types of lettuce, tomatoes, cucumbers, and various herbs. We also have seasonal ground crops from our gardens. We grow microgreens in a controlled environment as well. We built a kitchen that is state inspected to bake and process various breads, cakes, cookies; as well as canned vegetables. We offer a delivery service of our goods to surrounding communities. We have recently started a lunch delivery of Sandwiches, Soups & Salads, prepared here on the farm.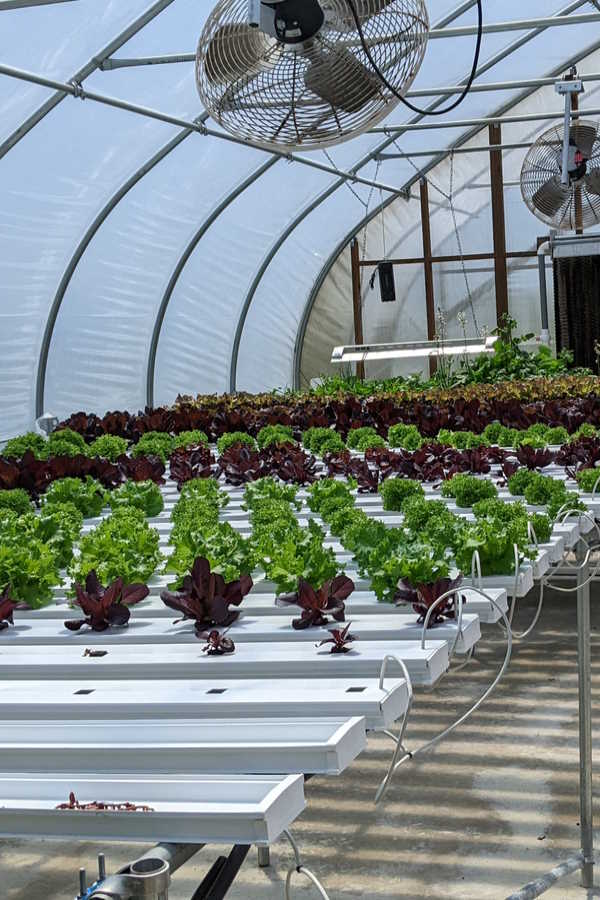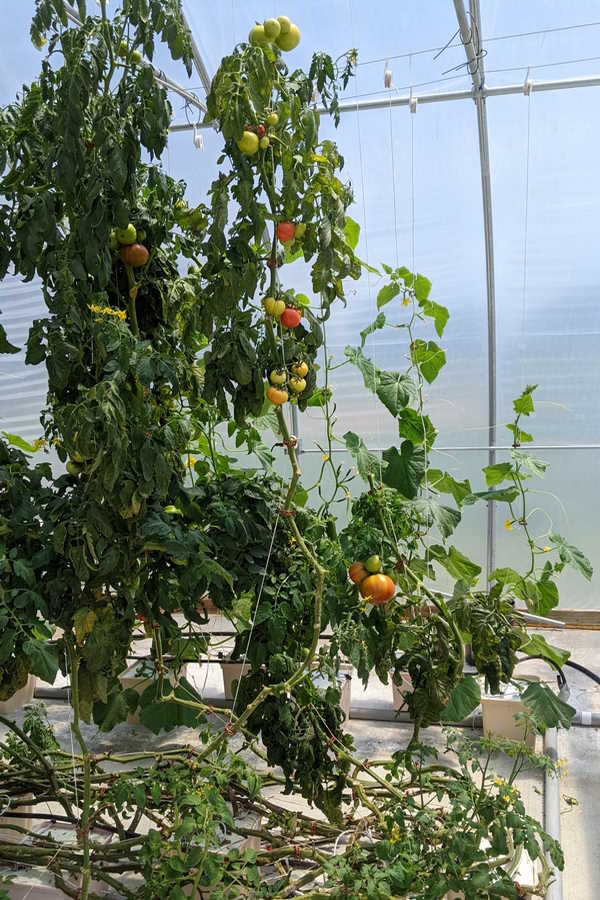 We really enjoy the diversity farming offers and the incredible people we are privileged to meet.  We offer farm tours and encourage people to come see what we do at 8 Oaks Farm. Hydroponic growing is fascinating to most people, including ourselves.  It continues to amaze us what a plant, animal, child, person can become given time, care and encouragement. We feel very fortunate to be able to live this life in this manner – close to the earth and its bounty with family and friends that we love.

They can be reached at: 903-276-0858
---
Pictured are: Rachel, Jesse, Marshall, Hunter, Blake, Mike, Gracie, Pam, Andy, Jay, Logan, Patrick, Scott, Andrew & Jay

River Valley Tractor, 7478 Hampton Rd, Texarkana, Texas 75503. Formerly known as Texarkana Tractor Company, River Valley Tractor was founded in May 1992 by James "Judge" Carlow, David Meadows, and Brad Carlow and officially changed to River Valley Tractor in 2019. James will always be known as "The Judge'' to anyone living at or near the county. Aside from being a local business owner, Judge is a lifetime resident of Bowie County, having a very successful political career serving as County Judge for a total of 29 years. 

From 1966-1986, James was involved in the dairy business and commercial cattle ranching, which is now carried on by both of his sons, Blake and Brad Carlow. Judge married his wife, Nancy, in 1965. Today, their family continues to grow, now counting two daughter-in-laws, and six grandchildren. 

The family legacy continues as both of Judge's sons, Brad Carlow: CFO, and Blake Carlow: Kubota Division Manager, follow in their father's footsteps in the business as part of our Senior Management team. Brad graduated from Texas A&M University with a Bachelor's in Business Administration and Accounting. Brad and his wife, Ashley, have 4 children, 2 of which work alongside him within our company, 2 daughter-in-laws and 1 son-in-law, and 1 grandchild. Blake and his wife, Melinda, have 2 children and are extremely active in the FFA and agricultural industry.

David Meadows is a long time family friend and colleague of the Carlow family. David attended the University of North Texas where he obtained a Bachelor's degree in Business Administration and Marketing. He and his wife, Patricia, have been married for 50 years, as of 2023. Together, they have 2 children, 1 son-in-law, and 3 grandchildren.

Today, River Valley Tractor Corporation has 8 Kubota dealerships and 3 New Holland dealerships spread across east Texas and central Arkansas totaling around 200 employees company wide. We strive to give the best service to our customers each day, providing upstanding parts, service, rental, and sales departments ready to assist you at any time. As our years of operation continue, our company has one main goal in mind; to touch the lives of every individual who walks through our doors, and stand as a reminder that friendship and family will conquer all, and remaining true to our roots and ways of life to reflect on generations to come. 

Their Hours are: Monday thru Friday 8 am till 5 pm & Saturday 8 am till Noon. They can be reached at: 903-838-4377
---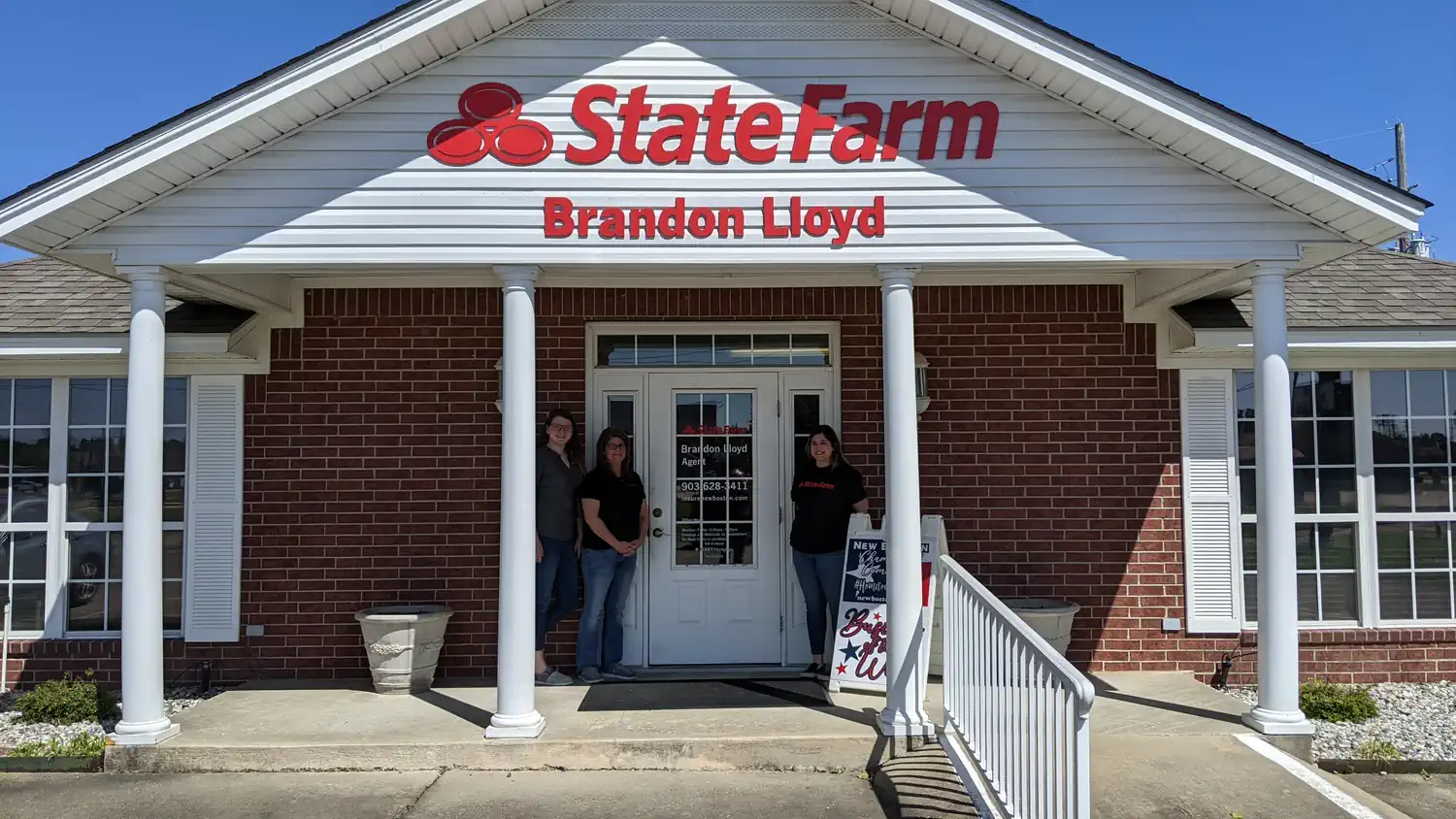 Pictured are: Lydia, Missy & Kaitlyn
State Farm, Brandon Lloyd, 318 First Dr., New Boston, TX 75570 serves the entire states of Texas, Arkansas, & now Oklahoma. Locally, we pride ourselves in being able to serve our local community here in New Boston, TX. In addition to New Boston, we also serve the surrounding communities of Bowie County such as De Kalb, Hooks, Simms, Maud, Texarkana, and others. We offer auto, home, life, health insurance products, and more.
We have a completely licensed team always ready to assist in anything that is needed and we're happy to provide you and your family with refreshments upon a visit to our agency.
Some fun facts about me, I am a long-time resident of the Texarkana area. I graduated high school from Arkansas High School in Texarkana and am also a graduate of Southern Arkansas University in Magnolia, AR where I studied business. I have been with State Farm since 2017 and been an agent since 2019. I'm an active member of the New Boston Chamber of Commerce and West Bowie County Rotary Club and I look forward to being an active member of this great community for years to come!
Please contact our office for a free quote on auto insurance, home or renters insurance, business insurance, life insurance, and health insurance.
We are Open 9 am till 5 pm - Monday thru Friday. We can be reached at: 903-628-3411
---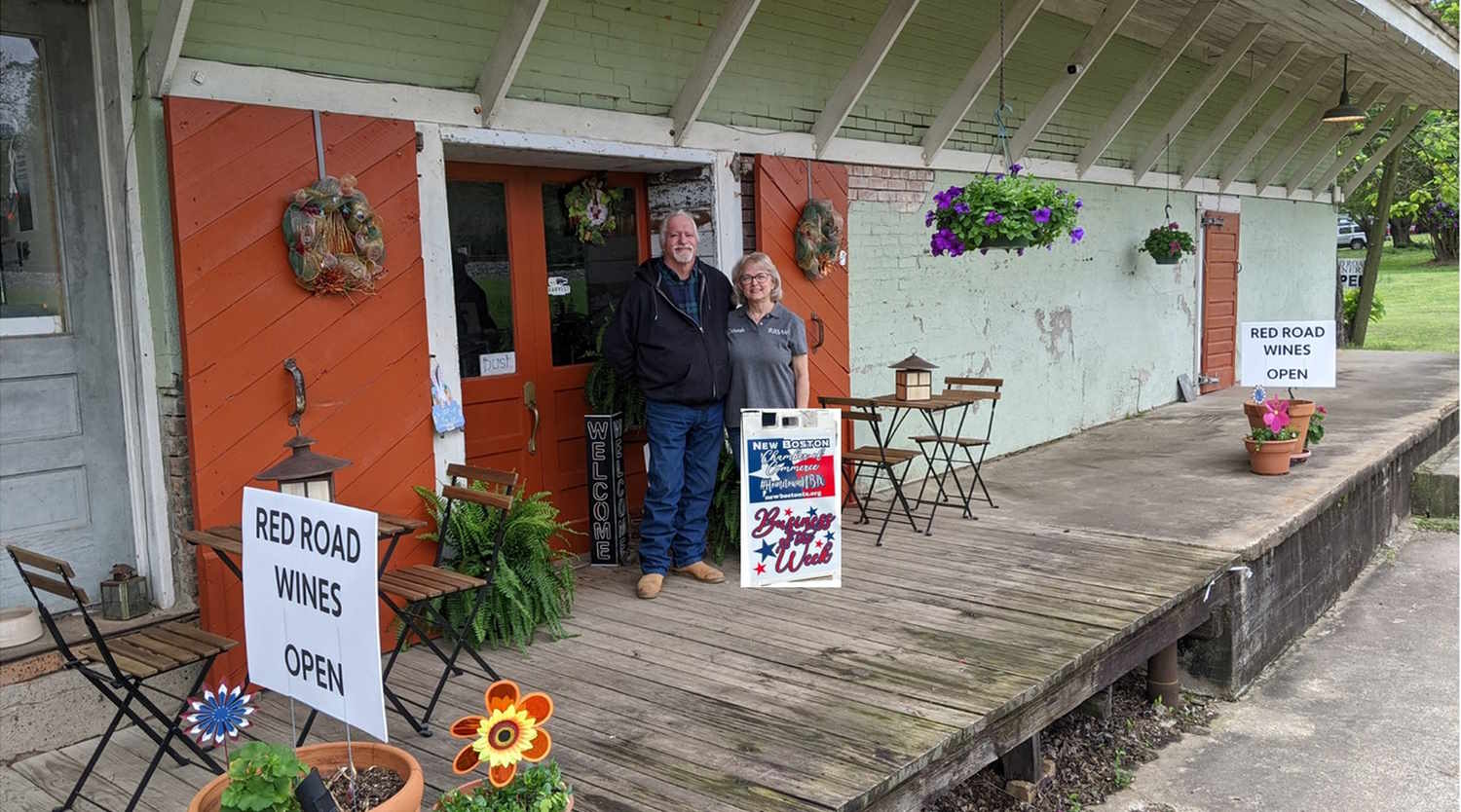 RED ROAD VINEYARD AND WINERY, 105 West Front Street, Naples, Texas 75568 located in the rich Northeast region of Texas, is proudly producing high quality wines of the sweet, semi-sweet, dry and port varieties. The award-winning tradition of Vintner Merrill Grove is expertly crafted, beautifully aromatic wines that thrill the senses and take wine lovers on a journey of discovery. 
All Red Road Vineyard & Winery deep, full-bodied wines offer a pure clarity of flavor that will impress even the most selective of wine drinkers. Red Road's variety of labels are produced at the 77-acre farm near Marrietta, Texas. They are aged, stored and available at our historic ice house location near the downtown square of Naples, Texas, as well as five other retail locations.
Our journey began in 2001. Owner Merrill Grove bravely jumped in on the Texas Wine scene, planting his first blocks of vines, 4,000 Blanc Du Bois in all. His dream was to create quality wines that would thrill the senses. This is still his passion, as he continues to barrel ahead, creating an impressive menu of labels for every variety of wine lover. Red Road Vineyard & Winery, now in its 21st year of operation, boasts an abundant collection of award-winning sweet, semi-sweet, dry, port and signature blends made with the finest quality grapes, grown in the rich soil of Northeast Texas. The vineyard is located on a 77-acre farm in nearby Marietta. His property was purchased in 1990 and was partially cleared at the establishment of the wine venture. A quaint farmhouse adorns the center of the property and lush, green landscape surrounds. 
The vintner grows a variety of traditional Blanc du Bois, sweet and spicy Cynthiana Norton, deep dark Texas native Lenior and herbaceous Seyval Blanc. "Working in small lots you have a lot more control than large volumes so things can be more personalized," Grove explained. "The ability to hold wine until you think it's ready for release. Every individual has a different palette. Wines of the Red Road portfolio have their own unique characteristics within the parameters of the grape varietal characteristics that I prefer." According to Grove, his Blanc du Bois, Lenior and Cynthiana vines ripen beautifully in the humid climate of the piney woods region as they are disease resistant. Mouth-filling flavors, low amount of tannins, mineral richness and impressive clarity are the signature taste of Red Road Vineyard & Winery.
The next major addition to Red Road Vineyard was the winery and tasting room. Grove invested in the historic location in 2004, where he now houses his tasting room, cellar and a portion of the winemaking operation. This 5,600 square foot facility, located beside the tracks near downtown square and adjacent the Town Center Gazebo. The original brick structure, built in the 1890's, once housed the Northeast Texas Power Ice Company. The building was last operational in the 1960's as part of SWEPCO Power Company.
After restoration, the venue found new life as the Red Road Vineyard & Winery. With tasting room and the potential of hosting small events, we are Open: Thursday and Friday 3 PM – 7 PM; Saturday noon – 6 PM; Sunday noon – 5 PM
They can be reached at: 903-897-9353
---
Merchant Bottom Line is the company behind your Chamber of Commerce Website. Owner, Bernie Martin, has been involved with Sales and Marketing his entire career. Early in his career he advanced from a Sales Rep to a Division Manager in the entire Northeast United States for a large Fortune 500 Company. Learning from all that experience, he went off on his own and started/owned several businesses.
In the early 2000's, when the Internet was getting started, the fascination of understanding how it worked and; more importantly, how a business listing got on the first page of search results consumed his researching. Within a few years he launched his own Internet Digital Marketing Company – Merchant Bottom Line. He has been a Keynote Speaker for several large Corporations.
The itch to travel and see the United States took over and with the advent of cell towers, he was an early pioneer of working remotely while traveling the US, Canada and Alaska in a 40' Motor Home! During our RV Travels, we always liked Texas, the people and the principals of this great state. After 11 years of traveling full time, we decided to "settle back down" in Texas, specifically Bowie Co.
As soon as the purchase of our home was finalized, he joined the Chamber of Commerce and has been a steady participant and now Board Member of the Chamber. His company has helped over 20 Bowie County small business owners get an Internet presence to help their companies sustain and grow. He is committed to helping our Chamber Members being promoted as much as possible while they can be learning thru our Chamber Business After Hours Seminars. "As a Chamber of Commerce, we need to help our local business members as much as possible! It's part of Giving Back from a wonderful career." He can be reached at: 609-744-6474

---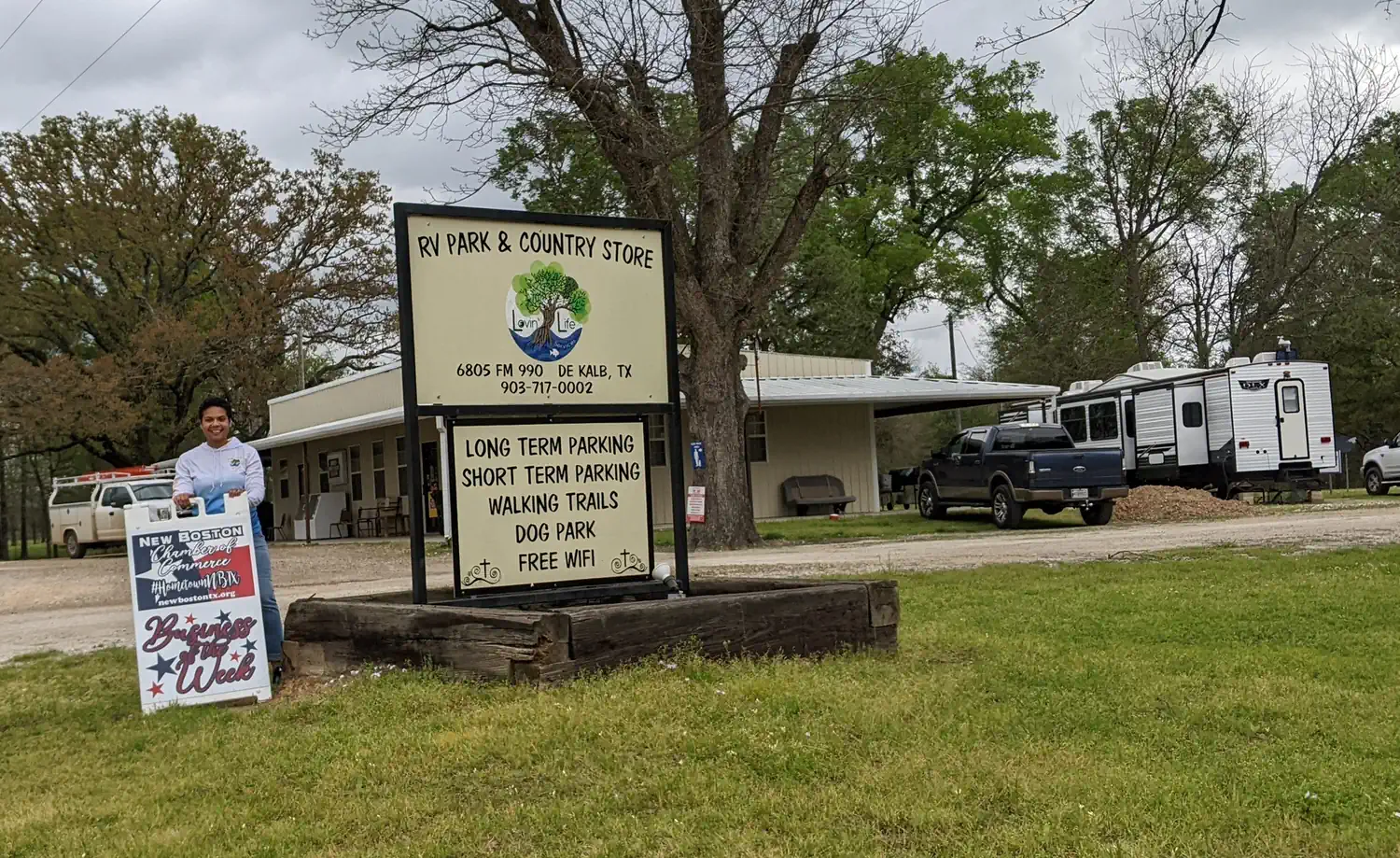 Lovin' Life RV Park & Country Store, 6805 FM 990, DeKalb, TX 75559 opened in Aug 2019 and has been going strong ever since. It's owned by Sirron and Nicole Bailey who, in 4 short years, have made themselves invaluable members of the Simms, Dekalb and New Boston communities, and they are looking forward to many more years of doing so.
They are also the proud recipient of the Best RV Park and runner up for Best Convenience Store in Bowie County in the 2022 Bowie County Citizens Tribune Readers Choice Awards
The RV park has 20 full hook-up 50 amp spaces and the store offers, Hunt Bros Pizza, Hamburgers, Chicken Wings and nuggets, Mini Corndogs and Hush Puppies as well as a variety of cold drinks, sweet and salty snacks, ice cream, refrigerated food items, canned goods, cleaning supplies, fishing rods and supplies, and tobacco products.
The RV park is accessible 24/7/365 and the store hours are: Monday thru Saturday 7a to 8p. They are closed on Sundays and all Federal Holidays.
They can be reached at: 903-717-0002

---
Great crew that keeps all that yummy BBQ coming - Coby, Kason, Dana, Amanda & Kenny in background
Randy's Smokehouse & BBQ, 408 N McCoy Blvd., New Boston, TX 75570 is the BBQ place here in New Boston! This crew, pictured above provide all that yummy food for us. Just walking in the door gets your taste buds going!
They are Open Tuesday thru Saturday from 10:30 am till 9 pm
They can be reached at: 903-628-9546
---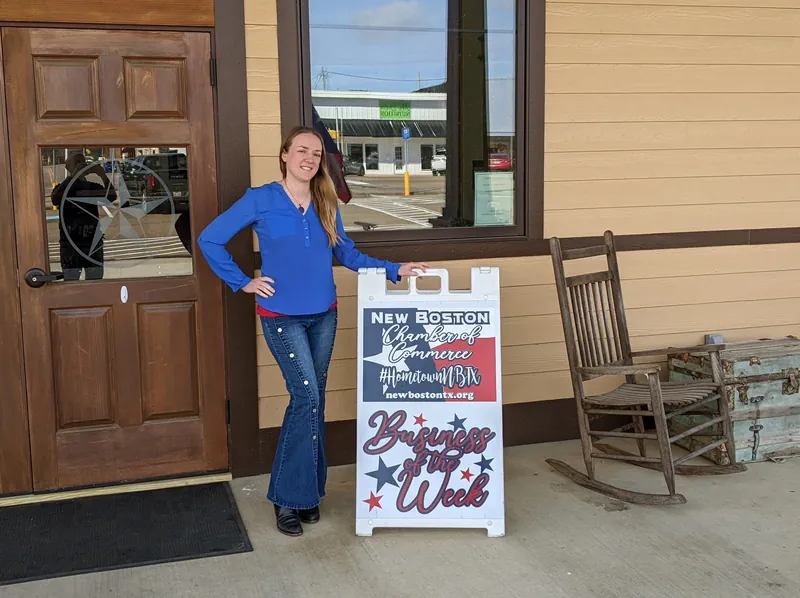 Mary Cyrus Photography. Mary has been a professional photographer for thirteen years; she began her photography career in the Dallas-Fort Worth suburbs and moved her business to the New Boston area in 2020. Mary is a 7th generation Texan with family roots in East Texas. Wanting to get out of the DFW Metroplex to somewhere more scenic and down-to-earth, she and her husband Opie Cyrus purchased land in Simms in 2015 and finally completed their house construction and relocated in 2020. They love their new home in the Piney Woods!
Mary received her Bachelor's in "Arts & Technology" at UT Dallas while working as the in-house Head of Photography for a retailer with 150+ stores across the nation. Mary left the company in 2014 to focus full-time on her freelance photography business, Mary Cyrus Photography.
In addition to photographing weddings and portraits of all kinds, Mary loves helping nonprofits & businesses with their photography needs, from headshots and branding to events and product photography.
In Dallas, Mary worked with many commercial clients including Toyota, Atmos Energy, Charles Schwab, LongHorn Steakhouse, Dallas Holocaust & Human Rights Museum, and the National Psoriasis Foundation. Mary has photographed some famous people at these corporate & nonprofit events: Laura Bush, Maroon 5, Magic Johnson, George Takei, and Roger Staubach to name a few.
Since her arrival in the New Boston area, Mary Cyrus has worked with SWEPCO, Wadley Regional Medical Center, Christus St. Michael, Cornerstone Retirement Community, the Texarkana and Mount Pleasant Chambers of Commerce, and more. Mary launched Evergreen Imageworks as a new brand for her B2B photography work last year.
In Mary's free time, she enjoys genealogy, gardening, crafting, volunteering in the community, spending time with family and her 3 great danes, and networking with other local professionals.

Mary Cyrus can be reached at 214-543-5438
---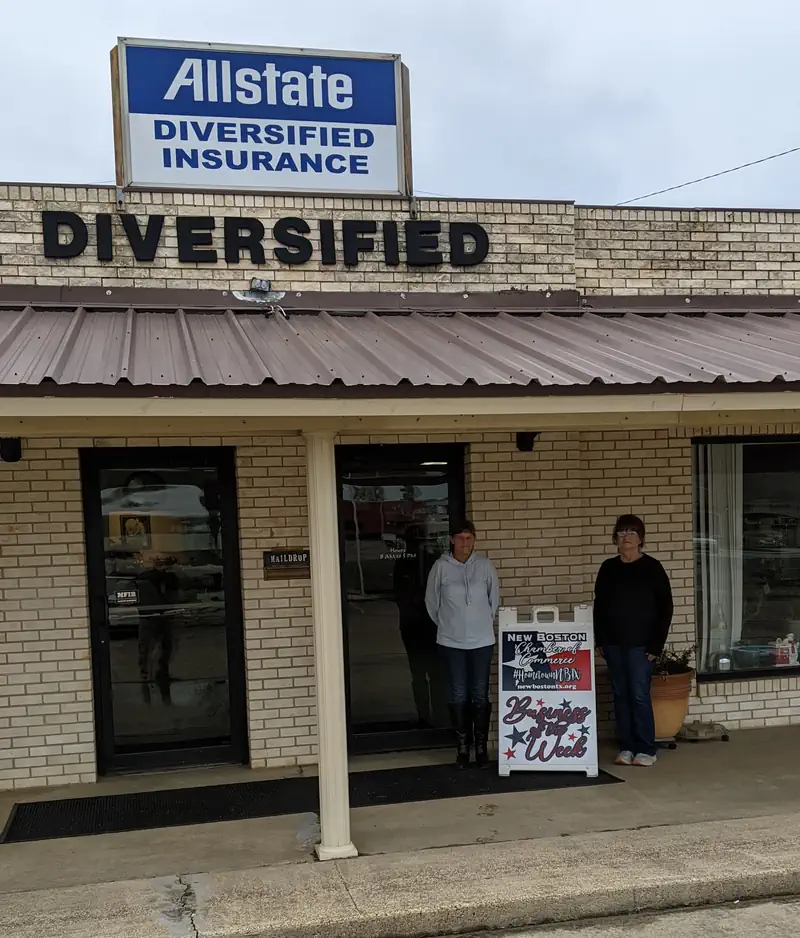 Diversified Insurance, 404 N McCoy Blvd, New Boston, TX 75570 has been here since 1980. They're proud to serve New Boston and the surrounding areas with all your insurance needs. Specializing in Personal, Commercial, Life and Health Insurance.
Feel free to stop by or give us a call.
We can be reached at: 903-628-5581
---
State Bank, 319 E Hoskins St., New Boston, TX 75570, opened their New Boston location on January 24th. They have been a staple in Bowie County since 1937. There's been a lot of excitement about them opening up a branch here and it finally came to fruition!
State Bank is a locally owned community bank that looks forward to building relationships within the community. They have over $435 million in assets and are committed to our New Boston area.
Their Lobby hours are: Monday thru Thursday - 9am till 3 pm; Friday 9 till 5 pm. Their Drive thru hours are Monday thru Friday - 8 am till 5:30 pm and Saturdays - 9 till 12 Noon.
They can be reached at: 903-314-5408
---
Southern Shears, 312 N Center St, New Boston, TX 75570 has been serving the New Boston community and surrounding areas since October of 2017.
The owner, Keisha Allen, has 26 years of experience. She loves being able to talk care of the whole family here at Southern Shears and she specializes in all your hair needs.
We pray that we are around for many years to come. We are so grateful to be chosen Business of the Week.
Keisha can be reached at: 903-306-4139
---
Stephanie's Hair Salon, 103 NE Front St., New Boston, TX 75570 is a full service Hair Salon right in downtown area with plenty of parking right in front or across the street in the Museum parking lot. They cater to all your hair needs.
Stephanie's has grown very well over the years with several stylists, so there should be very little wait time.
They are open Tuesday thru Friday's - 9 am till 5 pm and Saturday from 9 am till noon.
Phone Number is: 903-933-9793
---
Duffer & Offenhauser, 305 N Center St., New Boston, TX 75570 is an Independent Agency utilizing the many companies represented thru Cross Point Agency.
This arrangement allows them to offer excellent insurance coverage since they can design your policy to suit your particular needs.
They can be reached at: 903-628-2503
---
Hilton Tire & Muffler, located at 703 NE Front St, New Boston (behind Bumper to Bumper). 

They do all types of conventional automotive repair, including Lifts & Leveling Kits, Mount & Balance Tires, Exhaust Work, AC Repair and general Mechanic Work.

Owner Kevin Hilton says they can be reached at 903-628-0202
---
The Smokin' Joker, 303 E Hoskins St., New Boston, TX is a great place for that morning coffee, pop, snacks, cigarettes or a delicious Grammy's Sweets & Eats.
Best of all, they have a Drive Thru to make it even easier for you!! Their hours are Monday thru Saturday 6 am to 7:30 pm and Sunday is 10 am to 6 pm.
Original owners - Janet and Charles Patton kept it in the family with Deann and Johnna taking over. They also brought in Katrina from Grammy's Place, formerly downtown for those incredibly yummy treats - walk-ins or drive-ins welcomed.

They can be reached at: 903-422-1826
---

Farmers Bank & Trust, 416 N McCoy Blvd, New Boston has always been a great supporter of our Chamber. They have stepped up numerous times financially to help us by Sponsoring different events for us throughout the year.
Their Branch building is Open Monday thru Friday from 9 am till 5 pm. Their Drive Thru is Open Monday thru Thursday 8:30 till 5:30. Friday till 6 pm and Saturday 9 am till 12:30 pm.
They can be reached at: 903-628-0720
---
New Boston Family Clinic, 114 Hwy 82 W., New Boston, TX 75570 offers a variety of medical services to meet your healthcare needs including Primary Care (ages 15 and up), Acute Care (ages 5 and up), Women's Health, Telehealth, Chronic Care Management, Remote Patient Monitoring, and Home Visits to the West Bowie county area. We accept most all insurance policies.
Because we are an independently owned clinic, we prioritize patient care over any large corporate interests. 
Practice Manager, Ashley Amos, at (479) 530-3245.
---
Featured Gold Members