Beauty Pageant 2023 Sponsorship is an excellent way to help our Chamber, our Community and our Contestants. This once a year Pageant helps our community grow and earn Scholarships.
All our Sponsors will be featured in our Pageant Program and on our Chamber Website with full company info and linking. The Sponsors will also be announced during the categories of the contestants.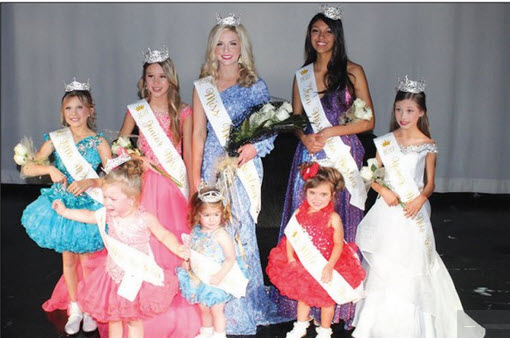 Our Reigning 2022 Beauty Pageant Winners
---
2023 Beauty Pageant Sponsorship can be purchased online by selecting what you would like to Sponsor below; or, you can fill out our Sponsorship FORM and send with a check directly to our office.

Forms must be submitted by Feb 28, 2023 to guarantee being in the Program.
---
Daytime Categories
Sashes & Crowns
Baby Miss - Direct Link to Sponsor this Category ($50) - HERE
Toddler Miss - Direct Link to Sponsor this Category ($50) - Sponsored
Tiny Miss - Direct Link to Sponsor this Category ($50) - HERE
Petite Miss - Direct Link to Sponsor this Category ($50) - HERE
---
Evening Categories
Sashes & Crowns
Little Miss - Direct Link to Sponsor this Category ($35) - Sponsored
Young Miss - Direct Link to Sponsor this Category ($35) - Sponsored
Junior Miss - Direct Link to Sponsor this Category ($35) - HERE
Teen Miss - Direct Link to Sponsor this Category ($35) - Sponsored
Miss New Boston - Direct Link to Sponsor this Category ($35) - Sponsored
---
First Place & Second Runner-Up Trophy Sponsorships
Click Above Trophy for Sponsorship Opportunities ($70)
---
Bouquets for Evening Winners ($75) - Here
Luncheon for Judges ($100) - Sponsored
Orientation Tea Party - Sponsored